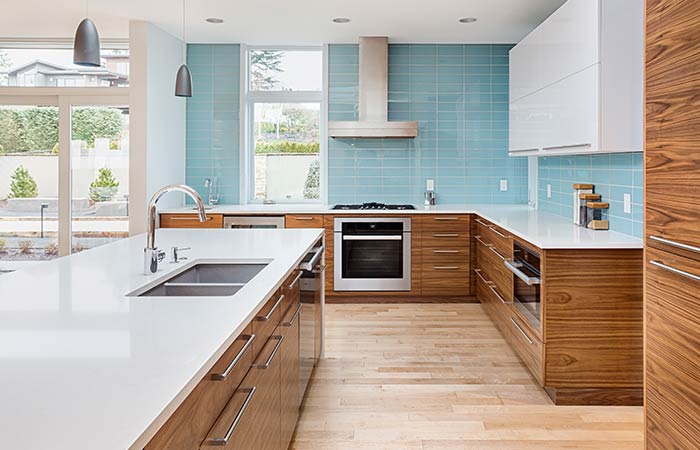 Kitchen layouts are increasingly growing modern in Indian homes. Open kitchen attached directly to the living room is more common than the kitchen rooms of the old. Whether you have a small apartment or a large villa with a separate kitchen, the modern layouts are pretty much classified in the following shapes:
One Wall Kitchen
L-Shaped Kitchen
Island Kitchen
U Shaped Kitchen
Galley Kitchen
Out of these, the island kitchen is one of the most adaptable styles. You can convert most of the kitchen styles into an island with one counter placed independently close to the existing layout.
Regardless of the layout, the following things remain common in all kitchen styles:
Kitchen Backsplash
Countertop
Floor
With all kitchen styles, these are the places where you will need to consider putting tiles for decor, safety, and hygiene.
One-Wall Kitchen
A One-Wall Kitchen layout is a kitchen design where all the appliances, cabinets, and countertops are placed on a single wall. A One-Wall Kitchen is a compact and efficient layout that is ideal for small homes, apartments, and open-plan living spaces. Cabinets and storage are usually placed above and below the countertops.
Since this kind of kitchen is usually a part of a larger room without a partition, you should try to make this space appear different. Brick style is the most suitable modern kitchen wall tile design in India for such a kitchen.
They can give your kitchen a cosy, rustic feel, and can be found in a range of colours and finishes.
Another option for the backsplash of such a kitchen is subway-style 3D elevation tiles. Subway tiles (available with H & R Johnson Heritage Collection) are a classic choice that can give your kitchen a clean, streamlined look. Choose a neutral colour like white or grey for a timeless look or add a pop of colour with a brighter shade.
L-Shaped Kitchen
An L-shaped kitchen is another modern kitchen style in India and offers a great balance between functionality and open space.
Geometric tiles can add a modern touch to an L-shaped kitchen. You can choose hexagonal or diamond-shaped tiles for a trendy look or opt for a classic square tile in a patterned layout. Geometric tiles can be used on the walls or the floor to add visual interest to the space.
Geometric tiles can make the L-shaped kitchen feel larger and more open. You can choose a neutral colour for a classic look or opt for a bold colour to make a statement.
Island Kitchen
An island kitchen design is a great option for those who have a larger kitchen space and want to create a functional and stylish kitchen layout.
In an island kitchen, it's important to create a functional layout that allows you to move around the kitchen easily. Consider placing the sink, stove, and refrigerator in a triangle layout to create an efficient workspace.
Kitchen Countertop Tile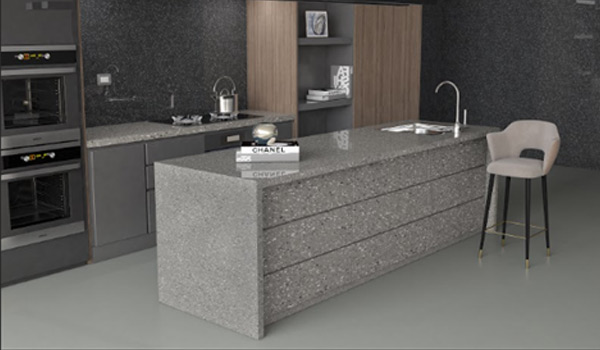 Kitchen slab tile design will also play a significant role in the island-style kitchen. Full-body vitrified tiles like Johnson's Porcelano polished 80x240CM slabs are made for the purpose. These uniform and tough tiles provide a stain-free and strong countertop surface for your island kitchen.
Use contrasting tiles for the wall backsplash in your island kitchen to create a visual separation between the island and the surrounding countertops. You can choose tiles in a different colour, shape, or pattern than the surrounding countertops to create a distinctive look.
Wood-look tiles can add warmth and texture to an island-shaped kitchen, without the maintenance concerns of natural wood. They come in a range of colours and styles, from light to dark.
The matt finish tiles can be used on the floor of the kitchen to provide additional grip and safeguard against slipping due to spills. The backsplash, however, should use glossy tiles for easy cleaning of the surface after cooking.
U-Shaped Kitchen
A U-shaped kitchen is a popular layout for large kitchen spaces. In a U-shaped kitchen, you can add visual interest by choosing colourful cabinets. Consider using bold colours like red or blue or go with a more muted tone like grey or beige.
Textured tiles can add depth and interest to a U-shaped kitchen. You can choose a rough or textured finish wall tile design for a rustic feel. H & R Johnson's Ajanta and Ellora designs under the Elite Elevation collection offer this appearance. These tiles offer a terracotta-like rustic appearance.
While glossy finish tiles will offer a more modern look. Textured tiles can be used on the walls or the floor to add visual interest to the space. H & R Johnson's KL21 series of ceramic wall tiles offer various patterns in glossy finish tiles.
Galley Kitchen
Galley kitchens are rather uncommon in high-rise apartments. However, they are a choice in larger apartments where the kitchen is attached to a large balcony or has a two-way opening and works more like a walk-through rather than a walk-in.
This style is also common with commercial kitchens where you need maximum space utilisation. Galley kitchens offer double the counter space as wall kitchens and easy accessibility to everything within the kitchen.
However, one of the challenges with the galley kitchen is the natural lighting. Most galley kitchens will receive natural light from one end of the gallery while the other end opens inside the house.
Thus, use light-coloured cabinets, walls, and countertops to create an open and airy feel in the narrow space. Good lighting is essential in a galley kitchen, so consider installing under-cabinet lighting, pendant lights, or recessed lighting to brighten the space.
Bright-coloured tiles can add a modern and stylish touch to a galley kitchen. You can choose a neutral colour for a classic look or opt for a bold colour to make a statement. Johnson Heritage tile collection offers a collection of 10x10CM and 10x30cm tiles with solid colour glossy patterns.
These tiles can light up any kitchen style with their simple yet bold statement. Light-coloured heritage tiles help spread the light evenly throughout the kitchen. Thus, suite galley kitchens are the best as your light source could be lighting one side of the kitchen more than the other.
Tile Design for Kitchen Floor
Whether your kitchen is a part of the living room or is a separate space, kitchen floor tiles must meet different criteria than other rooms. The kitchen floor is prone to spills and that can cause slip accidents unless the floor offers extra grip. This is why the kitchen floor must use matt finish tiles, unlike the living room, where glossy tiles are preferable.
So, even if your kitchen is a part of the living room and you want the floor to stay uniform, the tile finish must be different for the kitchen. You can easily source the same tile design for the kitchen floor but with a matt finish at H & R Johnson.
Frequently Asked Questions