Checklist to buy
Commercial Tiles
These are high footfall traffic area tiles that are not just meant to be aesthetically pleasing but at the same time robust & durable. H & R Johnson tiles has a variety of options in many different sizes, finishes, and looks. Choose the floor tiles that best suit your requirements.
Expert Suggestion on Selecting
Commercial Floor Tiles
Unlike home, the commercial spaces have a lot of footfall traffic. Dust carried in shoes contains hard substances that can cause wear and tear of the tile surface.
Movement of material and other objects also takes place and the tiled floor must be sturdy to take those stresses and impacts. Within commercial spaces, the challenges for flooring vary viz from a shop to the airport lobby.
In general, going for bigger size tiles from Johnson's Marbonite and Porselano range for commercial flooring is recommended.
Our recommendation is to go for the non-glossy grip tiles for floor from Johnson Porselano collections available in 180x120cm; 160X80cm,120X120cm, 120X60cm. We recommend the anti-skid tiles from Johnson Endura and Stain-Free tiles from Johnson Marbonite in matt finish to avoid negligible indoor accidents.
Recently we have introduced few matt options in Marbonite which suite commercial kitchens as well in 60X120 cm and 80X80 cm size which have the same design in polished version also.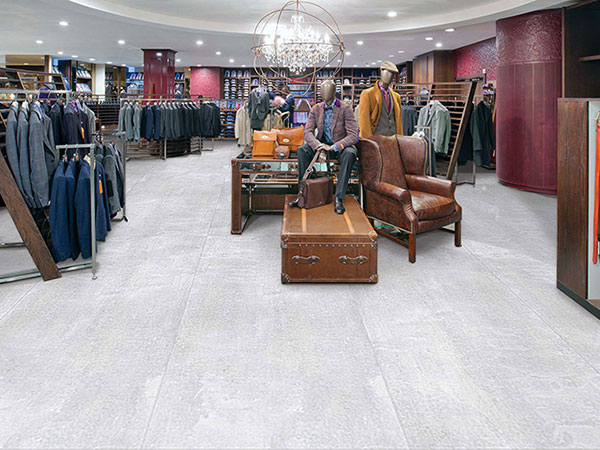 Anti-slip Tiles Collections for commercial flooring