Wondering why you should use 3D wall tiles? Some individuals might believe that ordinary tiles will work. However, 3d Tiles enable you to make a statement without having to spend a fortune by creating a multidimensional effect that resembles any material or design. Whether you enjoy an ultramodern interior or want to modernise a traditional home, these inventive designs offer depth to any project.
These kinds of tiles give the room a new depth and a liveliness that might amuse both adults and kids. available in an amazing array of patterns, colours, and styles. These tiles produce a distinctive design that represents your taste and is simple to install and maintain. Due to their unique and contemporary appearance, 3D tiles have been very popular recently. A growing number of consumers are choosing 3D wall tiles for bathrooms to improve the aesthetics of their space.
Why 3D Tiles for the Bathroom?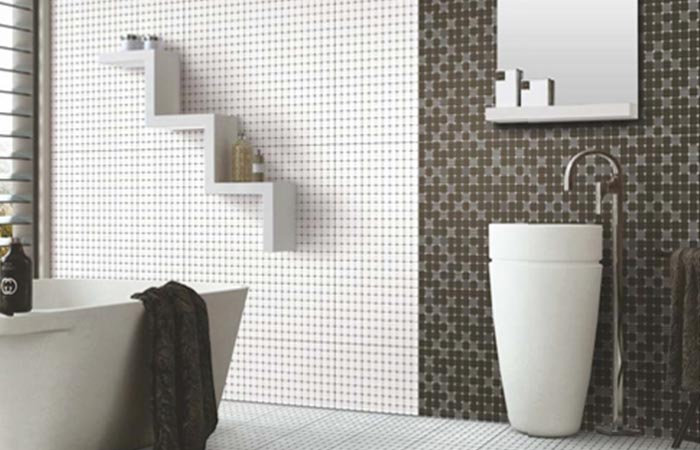 Using 3D tiles for the bathroom may be a lot of fun. Bathrooms can become the most opulent space in your home because of the multitude of themes and patterns that are available for that aqua effect. These tiles have digitally printed designs on the surface and are composed of glass, porcelain, or ceramic material.
These tiles don't absorb moisture, are scratch-resistant and are simple to maintain. They are simple to clean with a damp towel to restore their brilliant appearance. Bathroom wall tiles prices are comparable to or slightly more than those of ceramic tiles (non-vitrified), making them very cost-effective.
The following are some benefits of using 3D tiles:
They are reliable, durable, and beautiful
Lengthy service life and easy maintenance
The 3D tiles colours and patterns can retain their beauty with minimal regular maintenance
3D Tiles for the Bathroom
With the appropriate tile selection, you may design the bathroom of your dreams that perfectly combines aesthetics and utility. 3D tiles can be perfect for bathroom interiors as they add shape to a type not so interesting place. To assist you in selecting an eye-catching and unusual pattern, here is a collection of 3D wall tiles for bathrooms. Your bathroom's walls will look lovely thanks to them.
Not sure where to begin with the selection of your tiles? Don't be afraid! To help you realise your bathroom makeover ambitions, we've put together a list of the top 3D tiles for the Bathroom from H & R Johnson with unique decor ideas and trends anticipated to rule in 2023.
Geometrical designs
We can foresee a change in tile design patterns as we enter the next ten years. As homeowners explore methods to give their place a personal touch, geometric shapes and patterns will grow in popularity. If you want to give your walls volume and texture, consider using a pattern of textured geometric shapes.
Minimalists and interior designers alike vouch for the visual appeal of this 3D tile design, which is appealing, elegant, and beautifully in style. To let your inner designer out, use this pattern to add depth and texture to your walls. It looks fantastic in bathrooms and other minimalist settings.
By selecting hexagonal tiles that have a hint of roughness attached to them and then placing them in specific places on the wall, you can give your walls a sense of depth in a way that is both beautiful and does not come across as excessive.
LAMINATED BRICK TEXTURES
Tell us if these wall tiles don't resemble real brick after looking at them. This is how realistic these 3D wall tiles for bedrooms look, so much like actual fittings. Despite not being the most popular option for bathroom tiling in houses, brick finish flooring has a subdued elegance that cannot be matched.
If you want to explore more about this design, look at these.
Pebble effect
Any interior area is enhanced by the style and elegance of surfaces made of stones or high-quality tiles. However, buying real Pebbles can be an expensive investment. With high-definition 3D tiles, H & R Johnson offers the answer when you're seeking a stones finish on a tight budget. You will be astounded by the high-definition finishes you can obtain for a fraction of the cost with the use of premium materials.
Wavy 3d wall tiles bathroom
This bathroom's wavy 3D tiles give the impression that it is in a modern beach home. This 3D wall tile pattern is popular among consumers looking for new homes and ceramic fans for a reason.
A length of wavy bathroom tiles typically not only provides you with a weirdly beautiful pattern but also their majestic neutral helps to soothe your soul after a strenuous day by giving you a calming sense and simulating the flow of rippling water.
Water effect
Something unique which will take you into the water world. An Aqua baby can go for waterbody-based patterns, H & R Johnson range will give you a range of it. The undulating pattern of these bathroom tiles, which mimics water, enhances the serene mood of the bathroom.
Digitally Printed 3D Wall Tiles
You can choose this 3d wall tile design that gives your walls texture and character to give them an aesthetic yet pleasing appeal. Digital tiles have a beautifully detailed, digitally produced surface. It is obvious why this design of 3D wall tiles is so popular with consumers buying homes.
Neutrals
If you don't feel like experimenting, choose neutral, simplistic tiles. With neutral, beautiful, simple vibes, one can never go wrong. This one is most likely the oldest and is still prevalent in urban homes. Even though they require a little extra upkeep, they make your bathroom look sophisticated and well-kept.
Select the Best Mix of Looks, Finish and Durability
To find the design that best suits you, you can choose from a wide range of options and experiment with various tiles. Whether used for flooring, accent pieces, feature walls, vanity splashbacks, or even flooring, these tiles might add a touch of elegance to any bathroom. Additionally, the vast selection of colours and patterns available makes it simple to select a tile that appeals to your taste.
At H&R Johnson, we offer qualified assistance in selecting the best decisions for your ideal project. Check out our selection of Johnson Bathroom Tiles for your next home renovation or construction. You can contact the tile experts for personalised support and swift answers to all your questions.