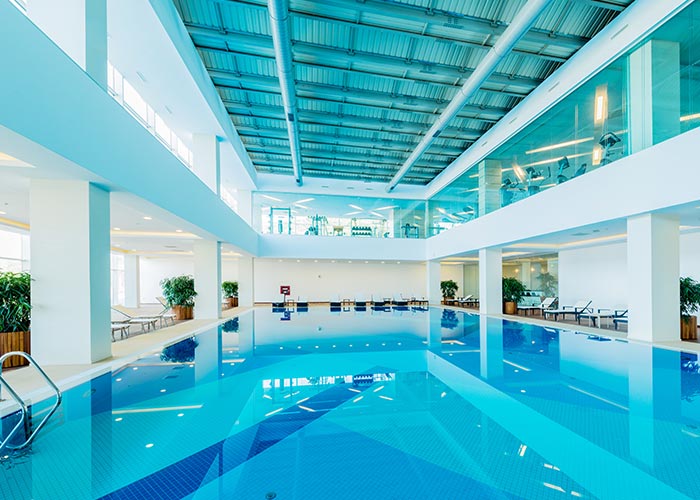 Swimming pool tiles are specially designed tiles considering the requirements of a swimming pool. Swimming pool tiles are different from kitchen tiles or bathroom tiles as these are designed to withstand continuous contact with water and sunlight. You can still find different colours and designs to personalise your pool design.
However, consider the factors discussed in the blog while selecting tiles for your pool. While swimming pool tiles prices are reasonable in India, you can look for options for your pool.
Common Challenges with Swimming Pool Tiles
Even after all the necessary measures taken by swimming pool tiles manufacturers, there are some common challenges faced by almost everyone. However, with the right approach and the best quality tiles, you can avoid most of these:
Decolouration: One of the most common issues with pool tiles is decolouration. It can happen due to many reasons. Continuous exposure to sunlight, pool chemicals, temperature variations, algae growth, etc., can fade away the colour of tiles inside the pool.
Microbial growth: Microbial growth between pool tiles can be due to the accumulation of moisture/humidity inside the tiles. Therefore, it is necessary to choose water-resistant pool tiles.
Effects of Glue on the back of the tile: While swimming pool tiles are water resistant, tile grout should also provide similar features. Epoxy grout is considered the best for swimming pools worldwide. Epoxy grout is fully water resistant and offers perfect sealing for tiles.
Temperature variations: Tiles that cannot withstand temperature variations often end up cracking when it's too hot or too cold.
Calcium Build-Up: When there is some leak in the pool foundation, white flaky or grey-white deposits can be found in the pool. It generally happens due to incorrect installation of tiles.
Your Checklist for Choosing the Right Swimming Pool Tiles
While choosing the tiles for your swimming pool, keep these things in mind:
High Durability

The tiles should withstand continuous submergence in water, exposure to sunlight, pool chemicals, etc. Smaller tiles are preferable for pools as these are less likely to break due to the pressure of the water.

Easy Maintenance

Pool tiles should be easy to clean and maintain. You can ask your supplier for suitable cleansers or chemicals that will not cause any damage to the tiles.

Ensuring Hygiene

Pool tiles should resist germ and moss accumulation to stay hygienic. Swimming pool tiles from H&R Johnson feature a special glaze for the purpose.

Anti-skid features for safety

Tiles on the edges and in the deck area of the pool should provide a higher grip to minimize accidents. The Anti-slip tile, finger grip tiles, and grooved tiles with safety markings are the perfect options for the edges and stairs of swimming pools.

Design and Colour

The design and colour of the swimming pool tiles should match the surroundings. The most popular colours for pool tiles are dark blue, orient blue, white, new blue, and black. The colours in these tiles can be used to make different patterns and give a desired look to your pool. If confused about the design, you can take expert guidance from HR Johnson.

Installation

Pool tile installation requires skilled labour. An improper installation can cause several problems, such as leakage, cracks in tiles, and many more.
Pool Tiling Ideas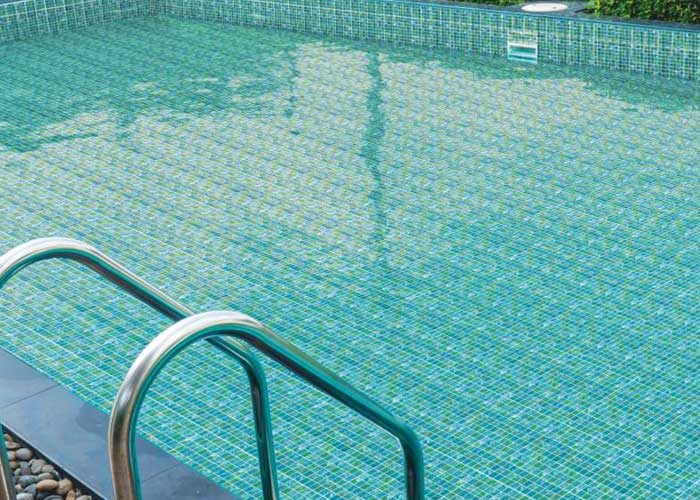 Mosaic Pattern

The mosaic Pattern is one of the most popular and widely used patterns in swimming pools. You can give your pool a modern designer look by using ceramic swimming pool tiles of different shades.

A combination of orient blue, dark blue, new blue, and white tiles from HR Johnson would be perfect for any pool.

Consistent Design with Single-Coloured Tiles

Single-coloured ceramic tiles with no specific pattern give a very naturalistic look to your swimming pool. Especially for outdoor swimming pools, it's a great idea to choose ceramic tiles with a single shade of blue for the entire pool.

A popular rooftop pool in Singapore has been designed on the same concept. The pool features over 2,50,000 single-coloured tiles giving it a solid blue appearance.

Chessboard Pattern

A chessboard pattern made using Johnson's black and white swimming pool tiles would give a modern and unique look to your swimming pool. It can be a great option when you have a small-sized swimming pool inside your house. Adventure pools also prefer chessboard patterns.

Brick Pattern

A brick pattern is another great option for a swimming pool design. You can use single-coloured tiles or mix two shades and create a pattern in the pool.
Type of Swimming Pools & Tile Choices
Your choice of pool tiles can depend on several factors such as:
Number of users
Size of the pool
Indoor/outdoor placement
Available surrounding area
Swimming pool elements.
Here we have classified the pools into three categories and suggested the tiles you can use. While the suggestions can be limited to a few colour choices and schemes, your preference will always have a say in the pool design.
Indoor Swimming Pools
Inside The Pool

You can use multiple shades of blue tiles to create a mosaic pattern or choose a combination of black and white to create a chessboard pattern for your indoor pool. Even using only white-coloured tiles for the entire pool would be a good idea if your house has a light-coloured theme.

Edges and Deck Area

For edges, stairs, and deck areas, make sure to choose high-grip tiles. The ivory anti-slip tiles or similar ones by Johnson should be preferred.

Surrounding Area

You can also choose vitrified tiles in matte finish for the surrounding area of your indoor pool. A tile in a wooden matte finish can give it an ultra-modern look if it matches the rest of the theme.

Johnson's Endura Maxgrip tiles with R10 class slip resistance are most suitable for the surrounding areas of indoor and outdoor pools. Other good colour options are pale grey, beige, black, etc, that will match almost every style.
Outdoor Swimming Pools
Inside The Pool

Outdoor swimming pools look the best in the presence of sunlight. For a more consistent look, you can use single-coloured tiles. For example, dark blue, new blue, or orient blue throughout the pool. Another good-to-go pattern is the brick pattern for outdoor swimming pools.

Edges and Deck Area

Johnson's anti-slip tiles with finger grips are just the perfect option for stairs and deck areas of exterior swimming pools.

Surrounding Area

For the surrounding area of outdoor pools, you should prefer anti-skid vitrified tiles that can be found in several colours and designs. Make sure that the tiles have anti-skid features and are water resistant.
Commercial Pools
Inside The Pool

The pools that are designed for commercial purposes or public use are generally larger in size. A brick pattern, mosaic pattern, or consistent colour with specific boundary lines would be good for such swimming pools. You can even go for other bold-coloured tiles for these pools.

Edges and Stairs

Johnson's grooved anti-slip tiles with safety markings are a perfect solution for edges, stairs, and deck areas of commercial swimming pools.

Surrounding Area

The surrounding area of public swimming pools should have a higher grip as these pools need to ensure added safety. Johnson's Good Grip tiles are a suitable option. These look modern as well as are water and slip resistant.
The Right Swimming Pool Tiles to Ensure Safety and Hygiene
A swimming pool enhances the look of your house, but you will love the lavish feeling it brings. When choosing the tiles for your swimming pool, you also need to consider the quality along with the design and prices of the tiles.
You don't want to use tiles that can face decolouration due to chlorine, bleach or sunlight. So, it is better to ensure that the tiles are durable and can withstand exposure to common swimming chemicals.
Available in five different colours, Johnson's swimming pool tiles are durable, hygienic, and easy to maintain. Johnson's swimming pool tiles feature a glaze that discourages the growth of algae and bacteria. You can even get guidance from Johnson's experts for the tiles you should choose for your pool.
Frequently Asked Questions