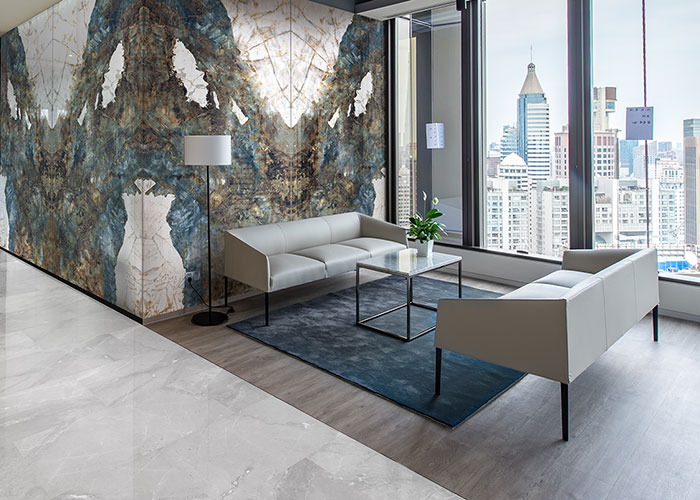 In a fast-pace and constantly changing society trends keep on changing every few months and every year. This is applicable not only in the fashion or technology industry but also in the tiles design industry. With the year 2023, industry experts and leaders came up with their preferences and choices for the most trending tiles design trends from around the world. Let's have a look at what these trends have to say for this year's most trending tiles design:
1. Large Format Tiles
For enhancing the space available, choosing the large format tiles is one of the best decisions. It helps to create an optical illusion of having a bigger space and allows more breathing space be it your bathroom, or even kitchen. Our Johnson Marbonite collection comes with matte finish, higher durability, anti-skid, and extra resistance tiles available in a size range of 80x240cm; 80x160cm and 60x120 cm to endure the high footfall that are a perfect fit for your walls. Additionally, you can also explore the Johnson Porselano collection in the size range of 120x60 cm.
2. Wooden Textures
When it comes to aesthetics wood-like appearance can never go out of style and is still one of the most desired trends in the tiles design. It offers your home a sophisticated, elegant, and posh look. Wood-like tiles make your house appear old-time and provide a classy finish which is aesthetically pleasing. Johnson Porselano Elite Plus collection would be a more suitable option for bringing the desired wood-like aesthetics with this type of tiles.
3. Brick Tiles
Back in the trend is the Bricks tiles design, aligned horizontally or vertically, offering a metro, vintage, and rusty look to your house. This type of tiles allows you to have aesthetically pleasing walls speaking the depth of your style, and creating a storyline to the theme of your house. Be it matte or glazed finish, both paint a different picture, adding value to the interiors of your home. This type of tiles are available in the Johnson Porselano Elite and Elite Plus selection. Check out the online tiles available for better options.
4. Murals/Painted Tiles
Abstract arts, and murals have always been a part of the culture around the globe, especially in Indian culture where the trend of painting the walls with abstract arts and murals can be dated back to history. Making its comeback as a tiles design trend in the year 2023 Murals and painted tiles are again one of the major trends. The matte or glossy finish enhances the elegance of your walls and makes a statement. Look out for Johnson Porselano Elite selection for better considerations.
5. Mosaic Tiles
Geometric patterns, and mosaics are gaining attraction in 2023. Installing mosaic tiles gives your home a bohemian vibe, this type of tiles are especially popular for the bathrooms and enhancing the overall look of your home. These tile design are available in the Johnson Marbonite collection with a wide range of options to choose from with stain-free, vitrified tiles for a classy finish.
6. Concrete Look Tiles
For a raw and urban look concrete tiles are the first choice. This type of tiles offers a minimalistic, and no-effort look for the house. This raw appeal is the perfect vibe to have in your bathroom or the living room. Matte-finished and sturdy tile finish offered by Johnson Porselano collection allows you to pick out the best suitable option as per your convenience. These wall and floor tiles are a total game changer and provide extra resistance with anti-skid features on the floor making it a perfect option even for your entry gateway.
7. Nature Inspired Styles
As we are evolving our touch with nature is reducing, hence, this tiles design incorporating nature inspirations is one of the most trending online tiles options. These nature inspired tiles consisting of textures, prints bring life to your home, making it more alive and providing a relaxing feel to your entire space. These type of tiles are incorporated in bedrooms for a statement wall, or bathrooms, and even living rooms. Choose from a wide selection of Johnson Porselano Elite selection for more understanding. Our products including Sahara latte decor, Walnut lumber, and Feather Crema can be certain options for you to try.
8. Pastel Colours
Amidst our hectic lives we all need a moment to breathe and relax, having a break. These tiles design consisting of pastel colours are light for eyes and offer your bedroom the calm that you are looking for. The soft pastel shades resonate with the light and positivity that is needed for the bedroom. Explore our Johnson Porselano and Marbonite collection and pick your favourite. The glare vitrified, matte-finished tiles, and rusty finish tiles in the collection will enhance the ambience of your bedroom.
9. Marble Finish
For added elegance and class, the marble finish porcelain tiles are the best options available. Our Johnson Porselano collection offering marble finish glare vitrified tiles will enhance the elegance of your house. These tiles design allows you to lift the mood of your room with the glare finish, and the textured tiles. The Johnson Porselano Elite and Elite Plus collection provides Estonia Silver, Estonia Gold, and Titanium Black are your best suitable options to choose from.
10. Seamless Interior and Exterior
For smaller residential spaces it is one of the best options to have a seamless interior and exterior, creating an optical illusion of having a bigger space. For a unified interior and exterior choose from our large Johnson Porselano Elite and Elite Plus collection with anti-skid, matte-finished, highly durable. Johnson Porselano Elite Barada Buff, Barada Grisso, Pumpkin Beige, and Polo LT Grey are some of the suitable options to consider.
Conclusion
For the year 2023, the above-mentioned tiles design have been in trend. Although trends keep on changing with each year and there is no way you can keep changing at that pace while also being economically stable, here at H&R Johnson we ensure to offer you the best available online tiles design aligned with the latest trends.
Our wide collection is affordable, durable, non-toxic, and sturdy while also enhancing the look of your home, and completing it in all ways offering solutions for your bedrooms, bathrooms, living rooms, and exteriors as well. For further assistance you can connect with our tile experts and get expert opinion.
Further explore our entire collection for more options and choose from a wide range of designs available by one of the best tiles company in India by visiting our experience centres with pan India locations, for more details check out our website.