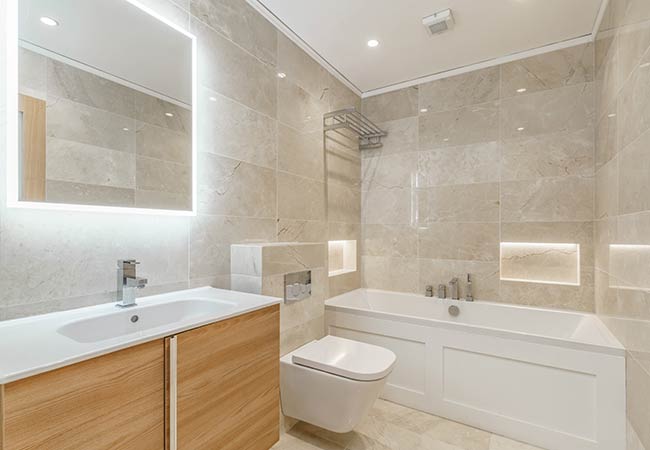 The bathroom is one of the most commonly tiled areas in an Indian home. While modern houses boast of total floor tiling, bathroom tiling is still special because of its unique requirements. You need to use specific bathroom ceramic tiles for flooring your bathroom.
Bathroom floor tiles are an important piece of your bathroom interior as they will not only beautify the space but also ensure the safety of the users. Since most Indian baths will unwittingly get a wet floor, you need to use anti-skid tiles for your bathroom.
While anti-skid features will not limit your options for bathroom tile designs, they do limit your options for the type of surface finish. H&R Johnson provides you with a mobile app which can help you select amazing designs and tiles for your bathroom.
Where to Install Tiles in Your Bathroom?
The usual spaces for tiling in the bathroom are floor and walls. However, countertop tiling is also a growing trend for modern bathrooms. Usually, the floors are completely tiled with the option of limited or complete tiling for the bathroom walls.
Depending on the shower area you can choose to install tiles up to 7 feet or a complete wall. The only difference you can have with wall tiles is the type of tiles you would want to use. Non-vitrified ceramic tiles are a popular option for bathroom walls. However, vitrified tiles offer some amazing and unique design options.
Types of Tiles for Bathroom Walls & Floor
Bathroom wall and floor tiling can use multiple unique concepts and designs from the wide range available with H&R Johnson tiles. The following tile categories are available for bathroom-specific usage and designs:
Non-Vitrified Ceramic Tile Concepts
Non-vitrified ceramic tiles are the most common contender for bathroom wall applications. The huge range of designs and colour combinations make these tiles uniquely suitable for beautifying your bathroom walls.
This category has digitally coordinated tiles which can create a unique pattern, scenery, or colour theme on your bathroom wall.
Glazed Vitrified Tiles (GVT)
Glazed vitrified or GVT tiles are also known as porcelain tiles. These tiles have a solidified structure, and the surface is polished after covering the micro pores. Thus, the tiles boast an almost non-absorbing surface and perform well in a wet environment like a bathroom.
GVT tiles come with a variety of surface finishes like high gloss, sugar matt, and matt finish are some of the popular surface finishes for these tiles. Johnson's Porcelano Elite series offers a wide range of natural and printed surface designs.
These tiles can be great on both floors and walls. For floor usage, you should consider matt finish GVT tiles in bathrooms while the mirror finish (high gloss) will do well on the walls. They are also great as countertop tiles, and you can grind the corners into smooth curves after installation.
These tiles are usually available in large formats like 120x180cm , 80x240cm etc. If your bathroom is small, try using smaller tiles on the floor. The most popular bathroom tile size is 30x30cm and 45x45cm.
Vitrified Plank Tiles
Plank tiles have a much shorter width than their length. For example, 120x20cm Johnson Elite Planks. The majority of plank tile designs are available in wood textures. However, you can also choose from stone and marble white colours. These tiles can be used for both wall and floor applications in the bathroom.
10.8x10.8CM Wall Tiles (Heritage Tiles)
Johnson's 30x30cm tiles are available in solid colours, natural stone looks, Moroccan design patterns and mosaic patterns. You can use the solid colour glossy finish tiles to create a classical appearance for your bathroom walls or use the mosaic designs to have an oriental appearance.
You have the option of both matt finish and glossy tiles in this category.
Measuring Bathroom Tile Area
Bathroom tile area measurement will need two different approaches for the floor and walls. Also, whether you are installing plain or natural textured tiles or mosaic or coordinated tiles will have an impact on your final decision on the number of tiles.
For the floor tiling, you should include the floor under the floor-mounted western commode. That means you may have to reinstall the commode after installing the floor tiles. The only areas you will leave out are the drainage and other permanent floor installations.
You can decide the number of tiles by dividing the total floor area by the tile size. Also, always keep a margin of error by ordering 5-10% extra tiles than you will need in the first installation.
For wall tile installation as well remove all removable fittings before installing the tiles to get a consistent and orderly appearance. You will however have to leave out the windows and permanent fixtures which are part of the base structure.
Connect with Experts for Help
Tiling your bathroom can improve the safety and appearance of the space for a long time. It also makes maintenance of the bath easier. Since this will be a long-term investment for your home, it's always good to have a piece of expert advice.
You can connect and consult your bathroom interior tiling with H&R Johnson experts. So, select the most suitable tiles and remodel your bathroom for modern times.
Frequently Asked Questions
You can match the bathroom floor tile design with the rest of the house. But you should also consider safety in the bathroom area. Smooth gloss finish tiles can easily become slippery with water spills. Thus, bathroom floors should use matt finish tiles to avoid slippage due to spills.
Johsnon's Porcelano Elite collection is a popular choice for large bathrooms. Plank tiles are also quite popular, especially for wall installations. For smaller bathrooms Johnson's 30x30cm tiles, RT12 and VW12, are popular for wall and floor installations.
Porcelain tiles or GVT are better for floor applications in the bathroom, especially within the shower area. These tiles are more resistant to water absorption and last longer than non-vitrified ceramic tiles. However, ceramic tiles also boast of little water absorption through the top surface. Thus, these tiles can be great for wall installation.