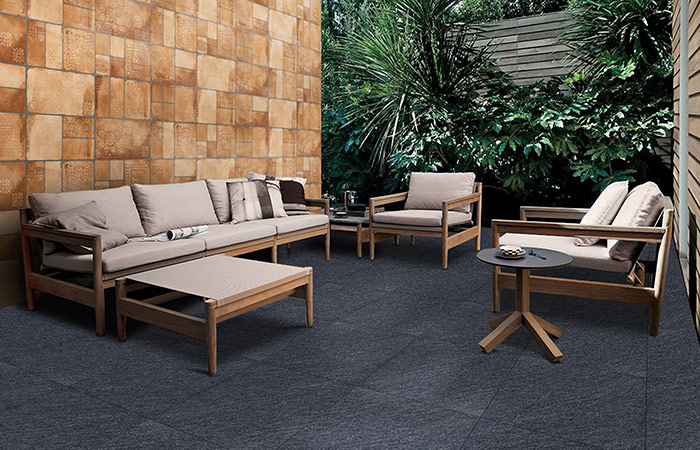 Wall tiles play a key role in protecting your home from the elements when used outdoors. They provide a durable and waterproof layer that prevents rain, snow, dirt, and other debris from
getting into walls and roofing. With careful planning and proper maintenance, your exterior tiles can last for many years to come.
Natural Appearance – GVT
If you want to have a natural appearance with wooden wall tiles or stone wall tiles, ceramic tiles will offer multiple advantages over natural materials. It's quite common for homeowners and designers to look for deep authenticity and choose natural stone and wood for outdoor wall cladding.
However, natural materials are often more expensive and need higher maintenance than ceramic wall tiles. If you are looking to add a touch of beauty and elegance to your home, wall tiles with a natural appearance are an excellent choice. Also, you can find a variety of colours, textures, and styles available with stone and wooden appearance in wall tiles.
You can create multiple natural and unique looks and make your neighbours jealous.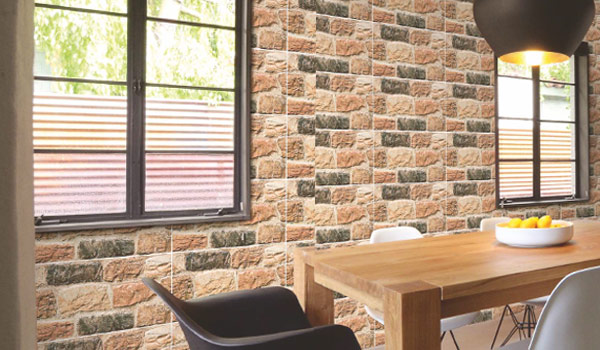 Wall tiles that mimic the look of natural stone or wood give your home a truly luxurious and warm feel. The 30x60cm wall tiles collection from Johnson Porselano line of robust all-weather tiling options adds a touch of aesthetic appeal to their exquisite and long-lasting design.
In addition to the aesthetic benefits, exterior tiles can also be incredibly durable. GVT Tiles are non-porous (high moisture resistance) and simple to clean, they are perfect for outdoor use. They are also made to resist harsh temperatures and exposure to the elements.
Superb Durability
When it comes to buying wall tiles for outdoor, there are a few distinct problems you may encounter. Finding tiles that are both affordable and long-lasting enough for outdoor exposure is a common problem. There are sellers offering products of substandard quality at inflated prices.
Wall tiles intended for indoor use will not be suitable for outdoor conditions due to their susceptibility to weathering or fading over time. Additionally, you must consider the temperature of the area where you intend to install your tiles, as certain tile materials will not be able to withstand freezing temperatures.
Finally, you must consider how easy it will be to clean the wall tiles you choose so that they maintain their beauty and function over time.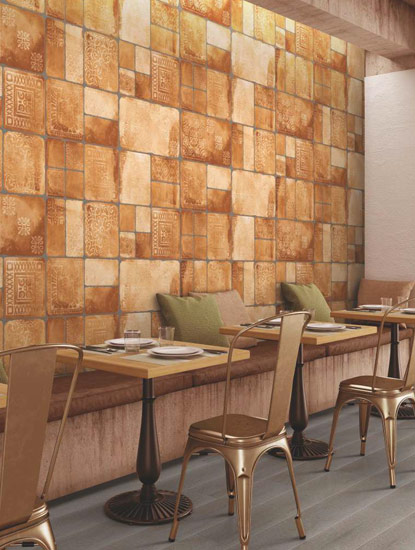 When it comes to choosing the right wall tiles for outdoor use, durability and resistance to weather elements must be considered. They should not erode or fade in extreme weather conditions such as rain, wind, and sun.
Pay Attention to the Grout
Ensure that you choose an appropriate grout. Grout should be highly water-resistant and impervious to mould and mildew. Using poor-quality grout or failing to properly seal it can lead to problems with discolouration, water penetration, and crumbling.
Ensure the grout you use is rated for outdoor use, and seal it carefully. Most people just choose the tile size. If you're aiming for a neat, uniform look in your outdoor area, it's important to select tiles of the same size throughout. Uneven tile sizes can disrupt the line of your design and detract from the overall aesthetic.
Cement-based grouts are the most common for exterior applications. However, you can also use premixed grout made with polymers like acrylic or epoxy grout. Polymer grouts provide superior water resistance and require lower maintenance than cement grout.
Select The Best Wall Tiles for Outdoors
By taking these considerations into account, you can make sure that your outdoor tiling project is a success. By avoiding these common mistakes, you'll create an outdoor area that looks beautiful, functions safely, and lasts for years to come.
H&R Johnson has a wide range of wall tiles intended for outdoor use. Johnson Porselano glazed vitrified tiles Elite Collection offers the most durable outdoor tiling solution. The natural-looking wall tiles provide a rough worn-down appearance which can only happen with beaten-down natural elements like stone and wood.
With their help, you can find tiles that will bring your vision to life and stand the test of time. Choose from a wide variety of materials, shapes, and colours to create the perfect combination for your home. Visit the website to find more of your liking.