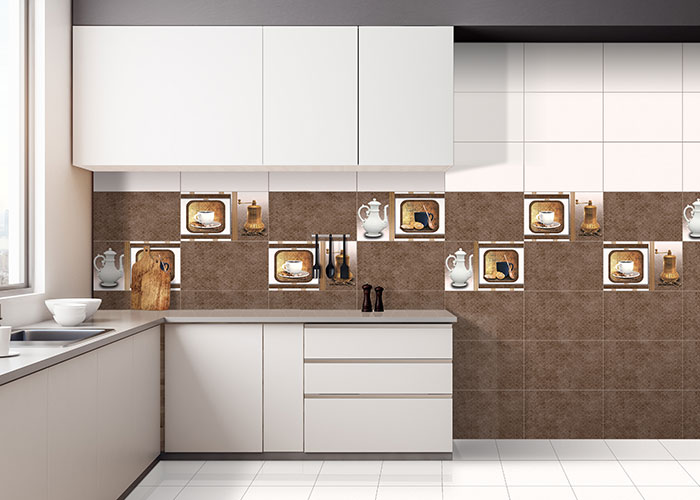 Kitchen backsplash designs have always been inspired by a combination of aesthetics, functionality, and contemporary trends. Over the past two decades, the trends have turned from vintage popup colours to the ultra-organised minimalist kitchen with functional walls and cabinetry. The backsplash design and choices have also evolved accordingly.
In 2023, modern kitchen backsplash themes revolve around a variety of trends, materials, and colours.
Here are eight of the top themes you might consider:
1. Bold Patterns
Use large, colourful tiles to create a flashy, contemporary, and bold backsplash. This style can make your backsplash the focal point of your kitchen. H&R Johnson's Glamour Series porcelain tiles present an excellent range of choices with popup colour choices and quirky patterns.
Do explore Lodi Bright, Muscat Red, Pilsen Green, Rome Black, and Yellow Orange designs in this portfolio.
2. Exposed Brick
When the whole world is trying to colour their kitchen in eye-popping colours, the simplest outlook turns out to make a difference. Tiles with exposed brick patterns help you give your kitchen that simplistic and rustic appearance.
Incorporate exposed brick into your backsplash design for a rustic, industrial look. This trend is both cost-effective and visually appealing.
3. Chevron Tiles
Chevron tile is a unique, eye-catching choice that can add dimension and interest to your kitchen backsplash. It's a great choice if you're looking for a more traditional approach with a modern twist.
You can also create other geometrical patterns like Herringbone, diagonal, etc. using 10x30cm Heritage and 20x120cm plank tiles. Chevron kitchen tile designs are available under kitchen wall tile concepts of Johnson Tiles.
These 30x60cm and 30x45cm tiles can be installed in coordination with base and top-line tiles or as a standalone design.
4. Concrete Backsplash
Concrete is becoming increasingly popular in kitchen design. A concrete backsplash can add a raw, industrial edge to your space. Conse Steel, Hainse Verde, Adrian Silver, Caryl Silver, Olivia Lava, Sirio LT, are just a few kitchen wall tile design ideas to suit your concrete backsplash outlook.
These are mostly large porcelain tiles with a hint of natural stone look at times. However, if you still want a closer resemblance to the plain and humble concrete, you can also consider 10x10cm Oat Meal Grey from the Johnson Heritage Tile collection.
5. Mosaic Tile
Mosaic tiles come in a wide variety of patterns and colours, allowing you to create a unique, eye-catching backsplash design. They're also relatively affordable. At H&R Johnson you have ample choice of colours, sizes, and patterns for mosaic tiles.
You can use the 30x45cm, and 30x60cm ceramic and vitrified mosaic tiles to complete this kitchen wall design.
6. Wood Panelling
Wood panelling can add a warm, rustic touch to your kitchen. It's a great choice if you're looking for a more natural, earthy theme. Wood-look tiles fulfil your desire for such a look while maintaining the hygienic features of ceramic tiles.
You can use wood matte finish planks (20x120cm) or 60x120cm wood format porcelain tiles. Johnson's Wonder Wood porcelain tile also features an easy-to-clean high-gloss surface, perfect for kitchen backsplash.
7. Subway Tile
Use subway tiles, either boldly coloured with larger tiles or smaller tiles arranged in the classic subway pattern. This is a neo-classical approach to turn your backsplash into a focal point.
H&R Johnson's Heritage tile collection offers 30x10cm plain colour bevel tiles perfect for this pattern. However, if you want to avoid the hassles and time consumed in installing the small tiles you can also use larger 30x45cm or 30x60cm tiles with subway texture.
8. Natural Look
A backsplash that mimics the look of natural stone, such as marble or granite, can create a soothing and calming atmosphere in the kitchen. Also, this adds a luxurious, and high-end feel to the space.
Consider H&R Johnson's Exotic and Special Polished wall tiles portfolio to explore some curious natural marble designs. These designs not only reflect the randomness of natural formation but also offer soothing colours to match the warmth.
Buying the Best Tile Design for Your Kitchen
Remember, when choosing a backsplash theme, it's important to consider the overall style of your kitchen, the functionality of the space, and your taste. These trends offer a variety of options to suit any kitchen.
While selecting the new kitchen tile designs you can address the functional needs first. For example, if your kitchen wall is curved, you will need to stick to smaller tiles for ease of installation and space utility. This can limit your design choices.
The best way to address the multitude of challenges while selecting the best tile design for your kitchen is to consult an expert. You can contact and discuss your kitchen tile choices with an expert at H&R Johnson. Simply fill out the contact form online or visit an Experience Centre near you to start.
FAQs
The best tiles for kitchen walls are typically ceramic or porcelain tiles. They are durable, water-resistant, and easy to clean. Subway tiles, mosaic tiles, and patterned tiles are popular choices for kitchen backsplashes. Choose tiles that complement your kitchen's style and colour scheme and consider factors like ease of maintenance and stain resistance for a practical and attractive kitchen wall covering.
Yes, tiles are an excellent choice for kitchen walls. They are durable, water-resistant, and easy to clean, making them suitable for areas prone to splashes and spills. Tiles also come in a wide range of colours, styles, and patterns, allowing you to create a stylish and practical kitchen wall surface that complements your design preferences.
You need to play with colours and light in the kitchen to highlight its presence. You can use light colours on the backsplash and kitchen cabinets to create an airy feel. Open shelves showcase stylish dinnerware and add depth. Use high-gloss tiles and cabinet finish to reflect light and make the space appear larger. Try and keep countertops clutter-free and invest in efficient storage units to maintain the same.