Floor tile design choices are so vast that anyone trying to decide the best design would easily be lost for them. So, this is one place where you need to go with a bias in your mind. You need to build the bias for your choices and preference based on the style and theme of your home.
There are a few other factors you can consider for each space, as discussed below:
Garden & Outdoors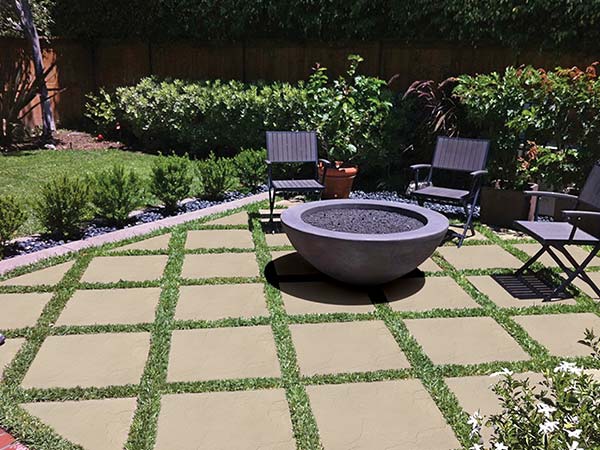 Outdoor and garden area seating and pathways attract natural colour and finish choices for the floors. Thus, rustic and earthly colours are the most common type of outdoor floor tile designs for the gardens. However, you don't have to be limited to wood. Stone, marble and often the glazed ceramic tiles with unique designs also work for your outdoor space.
All you need to consider in your choices is the available area, attached greenery and safety needs. For example, glossy tiles, though good, may become slippery during rains.
Artificial prints work well in smaller areas, but for a large area, you may need something sturdier and more homogeneous. Full body vitrified tiles and glazed vitrified tiles are best for application in these areas.
Vitrified or porcelain tiles are water and abrasion-resistant. However, porcelain requires more care in placement, as the harder material can be brittle.
Parking Floors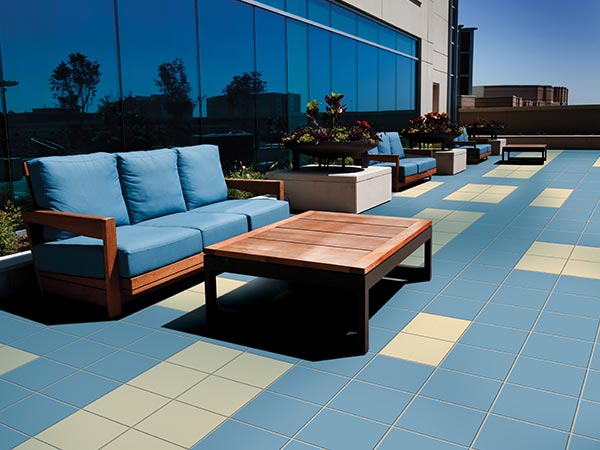 Parking is one of those areas which needs to be sturdy and resistant to surface nuisance. Especially in the Indian environment where dust is a common and unavoidable substance.
For your parking space, you can rely on vitrified tiles for the floor. These tiles offer higher surface strength and can withstand the occasional tyre and tool pressure.
If your parking is large and has slopes you also need to consider a higher grip factor for the surface. Johnson's Endura Maxgrip tiles are one of the solutions you can consider for the job, even when you need something stylish while being superbly functional.
Living Room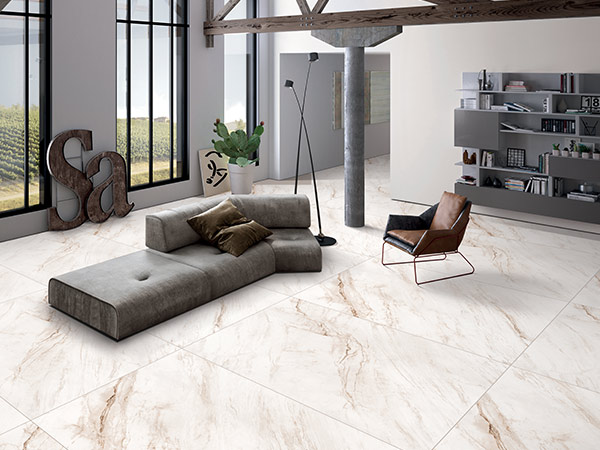 Living room floor tile options are an endless river, you can keep swimming into. So, the best way to decide the best living room tile options for your house would be to work your thoughts up, starting from your initial vision for your home.
You can consider the following factors to narrow down your choices:
The overall theme, i.e., classical, opulent, modern
Available natural light
Carpet Area
Depending on your choices you have the following options for living room floor tiles:
Glazed Vitrified Tiles :
Offer almost a replica of the natural stones, but available in more colour variations. You can choose from high gloss to satin matte finish for the desired appearance in the living room. This floor tile design option is best if you wish to create a classical or opulent look.
Vitrified Tiles :
Polished vitrified tiles boast higher durability and offer unaffected looks for a long-time. These floor tile designs can help you recreate your modern living room. They are also great for use in office spaces.
Ceramic Floor Tiles :
Ceramic tiles or glazed ceramic tiles are perhaps the most versatile when it comes to design. The digital print gives the tiles both natural and artificial patterns which you can consider for your living room.
Apart from the design and finish of your floor tile, the tile size is a factor you can play with. Larger tiles assist the look of luxury. However, you need to have adequate space to use them properly, as their installation will need extra care.
Bathroom Floor Tile Design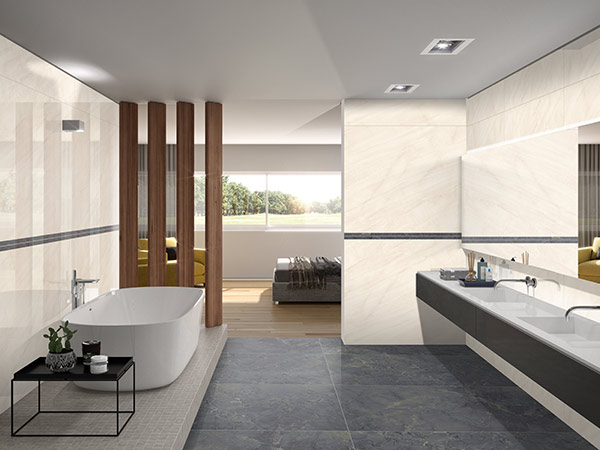 Tiles are quite useful in bathrooms for both the floor and the walls. Floor and wall tiles in the bathroom not only offer aesthetic qualities but also improve safety for the users and the building.
Since water is a common substance in the Indian bathroom, you need to ensure higher waterproofing for bathroom walls and floor. The floor tile designs for the bathroom will depend on the area, lighting and theme of the bathroom.
Synergistic design
Higher grip
Even slope for water drainage
Large bathrooms offer more space for simplicity and tile choices. You can go for tiles ranging from plain grey to marble white. While smaller bathrooms need smarter design selection to make them look comfortable if not spacious.
Another factor to consider in your bathroom floor tile choices is the size of the tile. Bathroom tile size depends a lot on the available floor space and slope requirements.
Unless you have a dedicated wet area separate from the dry area, you may stick to 30x30 cm or 60x60 cm tiles depending on the size of your bathroom.
You can also consider porcelain tiles that offer better water resistance for the bathroom floor if shower area is not separated from the rest of the space.
Kitchen Floors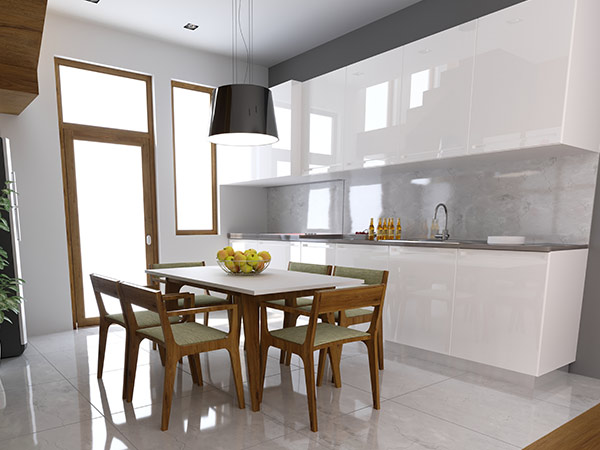 Kitchen floor tile designs often match the floor of the living room or the house in modern houses. The simple reason behind this choice is the placement of the kitchen, which is often attached to the living room as an extension.
If you have a kitchen which is separate from the living room, you can opt for a different floor style for it. However, differentiating the floor design for the attached open kitchen would be tricky. You can use matt finish tiles in the kitchen with the same design as your living room.
Other than that, in the case of a modern kitchen you only need to worry about two other things – spillage (maintenance), and lighting.
Homes with ample natural light for the living room and kitchen can easily go for darker shades for floor tiles. The milder shades would include natural colours like wood and stone finish.
However, in smaller kitchens where natural lighting may not be as prominent, you should stick to warmer colours like white, light grey, yellow, etc.
Bedroom Floor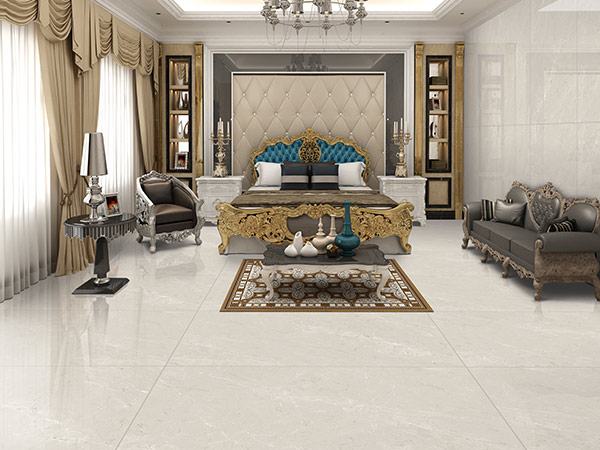 The bedroom floor has one major difference from the living room floor – personalisation. A bedroom is your personal space along with your partner. Similarly, children's rooms must be customized as per their choices.
So, unlike the living room which is the collective display of the best your guests would expect, the bedroom floor is entirely your imagination.
You can even go overboard with the styles by mixing two designs or having just one seamless texture across the floor and walls. Often bedroom floors are complemented with carpets.
However, with a floor as seamless as the grey scale (in the picture) you would not want the carpet to obstruct the view. Also, take special care of the colour choices in the bedroom, as you want the atmosphere to be relaxing. Even natural looking wood design tiles are very popular for the bedroom floor and add a lot of warmth and beauty to the ambience.
After all, the purpose of a bedroom is to use the bed not to jump off it. Natural colours like green, yellow, white, blue, etc. can offer the soothing effect you need.
Floor Tiles for All Themes & Styles
Modern designed tiles for the floor of the unique mix of quality, durability and appearance for each of the areas in and outside of your home. Glazed vitrified tiles offer the maximum variety of designs ranging from natural stones like marble to contemporary digital art forms. The superb finish coupled with the high durability of the tiles make them the best choice for any bedroom theme.
Whether you want a glossy floor to reflect all your movements and furniture or a satin matt floor to offer a natural feel, glazed ceramic and vitrified floor tiles offer you all.
Frequently Asked Questions
Tiles are a long-term decor item for homes and commercial buildings. However, the trends often keep changing as per the developing taste and preferences. Tiles with natural finish have been a preferred choice in the urban settings. For example, wood plank tiles, marble finish tiles, granite tiles, rustic designs etc. However, if you want to create opulent spaces like in the living room or office, you can use high-gloss tiles. These glazed vitrified tiles provide the luxurious appearance of a unique design and durability for the space.
You may want the floors in your house to reflect your personality and choices, while matching the theme of the interior design. Nowadays, you can replicate any material in your floor design using manufactured tiles. Ceramic tiles, glazed vitrified tiles, or porcelain tiles, give you the option of choosing from very unique digital colour prints to the replica of natural materials like marble and wood. The replica tiles have become more popular for flooring than the original materials due to their versatility of design, strength and durability.
Choosing a type of shade that you want for the floors depends on a few factors. Availability of natural light, overall theme of the home or office interior and purpose of the floor colours. Usually darker shades are great if you want to keep visitors' focus on the items on display rather than the walls and floor. Darker shade offers you an unhindered view of the colours and design of the decor items or displayed wares. Thus, works best in retail stores such as clothing and accessories. Home floors can use darker shades to create a luxurious appearance and feel. However, darker shade can limit your options of selecting furnishings unless the walls contrast the floor.