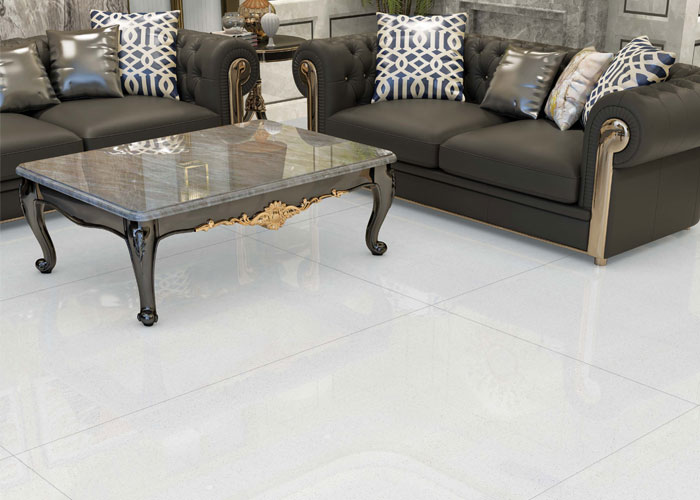 Designing small living rooms for an updated modern look might be challenging as you don't have enough space to install a lot of things. But wall and floor tiles with warm colours can help you create a feeling of a larger space in your living room. Vitrified ceramic tiles are an option you should consider for this task. Vitrified tiles offer the style, quality, and endurance you can enjoy in your living room.
Why Use Vitrified Tiles?
While lighter colours offer certain advantages to a small living room, you can still experiment with creative designs for walls and floors. Vitrified tiles are a better option over natural stones as well.
Here are the reasons why vitrified tiles are a better option for small living rooms:
Amazing colour and design options
A perfect replica of natural materials
Sturdier than natural materials like wood and stone
Easier and cheaper to maintain than wood and stone
Easier and cheaper installation than natural materials
Easily available in almost all regions
Various surface finish for wall and floor tiles helps in creating style spaces
Recyclable and eco-friendly
When you look at the choices of designs, patterns, and finishes of vitrified tiles, you can appreciate their presence over natural wood and stone.
Now that you are convinced about using vitrified tiles in your living room, follow the steps below to use the best tiles:
Select the Type of Vitrified Tile
Vitrified tiles are generally available in the following two forms:
Full body vitrified
Double-charge vitrified tiles
Glazed vitrified
Full-body vitrified tiles present a uniform body, unlike glazed vitrified and double-charged tiles. Thus, breaking and chipping the tile from anywhere does not affect its appearance and colour. This is why these tiles are very close to replicating natural stones and terracotta appearance.
Full-body vitrified tiles (FBVT) can also be polished to a glossy surface. So, if you are looking for a glossy floor, polished FBVTs would be a great choice. Also, these tiles have one of the hardest surfaces of all. So, you can relax with the surface appearance. It's stain-free and lasting.
Though you do not need to put double-charged vitrified tiles (DCVT) in your living room, you can consider their designs and colours. DCVTs are more expensive and suited for medium to high-traffic areas, such as shopping complexes and offices.
Glazed vitrified tiles or GVTs hit the sweet spot with their superb designs and surface finish. GVTs can offer surface designs which you'd want to put on your wall as a decoration. Given below are some of the popular designs at H&R Johnson, a six-decade-old ceramic tile manufacturer in India:
One of the most popular designs of GVTs includes a wood finish. You can get both wood planks and tiles for your living room wall and floor.
Plan a Theme
When constructing your living room or just replacing the tiles, you should first plan a theme you can follow. The living room theme can be a little different from other rooms, but this is usually the central theme of the house. Decide what the layout of your living room is going to look like and what all things you want to include inside it.
Also, decide whether you only want tiles for the floor or the walls as well. Placing tiles on one of your living room walls also gives it a unique and modern look. In any case, you can create an accent wall with vitrified 3D elevation tiles or artistic tiles.
Choose Colours
While lighter colours can make a small space appear larger, you can always bank on natural tones. Wood-lookalike tiles are an evergreen choice for the living room floor. However, you can mix and match with glossy tiles and dual-tone settings. A combination of light colour floors with natural hues on the walls has been a popular choice for living rooms.
For walls you have multiple options you can apply based on your budget and preference. For one, you can create an accent wall with 3D elevation tiles. Or put up a large tile with a unique artistic pattern as a mural.
Select the Correct Size
Correctly sizing your tile choices will be an important factor in proper installation and a happier experience later. You should be especially cautious with floor tiles sizes as these tiles will cover the entire surface. If you plan to cover the entire wall with tiles, wall tile sizing will also become important.
Ideally, you should aim to minimise the wastage and cutting of the tiles for installation. To ensure minimum cuts and adjustments you should choose a tile size with a minimum fraction. For example, an area of 100 sq. feet should do well with tiles of 60x60cm and 60x120cm.
Planks of 20x60cm fit almost any space but they need expert grouting to ensure that they stay in place longer.
Selecting Tiles for Walls vs Floor
You don't need to buy the same tiles for your walls as your floor tiles. Floor tiles need to bear weight and foot traffic. Thus, they are typically thicker and more expensive than wall tiles.
Wall tiles can be lighter and made of lower-density material than floor tiles. Vitrified tiles for the floor from renowned brands can range between 8-10 mm, while wall tiles are typically 5-6 mm thick.
Elegant Living Rooms with Vitrified Tiles
You don't need to worry even if your living room is small as vitrified tiles are going to solve your issue to a great extent. Whether you want to give your living room a uniquely modern look or a simple elegant appearance, vitrified tiles can be a great choice.
Vitrified tiles can perfectly replicate natural materials with better features and a more convenient life. The variety of designs and patterns of GVT tiles can always add unique and mesmerising looks. So, find your unique design and turn your small living room into a place of elegance with vitrified tiles.