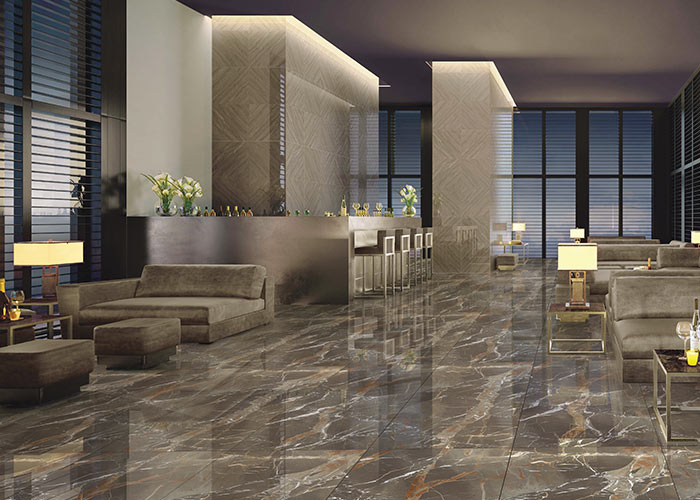 The best ceramic tile manufacturers in India offer a large variety of ceramic tiles. Regardless of the diversity of the areas you can put one or the other type of ceramic tiles on the floor and the walls. However, when you visit the ceramic tiles showroom you should know the type of tile you need based on the place you will install it.
Ceramic tiles are a popular choice for flooring, walls, backsplashes, and countertops in homes. Tiles can beautify and personalise areas such as the kitchen, living room, bathroom, and even entryways. It is important to choose the right type of ceramic tile for the intended use and environment.
Types of Ceramic Tiles
Almost all manufactured tiles can be classified under ceramic tiles. However, they feature a wide range of different qualities based on their composition and manufacturing.
Here are the most popular types of tiles offered by the best ceramic tiles manufacturers in India:
Non-Vitrified Glazed Ceramic Tiles
These are the most common type of ceramic tiles and the most inexpensive as well. These tiles are mostly digitally printed and offer a huge range of patterns and designs including 3D & embossed (punched) tiles.
Glazed Vitrified Tiles (GVT)
Vitrified tiles have little difference in composition. However, offer better endurance and moisture resistance than non-vitrified tiles. This is due to the higher baking temperature for these tiles. These tiles are more durable and stronger than non-vitrified ceramics. Also, these tiles offer a rather extensive range of unique patterns and up to six different surface finishes, i.e., matt, sugar, high gloss, satin, polished, etc.
Full Body Vitrified Tiles (FBVT)
Full-body vitrified tiles are great for rough usages like outdoor, parks, parking spaces, and countertop applications. The lack of glaze and polished surface of these tiles make for a sturdy option for these places. They have a uniform structure and perfectly replace the natural stone options.
Other types of ceramic tiles consist of purpose-built tiles, such as cool roofs, anti-static, acid-alkali, and & swimming pool tiles. Double-charge tiles are more common among these as they are suitable for medium-traffic areas like malls, shops, etc. Double charge tiles offer the same variety of patterns and finish as GVT with higher surface durability.
Different Environments in Home for Tile Usage
You can use different types of ceramic tiles in different environments based on their design, strength, and surface finish. Usually, you can use non-vitrified tiles on walls in any area. Since walls do not need to bear the load and safety needs of the floor, non-vitrified ceramic tiles offer a great combination of price and appearance.
However, floor applications in the following areas can differ based on the specific area factors:
Kitchen
Living Room & Bedroom
Bathroom
Rooftop & Balconies
Front Elevation/Porch
Parking
In this blog, we tell you how you can use ceramic tiles in different environments.
Kitchen Ceramic Tile Choices
The kitchen can use tiling in three prominent places & floor, backsplash, and countertop:
Kitchen Floor
Use ceramic tiles with matt or sugar finish to provide grip even after spillage for safety. However, the appearance also needs attention due to the kitchen's proximity to the living room in modern homes.
Kitchen Backsplash (Wall)
Glossy ceramic (non-vitrified) tiles are easy to clean and maintain, which is important in Indian kitchens where spills and stains are common. They can be easily wiped down with a damp cloth or mop. Wall Ceramic tiles are also resistant to heat, making them ideal for use as a backsplash behind stove tops and ovens, which makes them a practical choice for kitchens.
Kitchen Countertop
The countertop tile needs to be sturdy and have a hard surface as well. Polished FBVTs are great for this application. H&R Johnson provides 80x240cm and 80x160cm slabs of FBVTs under the Johnson Marbonite collection.
Living Room & Bedroom
You can use non-vitrified ceramic tiles for your living room and bedroom floors and walls. They are the most common choice for living room and bedroom floor applications. However, if you can plan for a slightly higher budget GVT tiles will be a more attractive option for these spaces.
High gloss, wooden texture, and polished formats are preferable with a variety of designs. You can use natural finish GVT tiles in the living room for extra effect as they offer a few amazing design choices.
When selecting ceramic tiles for your living room you should consider the following:
Size and colour of the tiles
Overall decor theme you wish to follow
Availability of natural light
Budget
Larger floor tiles can make a room feel more spacious, while on the walls they are a pure joy to look at. Smaller tiles, on the other hand, add texture and visual interest to the floor.
Neutral colours like beige, grey, or cream can create a calming, understated look, while brighter colours and patterns can add a bold, energetic vibe.
Bathroom Floor & Walls
Modern bathrooms are growing in India where the western influence on the design is more and more visible. Thus, you can have as many as three to four different tile spaces in the bath including floor and walls:
Floor & Wall
Vanity Countertop
Shower Enclosure
You can put almost any tile design and pattern on the bathroom floor. However, it must feature the following two qualities:
Superior wet grip
Adequate slope towards the drain
Ceramic tiles with a matt surface finish are more appropriate for bathroom floors due to their superior wet grip. For adequate sloping bathroom tiles are often smaller, i.e., 30x30cm and 40x40cm tiles are more popular for Indian bathrooms.
Countertop tile can be like the kitchen countertop slab. However, since your bathroom counter will not have to deal with heavy kitchen utensils, the slab can be of lower thickness.
Rooftop & Balconies
Rooftops and balconies act more like bathroom floors due to their exposure to the elements of nature including water. You don't want to be slipping on your roof and balcony after a bout of rain. Thus, matt finish tiles work better in these spaces.
However, if you are living in a region where the sun can be extra generous during summers, you'd want your roof to somehow stay cool. Cool roof tiles are better equipped for this function.
Cool roof tiles (Johnson Endura Cool Roof SRI Tiles) may not offer as much a décor value as other GVT and ceramic tiles, but they will certainly help reduce your cooling bills.
Ceramic Tiles for Front Elevation
The front elevation is one of the favourite places to decorate with tiles. 3D elevation tiles have been the most popular choice for this area. Vitrified tiles which give a natural stone appearance offer a beautiful, natural, and sturdy front elevation option.
Popular choices for front elevation ceramic tiles:
Natural stone 3D elevation tiles
Brick structure 3D elevation tiles
Wood (lookalike) finish tiles
H&R Johnson offers ceramic and GVT tiles with a 3D elevation design mimicking the natural stone and brick structure with multiple shade options.
Parking Tiles
Parking floor tiles need to be strong, with good surface hardness and grip. Johnson's Marbonite Meteor and Maxgrip tiles are purpose-built for this application.
These tiles are fully vitrified, i.e., they mimic and even surpass the qualities of natural stones but with a better appearance. Maxgrip tiles are better equipped for ramps and pathways where the vehicle will need more grip.
These tiles are made for withstanding higher surface abuse and uniform body means surface scratches do not affect their appearance.
Visiting The Ceramic Tiles Showroom
Ceramic tiles are a stylish choice for living room flooring and can help to create a comfortable, welcoming space for you and your guests. Visiting the showroom without your homework could be overwhelming with thousands of designs, patterns, and possibilities.
However, if you know what to look for and why you will have a much easier time finding and negotiating the right kind of tiles for your home. Choose the one that best suits your style and complements the other elements.
H&R Johnson can also provide you with expert assistance in your quest to redo the outlook and fixtures of your house with the best ceramic tiles.
Frequently Asked Questions