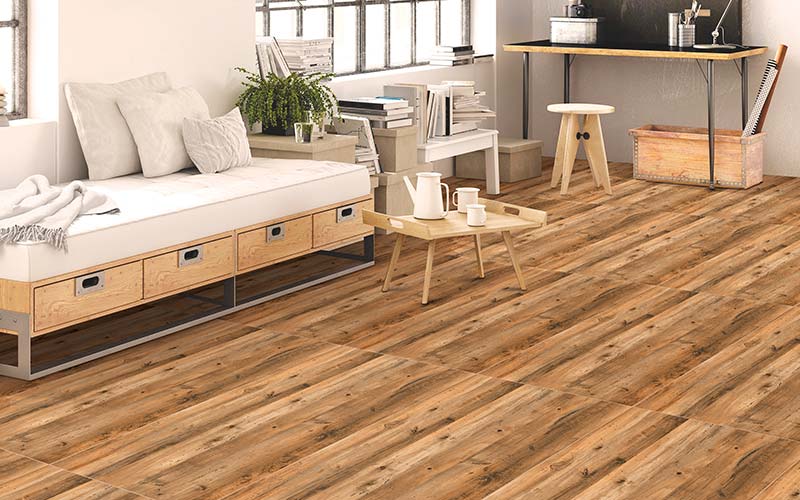 We are confident that you must have considered wood flooring at least once while choosing a flooring solution. Wood floor tiles are, after all, one of the most widely used tiling options for both indoor and outdoor use because of the advantages they offer. Sincerely, there are several benefits to choosing wood floor tiles.
Greater than the initial area occupied by urbanisation is the agricultural clearing of forests caused by urban growth into formerly agricultural land.
Urban areas are frequently found in highly productive farmland areas, according to the report, whereas new cropland is typically created at the expense of forests and other natural areas.
As a result, the amount of additional agricultural land created from the forest was 139% more than the area lost to urbanisation.
In addition to "cereal crops" like wheat, maize, and rice, these agricultural regions were also utilised to cultivate oil palm and soybean, two crops that are frequently linked to tropical deforestation.
The study indicates that to stop this process, urban expansion may be focused on less productive areas rather than converting fertile crops.
Wooden Plank Tile Design
Wooden plank tiles appear to be natural wood, and you'll have to touch them to tell the difference. Plank tiles come in a variety of materials, including ceramic, porcelain, and glazed vitrified tiles. The GVT Plank Tiles collection is truly inspired by nature and meticulously designed to have the appearance, texture, and feel of real wood.
High-tech manufacturing techniques, such as advanced 3-D digital imaging and high-definition scanners, have resulted in realistic visuals that replicate the warmth, texture, and character that we associate with natural wood. You'll be astounded at how realistic and virtuous they appear! You no longer need to spend a fortune on expensive natural wood to achieve the look of classy, chic, and elegant wooden flooring.
People who prefer a warm and comfortable look that is always in style prefer wooden tiles. Wooden floor tiles are popular, as are wooden wall tiles for creating the perfect atmosphere. H & R Johnson has a large selection of wood tile designs that are sure to pique your interest.
The advantages of wood flooring tiles are as follows:
1. Wooden Plank Tiles Do Not Need Trees
When trees are cut down for wood, an equal or greater number of new saplings are planted to keep the forest cover. Transforming a log of wood into flooring produces no harmful by-products or toxins and uses less energy than linoleum or carpeting.
Furthermore, this process generates very little waste because the sawdust and chips produced can be used to make other products such as paper. As a result, your decision to have wooden floors helps to preserve the environment and reduce pollution.
The first major advantage of wood floor tiles over hardwood or natural wood is that they are environmentally friendly. Because hardwood is obtained by cutting down trees, choosing real wood directly contributes to environmental damage.
2. Affordable
Not only are wood floor tiles environmentally friendly, but they are also significantly less expensive than hardwood flooring. Hardwood production is declining while prices are rising due to strict government regulations governing wood cutting to protect the environment.
Porcelain wood tiles, on the other hand, are priced the same as other tiles because they are made with the same materials and processes as other porcelain tiles. Furthermore, because there are no restrictions on tile production, there is always enough supply to ensure that prices do not rise.
3. Available in Different Textures
When it comes to actual wood, you have very few options based on local availability. However, with porcelain tiles, the possibilities of colour and texture are limitless. You can select not only from a variety of patterns but also from a variety of textures such as gloss and matt finishes.
Finally, the variety of patterns allows you to choose the best wood floor tiles that complement and blend in with your theme. The variety of designs also allows you to try out various flooring options and select the best one.
4. More Durable
High-quality hardwood flooring can last for more than 100 years if properly cared for. Laminate and linoleum floors, on the other hand, have a lifespan of only 15-25 years. Carpet has an even shorter lifespan, lasting only 8-10 years. This means that by installing wooden flooring, you can reduce the number of resources you use, saving the environment.
While hardwood is a very durable product, they are less durable than wood floor tiles. With limited regular maintenance wooden floor tiles can last much longer than any natural hardwood wood tile. This is due to limitations such as low moisture resistance and the possibility of rot.
Porcelain tiles, on the other hand, are extremely durable due to their resistance to extreme weather conditions, ability to withstand heavy wear and tear, and use of high-quality materials.
5. Easier to Maintain
One of the major disadvantages of wooden flooring is that it is difficult to maintain due to a variety of factors such as uneven surface, low resistance to weather conditions, and high susceptibility to moisture.
Because of these constraints, you frequently second-guess yourself. This is yet another reason to prefer wood floor tiles over the hardwood flooring.
Wooden floors are easier to clean than carpeting and do not collect dust or dander. Unlike tiles and linoleum, wooden floor tiles do not require glues or adhesives for installation. Thus, installing and maintaining wooden floor tiles does not release harmful emissions inside your home.
Porcelain tiles have a non-porous surface making them resistant to weather and having a low absorption rate. Thus, wood-look porcelain tiles are relatively easy to maintain.
6. Recyclable
Unlike natural wood which may be wasted with renovation, wooden floor tiles are recyclable. Once you remove the tiles, they can be sent back at the beginning of the tile-making process. Thus, wood-design porcelain tiles leave no trace of their existence in the world.
Significant Tile Advantage
Wooden floor tiles give you the benefit of using a design from Lankan wood to Brazilian. At the same time, tiles help protect the environment and your health with a chemical free and simple existence.
H&R Johnson offers more than 100 wooden tile designs for you to choose from. From the front elevation to the kitchen floor, H&R Johnson's wooden tile designs complement all spaces with unique natural warmth and texture.