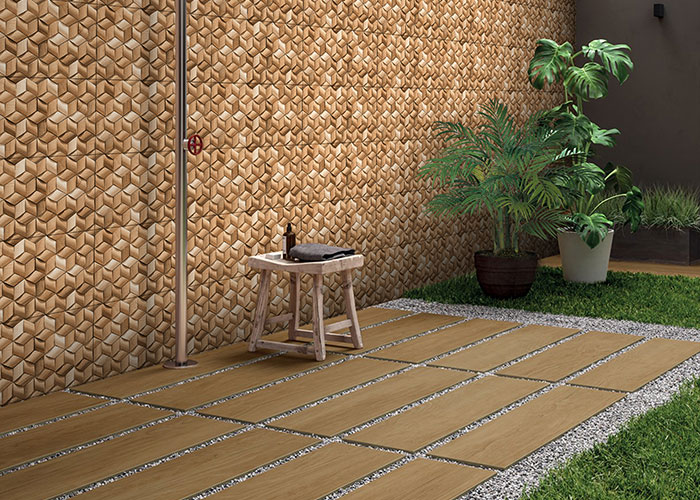 Would you like to paint your home such that you never have to worry about repainting and walls getting mouldy? Well, here's something that will even remain as beautiful as new for decades to come. Front elevation 3D tiles are your best bet to achieve almost maintenance-free walls for your home.
What Are 3D Elevation Tiles?
3D elevation tiles, also known as relief tiles or three-dimensional tiles, are a type of decorative wall covering that adds depth and texture to a surface. Unlike traditional flat tiles, 3D elevation tiles are designed with raised patterns or motifs, creating a three-dimensional effect when installed.
At H&R Johnson you can find three types of 3D elevation tiles:
Punched 3D Elevation Tiles with a Glossy Surface Finish

Matt Finish 3D Elevation Tiles

3D Elevation Glazed Vitrified Tiles (Rustic Finish)
3D Elevation tiles for outside walls are usually porcelain or glazed vitrified tiles or ceramic tiles. The raised patterns on the surface can range from geometric shapes and abstract designs to intricate floral motifs or textured imitations of natural elements like waves, leaves, or bricks.
Why 3D Elevation Tiles for Wall?
The three-dimensional nature of these tiles adds visual interest to walls, making them a popular choice for both residential and commercial spaces. They can be used in various applications, including interior walls, feature walls, backsplashes, and exterior facades.
Here are a few reasons why you should use 3D elevation tiles for walls especially exterior walls or inside walls to create focal points:
Aesthetics & unique visual appeal

Imitate natural stone walls and features

Easy to install and work with

Long life and low maintenance

Environment friendly, i.e., recyclable, with no quarrying or environmental hazard
3D elevation tiles are often used to create focal points in a room or to add a unique aesthetic element to a space. These tiles add depth, texture, and tactile quality to the walls. They can also play with light and shadows, creating visually dynamic surfaces that change throughout the day.
Elevation Tiles for Walls at H&R Johnson
H&R Johnson pioneers the technology and design of 3D elevation tiles in India. H&R Johnson offers a large portfolio of 3D wall tile designs for both indoor and outdoor wall applications. Some of the most popular 3D tile concepts for exterior décor have been introduced below:
Rock Fort Concepts
Rock Fort concept provides a tile design that imitates the looks and surface features of irregularly cut stones for building the wall. The tiles randomization feature means that no two tile designs are exactly similar, carrying forward the natural randomness of stone.
Stone Bricks Concepts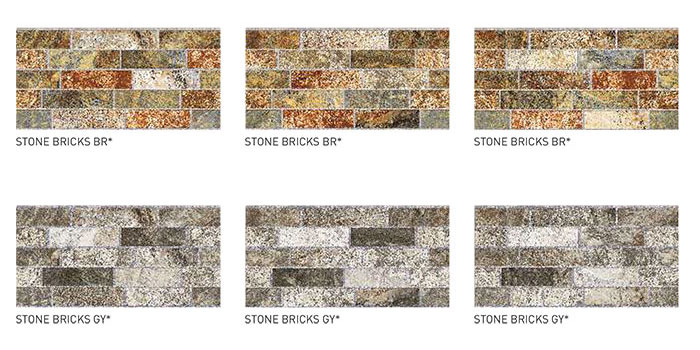 The Stone Bricks concept may look similar to the Rock Fort concept. However, the key difference is that Stone Bricks tiles feature properly cut stone bricks design, unlike the rough cut stones on the wall. While this concept looks more organised and deliberate on the wall, this also features randomized tiles for a more natural appearance.
Sandstone Bricks Concepts
Sandstone Bricks are perhaps some of the most popular wall concepts for Indian homes. The sandstone beige and grey colour tiles can give your home a unique sandstone brick makeover.
Plus, these glazed vitrified tiles are almost maintenance-free for life and remain unfazed even under extreme weather.
Due to the popularity of this stone colour and style, you can find several options in elevation tiles. At H&R Johnson you can use the standard brick-style Albano tiles or the random tile stack of Edenstone, and Harmony tile designs under the Elite Elevation portfolio of Johnson Porselano Tiles.
Cobbled Stones

The Rockmount elevation tiles for walls at H&R Johnson mimic the design of a stacked cobblestone wall. These tiles can create an antique look for your home's front elevation deck. The rustic charm of the rough stone surface looks great for the seating area in the garden or around the house.
3D Wood Carvings
Want to imitate the classical heritage of Himalayan carved wood designs for your home? Cubic Wood designs at H&R Johnson's elevation wall tile collection can be for you. Carved wood designs are not as popular in the rest of India due to several challenges with woodwork and maintenance. The vitrified tiles can make it easier to flaunt such a design without the problems of the natural wood patterns.
Red Stone Bricks
Red stone brick patterns have been an underrated design in India, though it offers a beautiful natural texture to a building. H&R Johnson offers two elevation designs with red firebrick colours and designs – Fire Brick Red, and Sandstone Berry.
Overall houses covered with red brick tiles look warm and cosy, especially when covered with greenery.
Stone Art Tiles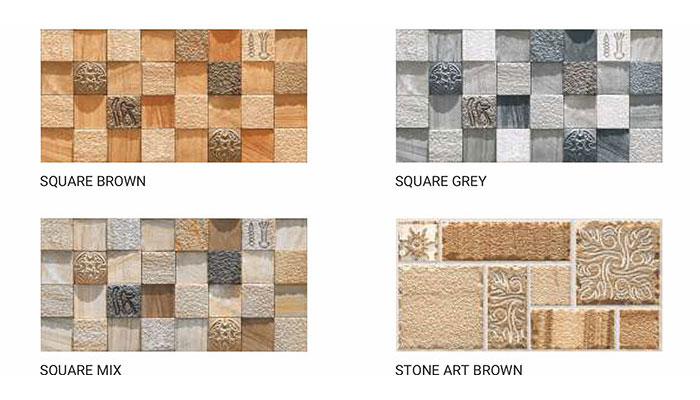 Stone art tiles are elevation tiles for walls with 3D stone patterns with artistic carvings. Unlike the plain natural appearance of other elevation tile designs these tiles create a perfect balance of human creativity and natural appearance.
These tiles can be used as artwork or create an accent or feature wall in your house. Multiple colours allow you to mix these tiles with other tiles plain or elevation in your model for wall cladding. These are also glazed vitrified (porcelain) tiles. Thus, are virtually maintenance-free for life.
Installation Care
External wall applications for tiles need a bit of extra care due to their exposure to extreme conditions. Thermal expansion is one this to worry about when you are fully cladding your home walls with tiles. Providing expansion joints at about 8-12 feet between the tiles will be good enough to avoid the side effects of extreme sunlight.
Also, take care of the grout material if it is recommended for outdoor use. Water-resistant grouts like epoxy and polymer sand are recommended for outdoor wall cladding. Although the tiles themselves are waterproof, the joints should also resist water from seeping between the tiles and the wall.
For more details and to find the most suitable elevation tiles for the walls of your home you can also contact the experts at H&R Johnson or visit the nearest experience centre.
FAQs
The home's front elevation needs special thought in home design. This is the area for the first impression of the home design and architecture. 3D elevation tiles are considered the best tiles for the front elevation. These tiles sync well with almost every design, plain walls, other tiles, etc., and provide a natural warmth to the entrance.
The price of the wall elevation tiles can vary based on the quality, thickness and density of the material. The most durable elevation tiles are glazed vitrified tiles and the price can range around Rs 150 per sq. foot.
Natural colours are often the best for elevation tiles. However, the fire brick's red colour also goes well with the elevation tiles. Other colours will include, beige, grey, and white.