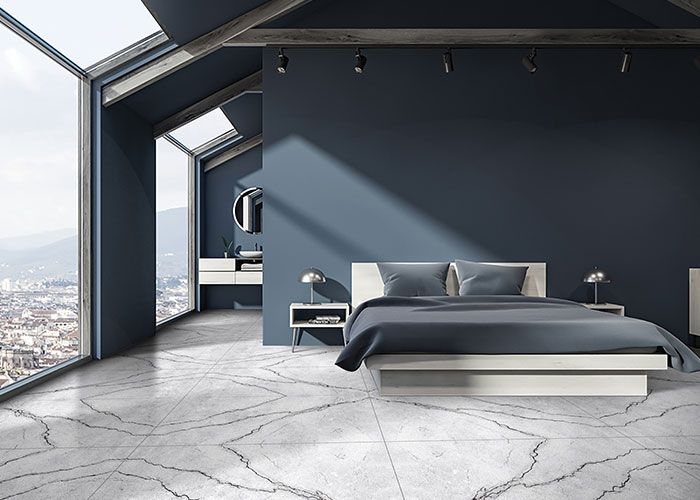 Porcelain tiles are one of the best vitrified tiles to give your home a luxurious modern look. Vitrified floor tiles are also easy to maintain and last longer due to their sturdy surface quality. Porcelain tiles also offer some of the most unique designs for your home. If you want to create a unique space in your home, porcelain tiles can offer some of the best solutions.
However, the tile designs and finishes may vary based on your interior design and the style of the house.
Selecting The Right Glazed Vitrified Tiles
There are a few things that you need to consider while selecting the right glazed vitrified tiles for your homes:
Placement and Available Surface Area
Every tile design might not be suitable for every place. We have a wide range of GVT designs, suitable for different places. It is essential to keep the placement in mind. Moreover, the space available for placing tiles also matters.
If you have small rooms, you can make them look bigger using light-coloured glazed vitrified tiles. However, bold colours and designs can be chosen for spacious areas.
You can find glazed vitrified tiles in rectangular as well as square shapes and different sizes. Both square and rectangular tiles go well with the floors, but for walls, rectangular ones are preferred.
The size of the tiles should also be decided based on the placement. For living rooms, bedrooms, corridors, etc., large glazed vitrified tiles are the better option.
It is the most important factor to check while selecting glazed vitrified tiles for your home. Make sure that the tiles are durable, indestructible, and can withstand heavy weights regularly.
Johnson's GVTs are mechanically strong, stain/scratch resistant, and have a long-lasting finish.
Cleanliness and Maintenance
The tiles you choose should be easy to clean and maintain. Glazed vitrified tiles by Johnson have a smooth surface that you can easily clean just by wiping them off. Large-size tiles should be preferred when choosing tiles for an area with a regular foot load.
Floors with large tiles have lesser grout lines, which makes them easy to clean and maintain.
Glazed vitrified tiles can be found in a wide variety of designs and different finishes. A high glossy as well as matte finish You can choose a design and finish that suits the rest of the style of your place.
Also, consider the thickness of the tiles and select them according to the placement. For walls, tiles should be comparatively thinner and lighter as there is no foot load, and the installation also becomes convenient. On the other hand, floor tiles should always be thicker.
The Best Vitrified Tile (GVT) Designs
Rome Black
Johnson's Rome Black tiles in a high-gloss finish can give a unique look to any place. With a bold cloudy design, these tiles are perfect for the focal points of your homes. The randomised phases ensure that your tiles give a purely natural appearance while maintaining their exclusive aura.
These are also suitable for the flooring of hotel lounges, reception areas, and other noticeable places. Rome Black tiles are one of the best vitrified tiles for floor applications in homes and commercial spaces.
These tiles can give an ultra-modern look to your place while they handle low to medium footfall without losing their sheen. The non-porous high glossy surface of these tiles can be cleaned easily using any mild detergent and water.
Oran Purple
The Oran Purple GVTs with random golden patterns from H&R Johnson If you want to go with some unique colours for your floor, t might be good. These are best suited for bedroom floors and even for the walls if they are the theme you have decided for your bedroom. The shiny polished surface gives a glamorous look to your rooms and compliments the overall interior design.
Block Wood Brown
The Block Wood Brown glazed vitrified tiles design by HR Johnson resembles real wood with its matte finish and realistic patterns. Wooden floors go well with almost every style and theme. Being a natural material block wood offers a warm natural appearance to your home.
These Block Wood tiles are suitable for living rooms, corridors, or even for the flooring of the entire house to give it a consistent look. If you own a restaurant or hotel, you can make it look luxurious and modern, and increase its value with these wooden finish tiles.
Quebec Rock
Johnson's Quebec Rock tiles give a natural rocky look, which seems very exceptional yet elegant. These can be used for the floors of personal rooms as well as for hotel room flooring for a stylish modern look. If you want to keep your house's interior theme light-coloured and make it look more spacious, these tiles will go well with your expectations.
Jurel Decor (matte)
If you are an art lover and want to dedicate the interior design of your house to art, the Jurel Decor matte-finish tiles would be the perfect choice for you. You can use these tiles for the flooring of your corridor where you have some paintings on the walls, balcony, or outdoor sitting areas. These can also be used for commercial/public places related to art, such as an art gallery.
If you don't want to use patterns for the entire flooring, you can mix these tiles with plain matte finish tiles of similar colours. These Jure Decor tiles by Johnson are just perfect to give your room an artistic personality.
Give Your House an Eye-Catching Look with These GVTs
The usage of tiles for floors or walls is something common nowadays. Setting your house apart from the others is only possible by choosing tiles with unique designs and patterns. The Elite & Elite Plus range and Royale Floor & Wall tiles collection from HR Johnson include glazed vitrified tiles with some most unique designs and colour combinations. White tiles enhance the overall look of your house, these are also easy to maintain, making them a suitable option for every place.
Frequently Asked Questions
For the interior of a home, glazed vitrified tiles are the best option. These have non-porous smooth surfaces, which are easy to clean and maintain. Moreover, these tiles can be found in a variety of designs and colours, suiting every style and theme.
Although vitrified tiles are manufactured to last very long, their life depends on a few factors, including the regular foot weight on them, their maintenance, the place where the tiles are used, etc. If maintained properly, these tiles can even last for several decades.
Vitrified tiles are cheaper than granite when it comes to flooring options. However, that doesn't make vitrified tiles a bad option for flooring as these tiles are considered the most suitable due to their smooth surfaces and durability.