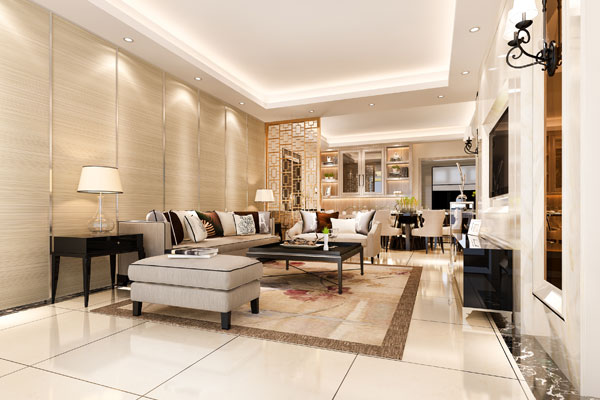 The family gathers and spends time in the living room, which is the lounge area of your house. When someone enters your house, this is the first room they will experience. Therefore, it only makes sense that you decorate the living area of your home with extreme care.
The wall and floor tiles you will use in the living room will serve as a firm foundation for the overall interior design. Glazed or polished vitrified tiles are among the top contenders you should look for if you're thinking of remodelling your living room. Also, it's common for interior decorators to look for a unique appearance for each area of the house.
Without exception, the living room can follow a different theme altogether. However, the choice of wall and floor tiles must be something that gels well with everyone in the house.
What To Look For In Living Room Tiles?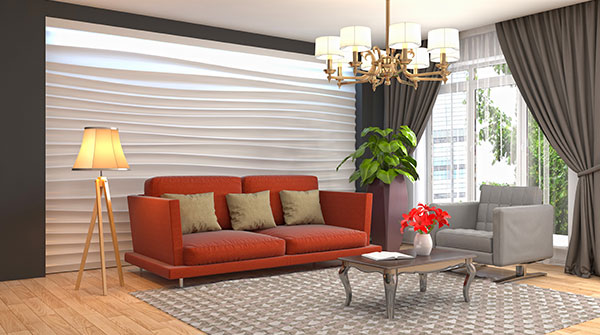 The living room wall and floor tile design selection shouldn't be difficult if you know the theme you want to follow. Ceramic tiles undoubtedly offer a wide range of choices and possible combinations. Tiling the walls and floors is a long-term investment and unlike the furnishings, you can't change the tiles frequently.
Thus, make sure to consider the following factors in your tile selection for lasting happiness:
The Ambience:
The living room's floor tile design and wall tile design should complement the atmosphere you want to create in your home. When picking tiles, keep your design aesthetic in mind. For example, if you want to achieve minimalism, choose plain tiles or tiles with a subtle natural finish. A few combination ideas:
Grey slates with satin-matte finish are best for wall application while the floor can use extra glossy while or marble white finish.
Use pink or white tiles with seamless spread across the walls and floor
Create a mural with large-size pink marble or digitally printed glazed ceramic tiles while the remaining walls use paint. Use contrasting tiles on the floor.
Add Colour:
The standard beige or cream that is frequently used in houses is not something you have to stick with. Consider something unconventional that best exhibits your personality and will accommodate the furnishings you plan next. For example:
Classical interiors can use cold colours like purple, blue, green, etc. for walls and similar patterns on the floor.
Combinations of warm colours work best for a modern interior
Natural colours like forest green and terracotta are great for inducing some natural hues to the space
Consider the Furniture and Paint Colour:
Ensure a flawless blend before making the final decision on the floor and wall tiles for the living room. Consider the living room's furnishings, wall colour, natural light, etc. while selecting the tiles. Light colour tiles can brighten up the areas which receive less sunlight. Naturally, well-lit areas can use darker shades of tiles and still maintain a jovial ambience.
Durability & Maintenance:
When thinking about living room tiles, you should first evaluate how simple they are to maintain and clean. This area of the house receives the most traffic and contact with the external environment. Thus, frequent dusting and cleaning may be a thing to consider.
LIVING ROOM WALLS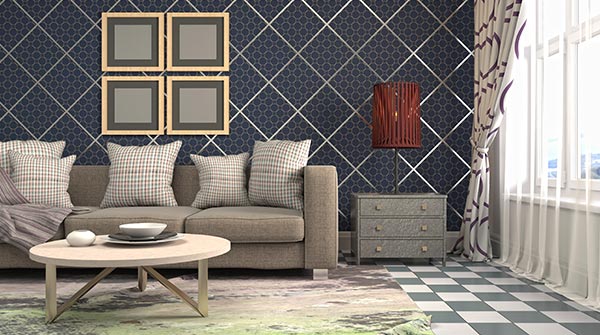 The walls of your living room may benefit from ceramic tiles remarkable ability to inject character and style. Authentic texture or a creative mosaic pattern may transform an area into something lovely. You may design your walls in a way that is specific to your house using our natural stone finish tiles family.
Create a striking accent wall out of marble, slate, quartzite, or granite, or use trim to fashion a modern alternative to hanging paintings with a frame shape.
Add Warmth with Organic Look Ceramic Tiles
Ceramic tiles with shades of sand, ash or charcoal can make your living room gorgeously warm and interesting. The accent wall can catch the viewer's attention with the subtle natural patterns and textures throughout the room.
Stone Finish Wall Tiles - a Textural Delight
The drawing-room, which is generally quite contemporary and elegant, receives an organic touch from this stone wall. Without appearing intrusive, it blends in wonderfully with the colour palette. On the other hand, it gives the space a lovely textured focal point.
Old Brown + Grey to Create Something Special
Who could claim that the colours brown and grey were uninteresting? You can cover the entire wall of your room with these sizable ceramic tiles in the pewter colour. The sofa's fabric and curtains precisely complement the hazy texture of the tiles. These colours compliment each other beautifully when used in combination over the walls, floor and furniture. You can also follow through with the theme while decorating the room.
Wood And Marble Are A Match Made In Heaven
You may choose this ultra-chic appearance for your designer living room if your house has high ceilings. A vertical panel of wood tiles is inserted between stunning white marble tiles that have lights to highlight them. The result is truly breathtaking. H&R Johnson's glazed vitrified tiles offer the best alternative for marble tiles. These pre-cut tiles are stronger and offer better water and stain resistance than natural marble.
LIVING ROOM FLOORS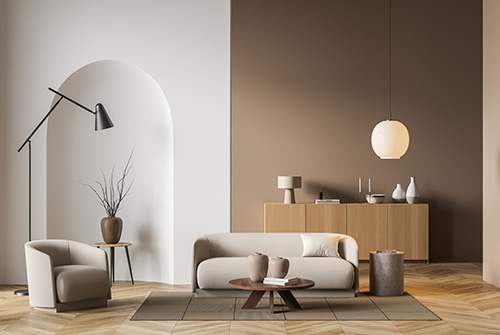 Regardless of how big or tiny your living room is, tile is a fantastic flooring option. Without compromising warmth or beauty, it is more visually pleasing, cleaner, and more durable than carpet and conventional wood floors. We will have a perfect alternative for the unique design of your home thanks to our extensive selection of tile options.
With H&R Johnson you can include tiles with marble, porcelain, travertine, ceramic, stone, slate, granite, quartzite, and other finishes.
Terrazzo Tiles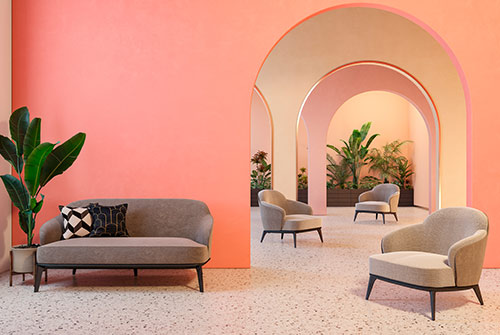 Granite, marble, and quartz are just a few of the elements that go into making terrazzo tiles. This tile is adaptable since some of them use glass in addition to other elements. Terrazzo tiles are fantastic for your living area since they are extremely durable and require little upkeep. They also impart a sense of freshness and cleanliness to the floor.
They effortlessly mix in with many styles of décor and neatly conceal stains. Terrazzo tiles are quite simple to install, making them worth considering if you want to achieve a modern appearance, a homey aesthetic, or even an earthy look. At H&R Johnson, Marbonite range offers this type of tile.
Vitrified Tiles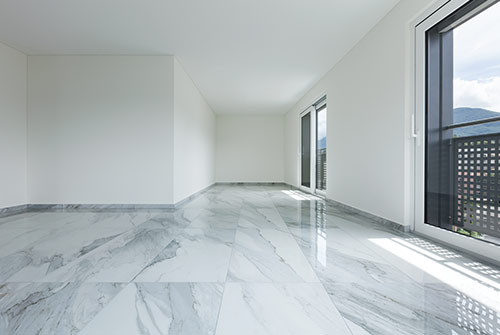 Vitrified tiles are comparable to marble and granite in their body strength and durability. This is also the reason why they can be polished and have a consistent texture throughout. Glazed vitrified tiles offer you multiple options of natural textures with glossy finish to add to your living room floor. Glossy vitrified tiles can give your living room a luxurious makeover and their durability means rich furnishing options.
Porcelain Tiles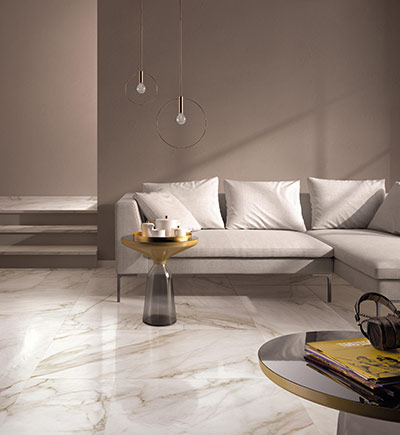 Although porcelain tiles are less permeable than ceramic tiles, they are heavier than the other tiles described here. In addition to being far more robust than ceramic ones, these are also quite water-resistant. They are appropriate for the living area since they can withstand considerable traffic. Along with imitations of granite, marble, and hardwood tiles, this style of tile is also available in ceramic tile designs.
Glazed Vitrified Tiles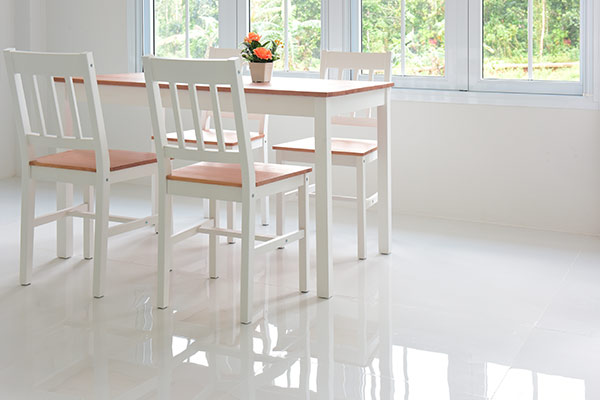 All types of rooms can utilise these tiles, but the living room benefits greatly from their high consistency and natural appearance. GVT tiles are scratch-resistant and easy to maintain. The best part is the surface finish. You can choose from high gloss to satin-matte finish with GVT tiles and since these are already polished, you just need to install them on the floor for the final touch. GVT tiles are also sturdier than their other counterparts. That is why you will also find their application in most kitchen and bathroom countertops.
Manufactured tiles offer some of the most versatile varieties with texture, size, finish and print. Whether you want to create a classical appearance or have a minimalistic and simple outlook or want to have a pop of colours with creative accent walls, ceramic, porcelain and vitrified tiles can fit your bill for all. Even nature lovers find manufactured tiles a better option than using materials taken from nature like wood and stone.
So, explore the range of ceramic and vitrified tiles and find the ones fitting your imagination.
Frequently Asked Questions
The living room is a place where you entertain your guests, and socialise when you have visitors and the whole family comes together. Therefore, you must take into account that you should make it lively enough. The most important factor to be considered is the colour of the living room. The bright colours in the living room attract attention. Whereas, the light colour makes the room look more open and wide. Also, while choosing the colour of the living room, you should take care of the interior. The floor tiles and wall tiles should complement each other. Choosing the colour of the living room also depends on the person's personality and choices as to which colour do they want in their very living room.
Ceramic floors are budget friendly and do give a great finish, as required. But, if you want to go for a better option it can be the Glazed vitrified tiles or porcelain tiles which are frequently regarded as one of the best tiles for the living room floor. You can rely on these floor tiles as they are durable, and offer a wide range of colours, prints and finishes. You can choose a suitable option from very unique digital colour prints to the replica of natural materials like marble and wood. Hence, ceramic, GVT, or porcelain tiles are some of the best choices to give your living room a unique and appealing floor.
Ceramic tiles, vitrified tiles, glazed vitrified tiles, and porcelain tiles are the popular tiles that can be used. But, the best tiles that could be used for the walls of the living room could be Vitrified Tiles or glazed vitrified tiles. GVT tiles are scratch-resistant and easy to maintain and have high gloss to satin-matte finish. They have various characteristics such as durability, and versatility of design. They look beautiful as the style of tile is available in ceramic tile designs as well as imitations of granite, marble, and hardwood tiles.