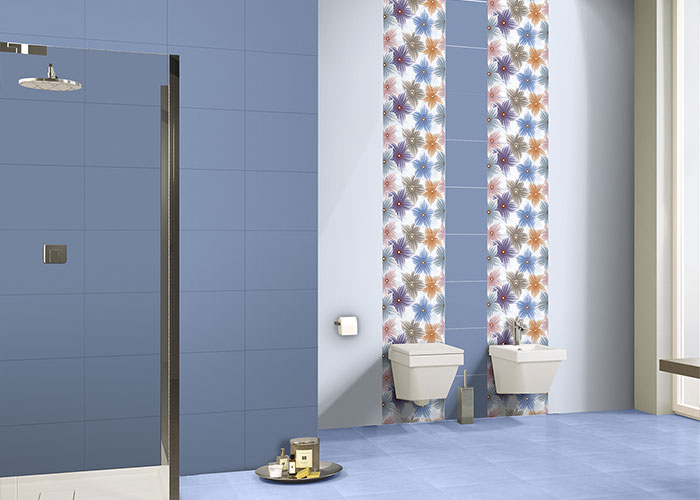 Having a bathroom with beautifully designed intricate walls and a floor that offers safety while complementing the interior is a disguised blessing in a home. Bathrooms have long been a place of rejuvenation, especially in urban housing.
Commercial centres and hospitality have helped break the taboo associated with bathrooms and transformed the space from a hidden vault of the house to a place of serenity. However, this place of serenity can become challenging to maintain without a proper floor and wall finish.
Bathroom floor tiles can resolve most cleanliness and hygiene problems in your bathroom. However, if your bathroom is small or has an open shower area its walls will be prone to water and soap splashes. Such bathrooms also need proper wall tiling.
Even if your bathroom is not small and has a dedicated shower cubical, wall tiles can raise the bar with a superb interior finish anyway.
Bathroom Floor Anti-Skid Tiles
The bathroom floor bears some of the toughest morning routines in your home. Bathrooms also bear the highest traffic if you have several family members with a common bathroom. So, the bathroom floor tiles must have the features to ensure:
Skid-safe usage even when wet or with soap residue

Avoid water damage and seepage

Easy cleaning after use, remains stain-free
Porcelain and glazed ceramic tiles with matt finish surface at H&R Johnson offer all the qualities you need on a bathroom floor. Plus, add to the aesthetics of the place as well.
Here are five bathroom floor anti-skid tile designs you will love in your bathroom:
Large Bathrooms
Large bathrooms give a lot of scope for selecting a floor tile from a wide range of options. You can install tiles ranging from the large size of 120x60cm to smaller 30x30 cm tiles. Size is an important factor to consider as it leads you to different design options.
120x60cm Anti-Skid Floor Tile Designs
This tile-size portfolio consists of several amazing designs and patterns inspired by natural stones, Moroccan mosaic tiles , Geometric designs, wood boards, etc.
You can explore the Elite 120x60cm tile collection under Johnson Porselano to find the tile design you fancy the most. The tile finishes you can use for an anti-skid bathroom floor from this section are matt, rocker, rustic, and satin.
120x20cm Anti-Skid Plank Tiles for Bathroom Floor
If you love the warmth wooden designs offer in your home, wooden floor tiles would be a design to explore for your bathroom floor. Wood-lookalike plank tiles at H&R Johnson not only mimic the wood appearance but also carry the same texture.
So, walking on these tiles will never feel like walking on a ceramic or stone surface. The rough wood matt texture allows the anti-skid feature for your bathroom floor.
60x60cm Anti-Skid Floor Tile Designs
60x60cm tiles are also large for most residential bathrooms in India. However, if you have a large enough bathroom, these tiles offer several amazing designs:
Marble and sandstone with rocker finish (mimics the natural rock texture)

Ash cement, limestone, and terracotta-like colours with matt finish tiles

Wood matt tiles with wood patterns
You also have the option of heavy-duty Digital SSR (Scratch & Stain Resistant) tiles with a matt finish surface. These tiles are better suited for office and commercial bathrooms with medium to high footfall.
Unique wooden patterns help these tiles to attract the eyes to the floor and can offer attractive flooring for large bathrooms effortlessly.
Small Bathrooms
If you are thrilled by the large bathroom floor anti-skid tiles but cannot install them in your small bathroom don't lose heart yet. Smaller bathroom floor tiles at H&R Johnson also offer several attractive design options:
40x40cm Matt Finish Tiles
These tiles offer terracotta, geometric and natural stone patterns. You can also find tile designs like Lurent, Mavik-HL 1, Clove Bronze, and Cardiff Beige which can create a book-match design of four tiles mirroring each other.
Bookmatch patterns can mimic a larger tile while maintaining the floor integrity and slope quality offered by smaller tiles.
Other than these, you also have geometric-abstract patterns and woodblock designs like Rex Wood and Timber Wood.
Wall Tile Designs
If you have spent some time selecting the bathroom floor tile designs, you can go on selecting matching wall tile patterns as well. Wall tile portfolios also vary based on the tile size and surface finish.
However, with wall tiles, you are free to choose a larger tile size if you like. So, you can go on exploring the tiles regardless of the size. Also, you need not stick to rough surfaces for the wall tiles. Instead, smooth polished or high-gloss finishes are better suited for bathroom wall tiles.
At H&R Johnson, you can explore polished marble, limestone, and granite patterns from Johnson Porselano Elite's portfolio. These lighter-coloured tiles make your bathroom look more luxurious and spacious with their bright colour tones.
However, if you are a fan of geometrical patterns tiles like Nirwana Decor and Roma Blanco Decor will be your favourite add-on.
Precautions While Installing Bathroom Floor Tiles
Anti-skid properties are well appreciated and understood by designers and homeowners both for a bathroom floor. However, there are a few more aspects of bathroom flooring only professionals understand:
Adequate Inclination for Proper Drainage: Water logging due to inadequate slope and uneven tile installation is a major issue in bathroom flooring. It increases the risk of the surface growing slippery due to slush and grease. Smaller tiles are easier to slope and thus, preferred for bathroom flooring.

Grout Selection: Grouting to seal the space between the tiles is critical. Use fine-sanded or waterproof grout like epoxy to seal the floor tiles in your bathroom.

Also, inspect the grouting after regular cleaning of the bathroom floor for any broken surfaces, and seal it before the next use.

You can also use rectified floor tiles for better floor sealing. Rectified tiles are cut more precisely and have sharper edges, allowing them to be installed more closely. Thus, rectified tiles minimise grout usage and the risk of grout damage.
With these precautions and a large selection of designer vitrified and ceramic tiles at H&R Johnson, you can create an energising bathroom for your home. Do not forget to explore the designs and check with the nearest dealership about their availability before visiting.
FAQs
Anti-skid vitrified tiles are the best flooring options for bathrooms. Tiles with matt finish surfaces offer anti-skid properties on the floor. Anti-skid tiles will make your bathroom floor safe for users by providing additional grip even when wet.
You can install anti-skid floor tiles in your bathroom to make it anti-slip. These are ceramic and vitrified floor tiles with rough surface finish such as matt, metallic, wood-matt, etc. The rough surface maintains an adequate grip even when wet.
The life of the anti-slip surface of the tiles depends only on the amount and quality of foot traffic on them. Anti-skid tiles installed in public bathrooms in India can have a shorter lifespan due to dust and shoes. Antiskid properties of tiles in home bathrooms can last significantly longer than in commercial bathrooms.