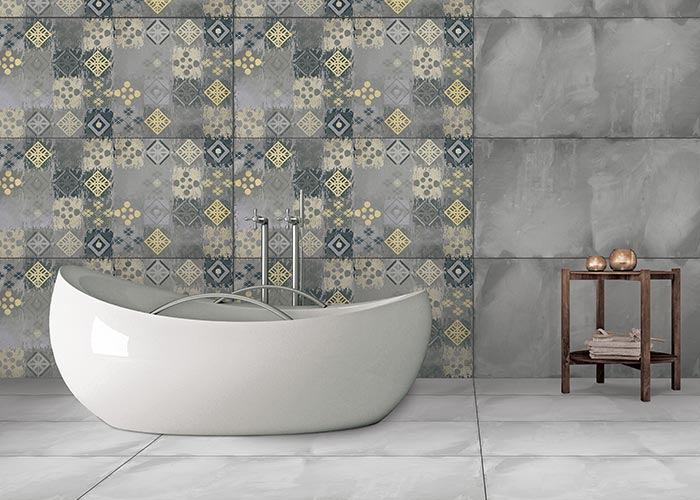 The hot Indian climate leaves the populace sweaty and desiring a bath often, and so do the typical Indian middle-class bathrooms. Even though signs of modernity may occasionally appear in the small Indian bathroom, having the entire bathroom wet is a natural phenomenon. Joined by the need for daily showers (twice a day in the summer), bathroom conditions in India need a different approach.
Anti-skid floor tiles for the bathroom are like an enema for the safety of the Indian bathroom. However, the buck doesn't just stop here. Bathroom dado tiles also come into play. Even though these two are only cosmetics, they improve safety even without a proper layout for bath fittings.
Anti-Skid Tiles For the Bathroom
Anti-skid tiles are meant for the bathroom floor. These tiles have a surface finish that provides a higher grip even while drenched in water and soap. You can have anti-skid tiles under both ceramic non-vitrified and vitrified categories.
Here's everything you need to know about using anti-skid tiles in your bathroom:
Where to Use Anti-Skid Tiles in Your Bathroom?
Anti-skid tiles are usually meant for the wet area in your bathroom, for example, the shower cubical. However, you may not have enough space to divide the small bathroom into dry and wet areas. Thus, you may have to install anti-skid tiles on the entire bathroom floor.
If you have a large bathroom with a designated wet area, you can use tiles with a satin and sugar finish in the dry area. Just make sure that the users will not leave the wet area without drying.
Tile Size for Bathroom Floor?
Once again the size matters a lot. Bathroom floors must provide adequate and unbroken slope to ensure the water flow towards the drain. Smaller tiles make it easier to provide a proper slope. Thus, bathroom floor tiles are typically limited to sizes of 30x30 cm or less, depending on the floor area.
30x30cm tiles are more popular for bathroom floors as smaller tiles mean more grout lines, which has other risks.
Which Grout to Use?
The glazed ceramic tiles, both vitrified and non-vitrified, feature water and stain-proof top surface. However, you need to ensure that the water doesn't seep between the tiles with proper grouting. This is most important for floor tiles, as you will have water spills on the floor anyway.
Therefore, you need to use branded epoxy, acrylic or silicone grout to seal the space between the wall and floor tiles in the bathroom. These grout materials are some of the best for bathrooms as they are water and stain-proof.
Tile Ideas at H&R Johnson
H&R Johnson offers several amazing design portfolios for anti-skid tiles for bathroom floors. Few examples:
Johnson Tiles' Basic 30x30cm Matt Finish Tiles
Bathroom Dado Tiles
The bathroom floor is a surface you must tile with anti-skid options. However, for a small bathroom, dado tiles are also critical. A tiled wall can resist water damage far better than a cemented wall. Also, cleaning the water and soap stains from tiles is far easier than wiping the walls, even when they boast emulsion paint.
How is Dado Different From Floor Tiles?
Bathroom walls' tiling needs are somewhat different from the bathroom floor. For example, bathroom walls are vertical. So, water flow is not a problem. However, moisture sticking to the wall and leaving stains is a big challenge for bathroom walls.
Thus, you want bathroom walls to hang on to their faces without much complaining. Glossy tiles do better in such a scenario. Also, size (surface area) matters less for wall tiling. Thus, you can use larger tiles like 60x120, 30x60 and 30x45cm for a small or mid-sized bathroom. Larger bathrooms can use an even larger format of wall tiles.
Ideal Height of the Dado
The ideal height of the bathroom dado is up to the ceiling. However, if you must limit the tile usage, the least you should have is up to 7 feet and around the area which is most likely to receive a splash of water.
This could be difficult in a small bathroom. However, tiling the walls around your shower area, about 50% of the bathroom, should be enough.
Grouting should remain a careful venture even for the walls, as water seeping behind the tiles will be more damaging with tiled walls. This is due to the delayed discovery of moisture build-up behind the tiles.
Bathroom Dado Tile Ideas at H&R Johnson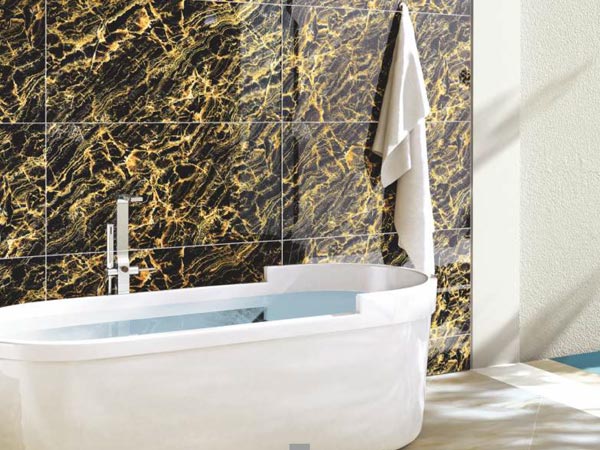 H&R Johnson Tiles offers hundreds of wall tile concepts or bathroom dado tiles. You can choose from one of the following to build your unique bathroom:
60x120cm tiles with unique patterns, i.e., Johnson's Glamour, Exotic, Carwing, and Polished tiles
Use digitally coordinated tiles with concept prints:
Elite Plus Wall Concepts 30x60cm
Elite Wall Concepts 30x45cm
Solid colour heritage tiles of 10x30cm, 10x20cm, and 10.8x10.8 cm sizes
Make Your Bathroom Safe and Hygienic
Traditionally, a bathroom in India meant a place of unhygienic proportions and was usually discarded from the normal living area. As modern bathroom fittings capture the minds of Indian homeowners, more homes are bringing the erstwhile taboo space into the privacy of living quarters.
While tiling resolves the problems of cleanliness and hygiene in the bath to a great extent, a truly modern bathroom needs smart space usage. Using appropriate bath fixtures within a smart layout will allow you to maintain your bathroom easily.
Structuring your bathroom layout for a relief space allows you to move freely and avoid injuries in the course of normal usage. Relief space also makes the bathroom safer for all users when coupled with anti-skid floor tiles.
Frequently Asked Questions
Tile dado protects the wall from receiving stains and moisture damage in the bathroom and kitchens. Kitchen and bathroom walls are exposed to food, curry, soap, and sullage. This can leave permanent stain marks on painted walls. However, the glazed tile surface is easier to clean.
Anti-skid property of tiles results from the manufacturing process and cannot be made on site. Anti-skid tiles are tiles with a higher surface grip. Typically tile's surface finish defines the anti-skid feature of the tile. For instance, matt, rocker, rustic, satin, and sugar finish tiles offer different levels of anti-skid properties. You need to install bathroom tiles with the required surface finish based on the level of skid-resistant you need.
Matt finish tiles are the best for non-slip properties in residential applications, for example, bathroom and kitchen floors in homes. H&R Johnson offers matt finish tiles under multiple floor tile collections including Elite Plus, Elite and Basic tiles.