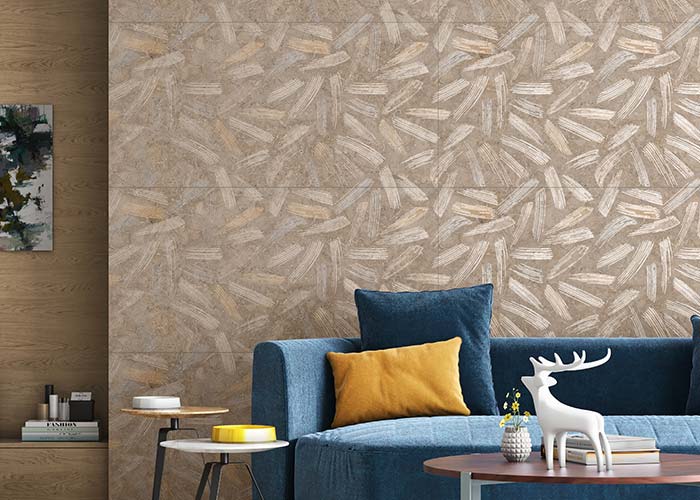 Once upon a time, safe play was the best play with home interior designs. However, with the chaos of modern times, the safe play is just too plain to represent your desire for meaning. Thus, at the risk of being opinionated, the interior finish can expect an artistic makeover with modern wall tiles.
The application of tiles has risen from the floors to the walls in the kitchen, bathrooms, living room, bedrooms, and even outdoors. tiles can quickly make your house look modern. Additionally, using tiles has several advantages for you.
You can achieve your dream home interior or exterior with a wide range of stylish wall tile options. You can find wall tiles in every design, pattern, and finish. Your choices range from nature-inspired natural stone and wood lookalike tiles to digitally printed artistic wall tiles.
Here's a list of tile options and the ideal themes for them to help you in your selection quest:
I. Marble Look Wall Tiles for Living Room
Marble-look tiles are becoming more popular in interior designs. These glazed vitrified tiles (GVTs) perfectly reproduce the looks of natural marble with natural veins, intense shades, and transparent layers of glaze. The marble-look tiles at H&R Johnson are available in multiple colours, sizes, and finishes.
From the kitchen walls to the bedrooms and living room, you can customise any area of your home using these tiles. Here are a few of the most incredible wall tiles for the living room at H&R Johnson:
Tessara Waves tile

The dark, blue-coloured Tessera Waves tile design can create a highly modern look for your living room wall. With unique shades in the marble look, this tile has a glossy finish. The large size of 160x80 cm means you get a consistent look with minimal grout lines on the wall.

If your floor tiles are white or light-coloured, Tessara waves tiles on the walls will enhance the overall appearance of the living space. This tile is perfect for a seamless continuous look to your living room walls.

Athens Black Tile

If you love a black theme interior design, the Athens Black marble look tile in high gloss finish is a great option. This tile creates an eye-catching look on your living room walls with its Italian marble patterns. The patterns of this tile gel well in living rooms having white or light brown floor tiles.

You can even use these tiles if your floor tiles are plain black in a matte or rustic finish. The Athens black tile with dimensions 120x60cm is perfect to create a focal point in your living room.

Columbia White Tile

The Columbia White Tile resembles natural marble in colour as well as patterns. If you want a subtle and calming yet modern look in your living room, this white-coloured tile in polished finish is a perfect option. These tiles go very well with beige-coloured or wooden look floor tiles. These tiles suit almost every interior design.

So, when you are looking for a wall tile solution within the neutral colour zone Columbia White is a natural choice.
II. Add Sophistication to Your Wall Using Matte Finish Tiles
Matt finish tiles are among the top trends with wall tile designs. The non-shiny surface of these tiles helps you achieve a subtle and more natural look for your living room. Another advantage of matt finish tiles is that they are good at hiding stains and scratches, thus reducing the need for regular cleaning. These are some best matte finishes wall tile designs to consider:
Paloma Cotto Tile

If your living room has a subtle theme and you want to give it the most elegant look using plain tiles, the Paloma Cotto matt finish tile is a great option. These tiles are perfect for your living room wall if your floor has beige, pale-white, or light-coloured marble-look tiles.

Poloma Cotto is a large format tile for a uniform look to your walls. The natural earth shade adds warmth to your home.

Sisca Coffee Tile

If you prefer darker colours, you should consider Johnson's matt finish Sisca Coffee tile for your home walls. It comes in a rustic look in 160x80 cm size and is a perfect option for application on floors and walls. You can use it to create an accent wall in your living room keeping the other three walls pale grey, white, or beige coloured.

If you are using other digitally printed tiles for the focal wall, you can even use the Sisca Coffee tiles for the other three walls to achieve an ultra-modern look.
III. Stone Tile Walls with Textured Surface
Textured wall tiles add a uniquely modern and natural look to a wall. These wall tiles are best for outside use, for example, in garden seating areas or external wall cladding. Textured tiles are available in a variety of designs and colours, mostly resembling natural rocks.
The following are some of the most amazing stone-look wall tile designs available at H&R Johnson:
Mix Stone Brown Tile

The combinations of various colours in Johnson's Mix Stone Brown Tile make this tile perfect to go with almost every theme. Though this tile is comparatively small-sized (60x30 cm), it is specially designed for walls. Installed correctly, these rustic finish elevation tiles can turn the entire look of your living room into something incredible.

These tiles will best complement floors with wood plank and light-coloured tiles, such as beige, pale white, light brown, light grey, etc.

Albano Grey Tile

The Albano Grey Tile design is one of the most trending designs in textured tiles. It looks like natural stones in different grey shades are cut and stacked above each other to build a wall. These tiles will go perfectly with matt finish grey floor tiles.

This elevation tile design in a rustic finish is an excellent option to consider for an organic yet modern interior.
IV. Wood-Like Tiles for a Nature-Inspired Look
Be it for floors or walls, wooden-look never becomes outdated. Wood-look GVTs suit every theme and can enhance the look of any place they are used. If you want to give your home a natural look while keeping it modern, tiles resembling natural wood are the best option.
Wooden look tiles are available in plenty of designs, sizes, and shades at Johnson. Following are the top designs in wooden look tiles:
Lankan Wood

If you love to keep green indoor plants or nature-inspired decor items in your living room, the Lankan Wood tile is the right choice for your living room walls. Adding a touch of nature to your home, this tile makes the entire space look warm and beautiful.

The tile comes in a matt finish, which makes it look more like real wood. The Lankan Wood tile fits perfectly with white furniture, indoor plants, and green walls (or floor).

Zen Wood Coffee Tile

The Zen Wood Coffee Tiles by Johnson are long tile slabs having dimensions of 120x20cm. If you want the natural wood appearance in darker shades, this is the best option.

You can install these tiles horizontally or vertically to achieve your desired look. This tile comes in a textured finish and goes perfectly with white and grey shades of living rooms.
V. Printed & 3D Wall Tiles for an Artistic Look
If you are an art lover and want to add an element of art to the interior of your house, you cannot find anything better than printed and 3D wall tiles. You can find a wide variety of designs and patterns in these tiles.
Johnson has an exciting collection of digitally printed wall tiles ranging from rustic to geometric patterns. Here are some best options to consider:
Carina Decor Tile

The Carina Decor wall tile features a 3D pattern. The 3D illusion digital pattern can give your living room a unique abstract look. This tile in polished finish perfectly combines an artistic look with a 3D pattern.

The Carina Decor Tile goes well with white, grey, and black theme living rooms.

Ferro Mosaic

The Ferro Mosaic tile design is a mosaic theme-based tile that combines classical mosaic patterns with a modern tile finish. If the theme of your house is inspired by art or colours, this tile is the most suitable option.

You can use this tile in your living room, office wall, kitchen, or front porch walls.
How are Tiles Better Than Other Wall Decor Materials?
Though there are various other options for wall decor in the market, such as wallpapers, paint, real wood, or even natural stones. Most of the alternatives pale in comparison to the ceramic and glazed vitrified tiles' durability and hygiene. Here are some advantages of ceramic wall tiles which make them better than other wall decor materials:
Wall Tiles are more durable as they are resistant to water, stain, and scratches.
These tiles are easier to maintain and don't need to be replaced every few years. On the other hand, painted walls or wallpapers require regular maintenance.
Tiles are more cost-effective in the long run.
Tiles do not have any hygiene or pollution issues as they do not release harmful fumes within your house
Tiles are recyclable in multiple ways, such as mixing in cement for a new floor
Many reasons make vitrified wall tiles the best option over other materials. You can achieve any look that you aspire to with minimal effort. Just make sure that you keep your preferences and the theme of your living room in mind to choose the right tiles.
Also, explore the related portfolios for alternative designs of the tiles presented in the blog. For instance, the blue marble pattern is just one of many unique marble imitation tiles at H&R Johnson.
Frequently Asked Questions