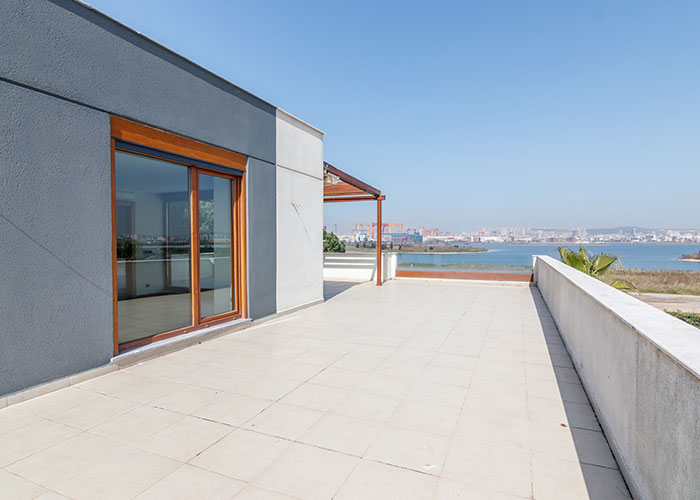 Terrace is some of the most coveted spaces in both residential and commercial settings. A freely accessible terrace gives birth to so many opportunities. You can build a terrace garden at home, a patio with seating, or a workspace with a temporary roof.
Also, the terrace can be used in many ways in a commercial building. Terrace tiles can help you resolve the few challenges of turning the open space into an all-weather entertainment spot.
The several possibilities also give rise to a few challenges that terrace floor tiles must resolve.
Uses & Purpose of Terrace Floor
Terraces provide an ideal area for creating an outdoor living space where you can relax, entertain guests, and enjoy the fresh air. You can set up comfortable seating arrangements, add a dining table, and decorate with plants, lighting, and other elements to create a welcoming ambience.
Some of the common uses of terrace space in urban India include the following:
Multipurpose empty terrace (exercise, yoga, temporary seating, etc.)
Seating area with patio-like cover
Terrace garden or farm
Deck on the terrace for dining & recreation (also rooftop restaurants)
The limited space drives urban residents to use rooftops and terraces for growing lush green roof gardens. These gardens offer environmental benefits, such as reducing heat absorption, improving air quality, and providing habitat for birds and insects. They can also be visually appealing and provide a serene escape from the concrete jungle.
Outdoor terrace workspace is also a concept a little less popular due to extreme weather conditions. However, with correct terrace tiling, setting up a desk or a table with a comfortable chair and creating a conducive environment for productivity can be possible.
The surface of your open terrace plays an important role in terrace use and the house underneath. So, tiling with heatproof roof tiles in India will be beneficial whether you want to use the terrace for recreation or simply enjoy your summer days under the roof.
The Best Terrace Tiles at H&R Johnson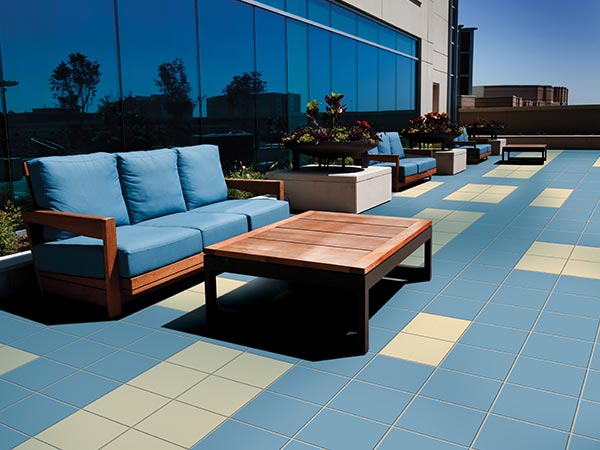 H&R Johnson understands the various possible uses of terrace floors. Thus, Johnson offers floor tiles for these specific uses considering the Indian weather conditions. The following three tile portfolios at H&R Johnson can help you transform your terrace floor into something more than just a space:
Johnson Endura Color Series Tiles
Endura Color Series tiles are specifically designed to beautify your open terrace floor. The collection features 30x30cm tiles with 10 different solid shades. Smaller tile size allows you to create a mix of colours on the terrace. Available colours include basic colours like black, white, red and blue.
So, you can mix and match different tile colours to give your terrace floor a look to behold. The 1 mm thick glazed vitrified tiles can handle medium to high footfall. So, they are suitable for commercial applications as well.
Suitable Applications: Terrace Floors, Veranda, Open seating spaces, etc.
Johnson Endura Cool Roof SRI Tiles
Cool roof tiles are the coolest tiles you can use on your terrace floor. Cool roof tiles are called such because of their unique trait of remaining cooler than the heat they receive from the sun.
Cool roof tiles are designed to reflect more sunlight and absorb less heat compared to traditional roofing materials. This simple-sounding effect of cool roof tiles on a terrace offers the following benefits:
Energy Efficiency: Cool roof tiles can help maintain lower indoor temperatures and reduce cooling energy consumption.
Comfortable Terrace: The terrace itself remains cooler, making it more comfortable for outdoor activities, such as relaxing, entertaining, or dining.
Extended Roof Lifespan: Cool roof tiles extend the lifespan of the terrace roof as they reduce thermal stress and minimize wear and tear.
Environmental Benefits: Cool roofs help reduce overall ambient temperature and improve the local microclimate.
Using cool roof tiles on the terrace mitigates the urban heat island effect, i.e., a higher temperature in urban areas compared to surrounding rural areas. Many similar environment-friendly benefits can be attributed to cool roof tiles. However, the best part of our interest here in these tiles is that you can use the terrace during the harsh summers as well as the tile's surface maintains its cool.
Suitable Applications: Open Terrace, Pavements, etc.
Johnson Endura Designer Collection
Endura Designer Collection consists of glazed vitrified tiles, meaning, it has a vitrified base with a tough layer of glazed designs on top. These tiles are available in natural tones, mosaic, and other interesting designs with sizes of 40x40cm and 30x30cm.
These tiles can handle heavy footfall and even light vehicle traffic as well without any wear for a long time. If you are putting the tiles on the terrace of your home you can use designs like terracotta, mosaic, tiles with geometric patterns, or stone blocks, etc from the Johnson EDC portfolio.
The mixed hexagon tile designs can transforms your mundane terrace surface into a beautiful geometrical pattern. The matt finish surface of EDC tiles provides anti-skid properties to the floor which works wonderfully during the rainy season as well.
Suitable Applications: Terraces, Driveways, Gardens, Open Air Restaurants, etc.
Grouting Tips for Terrace Tiles
Terrace is one of the harshest environments for tiles, especially in commercial settings like restaurants. Thus, proper grouting plays a critical role in keeping the tiled roof safe during rains. High heat during the summer can crack the normal sanded grout used for sealing the tile gaps.
These cracks are often microscopic in the beginning and will not be visible to you. However, the water can seep through these cracks and accumulate under the tiles during the rainy season.
The solution is to use the following grout materials for sealing the tiles properly:
Epoxy Grout: Expensive than the fine-sanded grout used indoors, but easier to use and does not chip and break. Completely waterproof.
Polymer Sand Grout: Polymer sand grout is easier to apply, and you can use this grout without any expert assistance.
Furan Grout: Most difficult to use, better suited to floors prone to chemical hazards. Expert assistance recommended
Summarising The Terrace Tile Solutions at H&R Johnson
So, you can use several types of tiles available at H&R Johnson on your rooftop. However, using Endura Color Series, Endura Cool Roof, and Endura Designer Tiles offers certain temperature control benefits along with durability.
Grouting your terrace tiles is critical, and you should only use durable and waterproof grouts like epoxy and polymer sand on the roof. Avoid using cement and sanded grouts meant for indoor usage. You should install full-body vitrified tiles on the adjustable raisers for a convenient and low-maintenance terrace floor.
You can also contact the tile experts at H&R Johnson Tiles for guidance and more solutions.
Frequently Asked Questions
The best tile for your home or commercial building terrace will depend on the purpose and environment of the terrace tiling. If your purpose is to beautify the terrace and add a seating or gathering area on the terrace, Johnson Hi Traffic Color Series tiles & Endura designer collection are the best. However, if you want to add heat-proof flooring to your terrace Johnson Cool Roof SRI Tiles will be the best.
Johnson Cool Roof SRI (Solar Reflective Index) tiles are the best for heat resistance on rooftops and outdoor pathways. The tiles' special property of reflectance & emittance can release more than 90% of the heat they receive back into the atmosphere. Thus, the tile surface remains cooler even under intense solar heat.
If you want to turn your terrace floor into a cool surface usable even during peak summers, Johnson's Cool Roof SRI tiles are the best terrace flooring option for you. The special solar reflective glaze of the tile keeps it cool even under the peak summer sun.