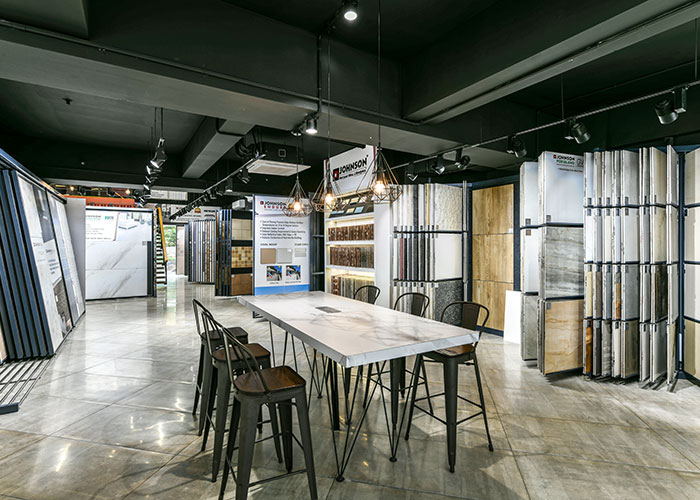 Having our own space, our own home is a dream come true for almost each one of us, ensuring that space resonates with your own energy and vibes is altogether a different task. The journey from buying your dream home and then making it your own with your essence poured into it is an essential aspect for all.
H&R Johnson has been serving since 1958 offering floor and wall tiles, sanitaryware and bathroom fittings along with engineered marble and quartz for commercial and residential spaces. All this has been possible with our customer-first approach and by adhering to our core values.
H&R Johnson in addition to providing the best in quality products is also proud to offer you a plethora of tiles brand to choose from as per your needs. Johnson tiles prices are highly competitive and affordable, making it one of the most trusted and desired tiles company in India.
Experience Centres
H&R Johnson has over the span of six decades started its state of the art experience centres pan India with a major goal to help people come and experience themselves the wide range of collection available and make an informed decision based on their preferences. These experience centres allow one to witness the entire process and be sure of the premium quality they are getting, and choose from over 3500+ options available.
These experience centres (EC) play a vital role in establishing customer satisfaction, and build trust on H&R Johnson as a brand. It further allows the customer to have a first-hand experience of the customer-first approach and the high-quality products available.
Visiting any of our Experience Centres will allow you to visualise your entire space and experience the application of our wide range of products available and pick out the best suitable option for you with the help and support of our tile experts. Additionally, these experience centres consist of room sets carefully designed by our experts to offer you a real-life experience and help you make informed decisions. The latest AI based technology tools and 360 views will help visualise Tile in different space applications and enhance the customer experience!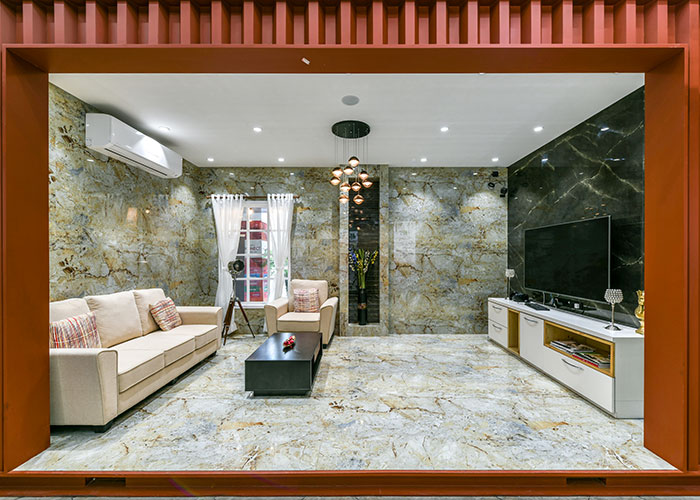 Across India these are the locations where one can locate the experience centres:
Tile Portfolio
Over the span of 60 years H&R Johnson has developed a large collection of tiles suitable for all your needs, be it the trendy mosaic tiles or the evergreen concrete tiles for every purpose.
H&R Johnson offers ceramic tiles distributed into two broad categories: Floor tiles and Wall tiles. Further these floor and wall tiles are categorised depending on their application, finish, design, and size specifications. These tiles are installed in bathrooms, kitchen, staircases, terrace, landscaping, and swimming pools.
We offer a plethora of sizes in all divisions of tiles with various features such as:
Anti-skid
Scratch resistant
High durability
Matte-finish
Glass Vitrified
Polished
Wood-finish
For more information explore our entire range of tiles available, or connect with our tile experts.
In a broad classification the tiles portfolio can be categorised into four main categories:
Johnson Tiles
Johnson Endura
Johnson Marbonite
Johnson Porselano
Further these four categories are classified based on different criteria including size, finish, strength, application (wall/floor), and designs available. Combining all these categories H&R Johnson offers a wide range of tiles options to choose from consisting of over 3500+ designs.
Manufacturing Processes
Ensuring the best quality of products and services to be delivered to the customers requires a standard manufacturing process. Over the sixty years of serving the industry H&R Johnson has established its R&D centres and manufacturing units across the country with state of the art equipment, best technology possible, and ISO certified processes.
These manufacturing units are spread across the country supported by 35 branches and 1000+ exclusive dealers, and 10,000+ sub-dealers to help you provide the best possible service.
H&R Johnson also ensures that the manufacturing processes are ethical, safe for the environment, and produce non-toxic products that are safe for your health. Moreover, the Industrial Products & Natural Resources Division of H & R Johnson has also been working tirelessly to deliver the best products over the years. These initiatives of H&R Johnson have also been recognized by the government of India and been awarded as well.
As a brand, H&R Johnson has always paid attention to being a Green manufacturing industry, and is working toward the common goal of energy efficiency, and natural resources conservation.
USPs
H&R Johnson being a sixty year old brand, and one of the leading service providers in the industry has got some attraction points to it, making it one of the best tiles company in India:
ISO 9001:2008 certification
ISO 14001 certification
ISI certified processes
OHSAS 18001 certified
Member of India Green Building Council
GreenPro Certified
Four Process Patents granted
Additionally, H&R Johnson is also expanding its horizon to a global level with services offered in countries such as South Africa, UAE, Bangladesh, Nepal, and Sri Lanka. The high-quality products with unique and globally accepted designs are making a statement in all the segments of ceramic tiles.
Conclusion
H&R Johnson has over the span of sixty years established their dominance in the ceramic tiles industry by offering state-of-the-art technologies, best-in-class products, trending designs, and a wide range of sizes.
Additionally, we are proud of being a green manufacturing unit and contributing to the conservation of the environment by being energy efficient, and producing less toxics, and non-toxic products, which are safe for the environment.
Visit our experience centres across the country to learn more about our products and services available and choose from a wide range of products and services. For your assistance, we have established a channel of dealers and sub-dealers to offer you genuine products.