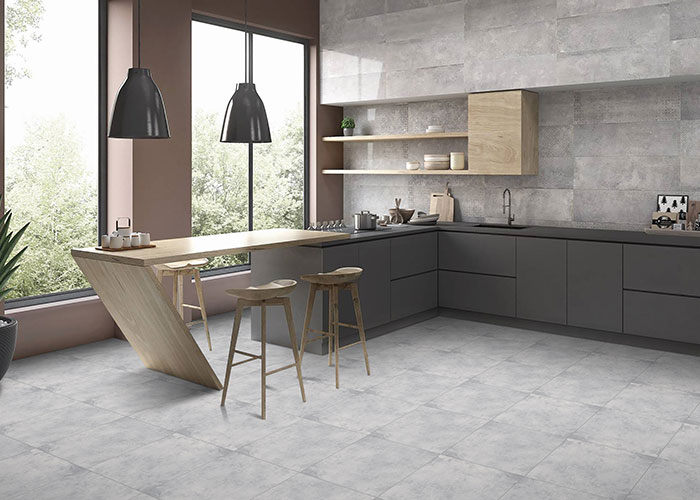 Ceramic floor tiles add several benefits to your home structure and interior aesthetics. Using space-appropriate ceramic and vitrified tiles can enhance the life of the building and make the space safer for all users.
You need to consider several factors to select the most appropriate floor and wall tiles for each area. Space-appropriate tiles will enhance the aesthetics and functional values of the area apart from other long-term benefits.
Here's a step-by-step guide to help you select the right tiles for different spaces in your home:
Determine the Purpose of Tile in the Space
Start by understanding the purpose of using tiles in the space. Consider if it is a high-traffic area, a wet space like a bathroom or kitchen, or a low-traffic area like a bedroom or living room while selecting the floor tiles.
Vitrified tiles are a better choice for high-traffic and wet areas as they are stronger and more resistant to water. Similarly, parking areas need tiles that can withstand the vehicle weight and tyre movements.
Consider Durability
High-traffic areas like hallways, entryways, and kitchens require durable tiles that can withstand heavy foot traffic. Porcelain or vitrified tiles are excellent choices for these spaces due to their strength and resistance to wear and tear.
Moisture Resistance
Choose tiles with good moisture resistance for spaces prone to moisture, such as bathrooms, kitchens, and laundry rooms. Porcelain and vitrified tiles are ideal as they are non-porous and less likely to absorb water.
Slip Resistance
Safety is crucial, especially in wet areas. Look for tiles with adequate slip resistance ratings, particularly for bathroom and kitchen floors. Textured or matte finish vitrified and ceramic floor tiles are generally safer than glossy ones for bathrooms, kitchens, and balconies.
Aesthetic Preferences
Consider the design and style you want to achieve. Different spaces may benefit from specific tile styles, colours, and patterns. For instance, a living room may be suitable for elegant wood-look tiles, while a bathroom may benefit from light-coloured, textured tiles.
Lighting and Room Size
The amount of natural light and the size of the room can influence your tile choice. Light-coloured tiles can make small spaces appear larger, while darker tiles can add warmth to larger rooms.
Maintenance and Cleaning
Think about the level of maintenance you're comfortable with. Glossy tiles are easier to maintain and thus, recommended for spaces like kitchen backsplash and bathroom walls, especially around the shower.
Budget Considerations
Determine your budget for tile selection. Ceramic tiles are generally more budget-friendly than vitrified tiles. However, vitrified tiles offer additional benefits in terms of durability and stain resistance.
You can consider vitrified floor tiles for a better long-term value while sticking to ceramic wall tiles to stay within your budget.
Consult with Professionals
Consult with a tile specialist or interior designer if you are uncertain about which tiles are best for a particular space. You can also connect to the tile experts at H&R Johnson online or by visiting the nearest Experience Centre.
These experts can help you choose the best tile options and provide you with ceramic floor and wall tile price lists for your location. Visiting the Experience Centre also allows you to test and experience the tile designs before purchase.
Environmental Considerations
If eco-friendliness is a priority, look for tiles manufactured using sustainable practices and materials. Some tiles are made from recycled content or have eco-certifications.
H&R Johnson is one of the leading tile brands following eco-friendly practices and ensuring a net positive impact on nature. The brand also actively sources and recycles old and discarded tiles to minimise the environmental footprint of tile manufacturing.
Long-Term Considerations
Think about the long-term durability and style of the tiles. You'll want tiles that will stand the test of time and continue to look good years down the line.
By carefully assessing these factors and matching them to the specific requirements of each space in your home, you can choose ceramic or vitrified tiles that not only enhance the aesthetics but also serve their functional purpose effectively.
Most Common Areas for Tile Usage in a House
Ceramic and vitrified floor tiles come in a wide range of designs, colours, and patterns suitable for different areas of your house. Here are some popular floor tile designs for various spaces in your home:
Kitchen

Porcelain or vitrified tiles with a marble or granite appearance offer a durable and attractive option for kitchen floors. Subway or mosaic tiles can be used for kitchen backsplashes to complement the floor design.

Use matte, rustic, or wood matte finish tiles on the floor for extra slip resistance.

Bathroom

Light-coloured and textured tiles on bathroom floors create a spa-like feel. Small mosaic tiles can be used for shower floors to provide slip resistance and add visual interest.

Living Room & Bedroom

Large format tiles with natural stone or wood-look designs can create an elegant and inviting atmosphere. Intricate patterns or medallion-style (explore the book match portfolio at H&R Johnson) tiles can be used as a focal point in the centre of the living room.

Wood-look ceramic or vitrified tiles create a warm and cosy ambience in bedrooms. Large, solid-coloured tiles can create a modern and clean look. 3D elevation tiles are a popular choice for accent walls in both spaces.

Entryway and Passages

Durable and easy-to-clean tiles with a textured or slip-resistant finish are ideal for high-traffic areas like entryways and hallways. Geometric or herringbone patterns can create visual interest in these spaces.

You can use full-body vitrified tiles on the floor in these spaces as they are prone to dust and heavy foot traffic.

Outdoor Spaces

Consider vitrified tiles or outdoor porcelain tiles with anti-slip properties for outdoor patios and decks. Natural stone-look tiles can give your outdoor space a rustic or Mediterranean feel. H&R Johnson's Endura Meteor full-body vitrified tiles are perfect for this role.

Staircase

Staircase surfaces need to be sturdy and slip-resistant while matching the appearance of the floor. Step Tiles are the best solution for this area as they take care of all safety and aesthetic needs of the space.

These tiles are modular and cut to size during the manufacturing process. Thus, you need only installation and minor on-site trimming.

Parking Areas

Parking areas can use tiles with anti-skid properties. Also, home parking often doubles up as a place for seating and gathering, so using porcelain parking and outdoor tiles would be a better idea.

Johnson Endura Designer Collection tiles feature both sturdiness and a beautiful outlook to suit this application. Use 10mm thick tiles from the Johnson Endura Paver Series if you want a heavy-duty parking space.

Terrace Floor & Balconies

If you have an open terrace, you can use tiles to keep it cool under the sun and comfortable to use in any weather. Cool roof SRI tiles provide cooling and an anti-skid surface to your terrace floor, keeping both the terrace and the room underneath comfortable.
Ceramic vs Vitrified Tile – Which to Prefer?
Ceramic vs. vitrified tiles is a classic dilemma while selecting tiles for your home. While vitrified tiles offer better appearance and durability, ceramic tile's price list is always more attractive. However, you need to balance the tile usage with your budget.
Floor tiles are more important and should get priority in selection and quality. Wall tiles must be area specific, such as kitchen and bathroom should receive wall tiles before other areas. You can plan your tile usage and procurement better with the help of an expert at H&R Johnson. Connect with the experts online or visit the nearest Experience Centre to check the tiles and discuss.
FAQs
Ceramic or non-vitrified tiles are a popular and practical choice for residential flooring. Ceramic tiles offer sufficient durability, water resistance, and design range to suit floor applications in various rooms, including kitchens, bathrooms, and living areas. Modern ceramic tiles are sturdy enough to provide high footfall and moisture-prone areas like bathroom floors a long life.
Marble tiles have a possession value and offer several qualities in appearance and durability. While ceramic tiles like glazed vitrified tiles with marble look designs can mimic the marble tile feel and finish perfectly, they also offer a few advantages. Ceramic tiles do not absorb moisture and liquids. Thus, ceramic tiles do not require regular sealing to remain stain-free. Also, ceramic tile installation is rather simple and does not require cutting and polishing on-site.
The choice of flooring tiles depends on factors like the room's function, budget, and design preferences. However, porcelain tiles are considered one of the best floor tiles for most residential applications. Porcelain is versatile, durable, and suitable for most areas in the house.