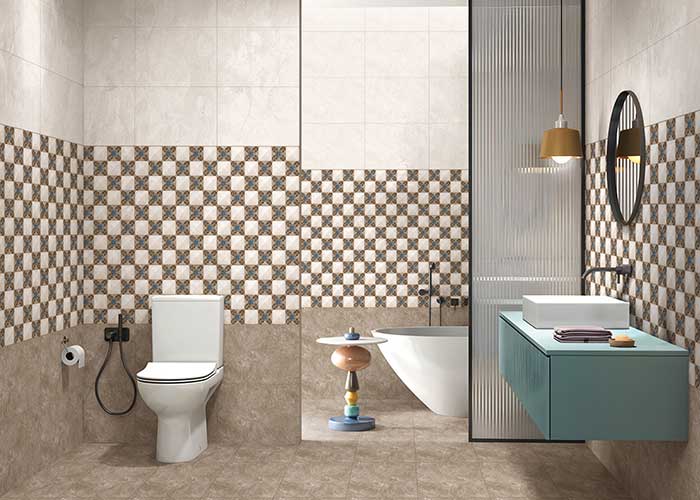 A bathroom is one of the most frequently used spaces in our homes. So, it must remain safe and accessible for everyone, regardless of their age or physical abilities. Turning your modern bathroom into a safe space for young children and elderly family members or simply future-proofing starts with modern bathroom tiles.
After the anti-skid tiles for the bathroom floors, you can add several features to the space to further safeguard the users. Here are ten fittings and accessories that add to your bathroom's safety:
Use anti-skid floor tiles with slip-resistant rating of R10 and above

Make sure the floor has an adequate and even slope to drain the water and soap scum efficiently

Ensure proper ventilation to allow drying of the bathroom after use
While anti-skid floor tiles are a norm for bathrooms, you need to use the correct tile size to allow proper sloping. For example, small bathrooms can use smaller tiles of 30x30cm, and 40x40cm sizes, and larger bathrooms can go up to 60x120cm tiles starting from 60x60cm.
H&R Johnson offers you a variety of anti-skid tiles for the bathroom floor for all bathroom sizes. Johnson Endura R10A and R12C Max-Grip tiles are one of the best options for anti-skid flooring.
Fully Clad Bathroom Walls with Tiles
Bathroom walls are exposed to moisture, and regular water use in the bath can damage them and promote fungi and bacteria growth. Fully cladding bathroom walls with tiles ensures zero water and moisture absorption. Tiles also improve your bathroom's appearance and light utilisation.
Glossy ceramic and vitrified tiles are better for bathroom wall applications. These modern bathroom tiles are easy to clean and maintain due to their low porosity and stain-free surface.
You can choose from hundreds of coordinated tile designs at H&R Johnson to fulfil both wall cladding and anti-skid floor requirements of your bathroom.
Grab Bars
Installing grab bars near the shower or bathtub and next to the toilet can make a world of difference in bathroom safety. These bars offer support and stability for users of all ages, helping them maintain their balance and prevent falls.
Adjustable Showerheads
Consider installing an adjustable shower head that can be positioned at different heights. This allows users to customize the shower experience based on their needs, whether it's accommodating children or making it easier for older individuals to shower while seated.
Alternatively, you can also install a handheld shower, which is more flexible and accessible for everyone in the family.
Step-In Showers and Walk-In Tubs
For individuals with mobility challenges, step-in showers or walk-in tubs provide easier access compared to traditional bathtubs. These options can be beneficial for older adults and those with disabilities.
Adequate Lighting
Proper lighting is crucial in preventing accidents. Ensure that your bathroom is well-lit, both during the day and night. Consider motion-activated lights for added convenience. Your wall tile choices should consider the natural lighting and utilise it well.
You should choose darker shades of tiles only when you have ample natural light in the bathroom. If not, stick to lighter and warmer colours.
Anti-Scald Devices
Install anti-scald devices on your faucets to prevent accidental burns, especially in households with young children and older adults with sensitive skin. Using single-lever faucets can also help you avoid mishaps.
Water Closet Accessibility
Water closets should be at a comfortable height for all users. Consider installing raised toilet seats for added accessibility. A standard toilet seat height is typically around 15 to 17 inches (38 to 43 centimetres) from the floor to the top of the seat. This height is considered comfortable and accessible for most adults.
Clear Pathways
Keep the bathroom clutter-free with clear pathways to ensure that users can move around safely. This is particularly important for those using mobility aids like walkers or wheelchairs. Building adequate storage in your bathroom will help you keep it organised and tidy.
You can use bath cabinets and mirror cabinets to achieve this. For a small bathroom, use wall-hung cabinets to free up more floor space.
Childproofing
Childproofing the bathroom is essential if you have young children in the house. Lock medicine cabinets, secure cleaning products, and install toilet seat locks to prevent accidents.
Regular Maintenance of Tiled Bathrooms
A few simple modifications and precautions in construction materials can help you transform your bathroom into a safe and accessible space for users of all ages. However, building a safe bathroom also requires regular care to keep it the way you intended initially.
Inspect your bathroom for any hazards or wear and tear regularly. Fix any loose tiles, leaky faucets, or other potential safety issues promptly. Cleaning the limescale on the tiles using agents that do not damage the grout lines is important. Excess limescale deposits can cause the tiles to lose their shine and retain water, leading to bacteria and mould growth.
You can use manufacturer-recommended products or household solutions like vinegar and baking soda mix to free your bathroom tiles from limescale and soap scum. Repair any grout line breaks quickly with a ready mix of unsanded or epoxy grout.
You can also connect with a tiling expert at H&R Johnson for more information on how to keep your bathroom tidy.
FAQs
When choosing bathroom tiles, consider durability, water resistance, and aesthetics. Porcelain or ceramic tiles are popular for their water resistance and easy maintenance. Floor tiles should have anti-slip properties to provide grip or increased friction when wet. Wall tiles can be glossy for better appearance and ease of cleaning.
Digital coordinated ceramic and porcelain tiles are easy to choose for bathroom décor. Otherwise, you can also mix different tiles to create a unique interior. Depending on your bathroom design needs, you can choose porcelain and ceramic tiles for bathroom walls and floors. Just make sure that floor tiles offer slip resistance (matte, metallic, rustic finishes) for user safety.
You can use floor tiles of 30x30cm or 40x40cm in a small bathroom, at the best 60x60cm. Larger tiles make it difficult to slope the floor. So, keep the size proportionate and easy to manage slope for the floor. 30x60cm and 30x45cm tiles are popular for small bathroom walls. However, you can use larger tiles 60x120cm if you like.