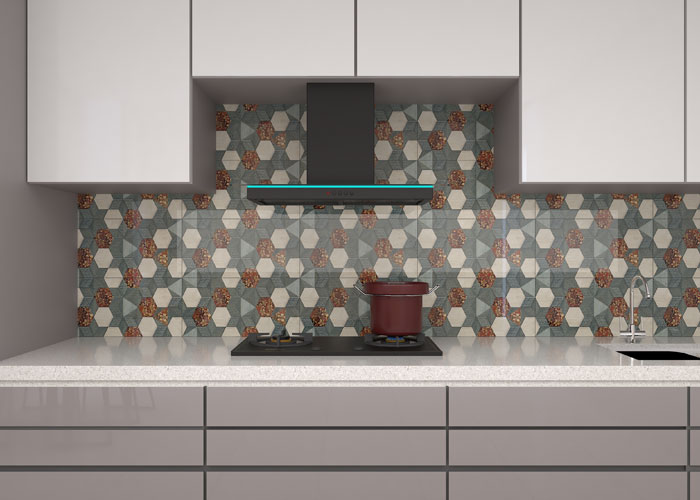 Kitchen backsplash tiles have been an integral part of a modern kitchen. You can use ceramic tiles to personalise your kitchen design, and backsplash is the best place to start. Modern kitchen trends have been hitting Indian kitchens as well. However, you need not get carried away by the plain, boring designs inspired by western designs.
Unlike western households, the Indian kitchen reflects the happy chaos and spiciness of the food we love. Digitally printed ceramic tiles offer several designs and patterns that provide ample options to set the tone of your kitchen.
Here are five unique kitchen backsplash tile designs for uniquely Indian kitchens:
A Kitchen Out of This World
This is the tile portfolio you explore when you crave something otherworldly. The colour splash of these 30x60 cm vitrified tiles can open your mind to something extraordinary. Plus, the colour fusion on these tiles perfectly showcases the chaotic yet beautiful side of the Indian kitchen.
You can check for the randomisation phases for these tiles as well. Randomised tiles with coloured grout lines (usu. Black) can create an illusion of a continuous wall. This series offers something for everyone:
Kyoto Green kitchen backsplash tiles for the lover of nature and when you want to stay close to it
Lodi Bright for the lover of modern art in you
Muscat Red for the most fashionable and bold personalities
Oran Green/Purple for the hidden talent
Pilsen green for the lover of natural authenticity
Johnson Exotic series also provides similarly bold and more natural design patterns.
Perfect Dimensions for Kitchen Backsplash Tiles
The usual height of a kitchen backsplash is 60 cm. You can create a higher backsplash wall depending on the planned kitchen layout. With rectified 30x30 cm tiles, you can have a kitchen backsplash of perfect dimensions. Rectified tiles are cut into perfect squares, matching the dimension needs.
Thus, these tiles can be installed with minimal grout lines. The various mosaic prints create a feeling of a rich heritage for the kitchen. The flower petal and bud patterns of Camaru and Frida bring a bit of the palatial décor to your kitchen wall.
These matt finish tiles add a classical touch to your home. You can use these tiles on both the floor and the wall. Thus, using them on the floor and kitchen backsplash will give a feeling of a continuous design with the floor bending up to form the wall.
3D Elevation Concepts for Kitchen Backsplash
3D elevation tiles have been popular for wall applications in several areas. 3D kitchen backsplash tiles can transform your kitchen wall for a more realistic and natural appearance.
3D elevation tiles are a common choice for an accent wall. This gives you a perfect opportunity to have a theme across your home with 3D tiles. The glossy finish makes it easier to keep the tiles clean.
The best part about these 3D tiles from Johnson is that you can have a randomised design, i.e., all tiles will feature a unique design. This random phasing gives the backsplash or any other wall a natural continuous design without repetition.
Blend Colours with Texture
Are you a fan of rich textures but not so much of bold colours? This collection of glossy wall tiles for kitchen backsplash is just perfect for you. The Bexley series tiles have an embossed texture with a glossy surface finish. Their surface texture gives them a realistic sculpted appearance.
You can create a royal setting by combining Bexley Green with dark-coloured furnishings and countertops. Bexley white will give an appearance of humble well-being to your kitchen.
Kitchen Backsplash With Heritage Tiles
Want to feel nostalgic and an air of love when you walk into your kitchen? 10.8x10.8 cm square heritage tiles are the best tile design for the purpose. Using single-colour kitchen backsplash tiles will provide a solid backdrop for the counter.
You can also infuse a bit of creativity by combining one dark shade with a lighter one. For instance, black and white chessboard, royal blue base with dissipating top line in combination with white tiles, etc.
300x100mm avatars of these tiles are also available in three variations - flat, bevel and frame.
You can even recreate your grandmother's kitchen using a solid backsplash of entirely Mango-Yellow or New-Blue tiles. Aqua tiles can bring the feeling of being on a beach when combined with white cabinets.
Create a Kitchen of Your Dreams
The kitchen backsplash is an important but small part of your kitchen layout. While the backsplash defines the personality of the kitchen, other areas like the countertop, storage and floor must complement your backsplash choice.
So, it will be impossible to choose one and let the others pass. If selecting the kitchen backsplash tile is the focus, you can let it define the colours in other areas. Match your cupboard and countertop tile colours with your backsplash for the best experience.
Also, don't forget the safety while installing your tiles. Floor tiles should offer a better-wet grip in the kitchen. Thus, always use matt or rocker finish tiles on the kitchen floor.
Frequently Asked Questions
Ceramic non-vitrified and vitrified tiles are good options for the kitchen backsplash. Also, you should consider the tile size to match your kitchen backsplash. Usually, 30x30 cm and 30 x 60 cm tiles are preferable for the usual 60 cm high backsplash. But you can also use 10.8x10.8 cm tiles for a different appearance.
A contrasting backsplash that can stand out from the countertop is preferable over something that will look like an extension. However, you can match the kitchen backsplash tile with the countertop if:
You have ample natural light in the kitchen
When you are using lighter colours
Any glazed ceramic or vitrified tile with a glossy surface finish should be easy to maintain kitchen backsplash tile. However, other surface finishes like rocker, sugar and even 3D embossed (punched) should be easy enough to maintain. The glaze on the top surface of the tile makes it almost impervious to absorption. This is why you can wipe them clean after a spill.