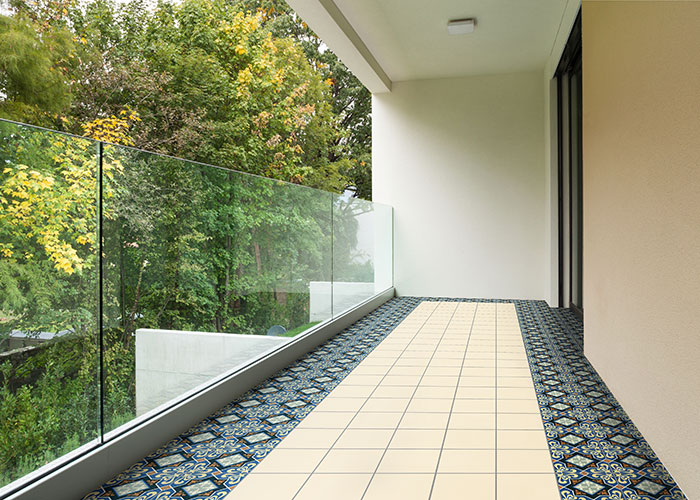 If you are lucky enough to have a home with its own terrace or balcony, congratulations! You have your own little escape to the outdoors, a serene retreat to nurture a connection to nature. When it comes to styling and enhancing terrace and balcony spaces, the possibilities are endless - a lounge and bar area, mini jungle, herbs and vegetable garden, al fresco dining area, open-air office… there is so much you can do with the space!
If you are looking to upgrade your terrace or balcony, simply choosing the right tiles can go a long way in bringing your design vision to reality. The range and variety in tile formats, designs, styles, textures, etc. can be overwhelming, but taking some time to consider your requirements and current trends can ease the decision-making process significantly.
To help you transform your outdoor spaces, here's a curated list of the most classic, timeless trends in balcony and terrace tiles that will never go out of style - no matter your interior design choices or furniture preferences!
Natural Stone
Nothing says refined, subtle luxury like natural stone. No wonder it remains a classic, timeless choice for indoors and outdoors! The richness of the stone renders a warm, organic aesthetic to terraces and balconies as well. However, natural stones like marble, slate, limestone, etc. can be expensive and high maintenance.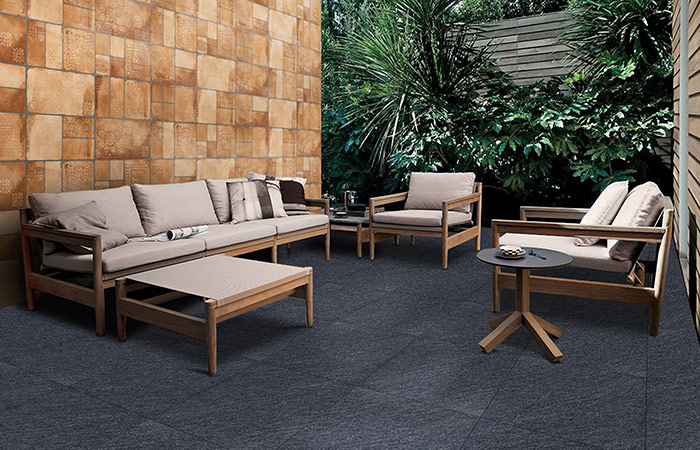 A popular alternative, stone-look tiles have all the aesthetic and functional qualities of natural stone without the hefty price tag and upkeep requirements. This makes them perfect for terrace, balcony, and patio spaces. These types of patio tiles are also extremely hard-wearing, even when constantly exposed to the elements.
Check out the vibrant stone-look tiles from the Endura Designer Collection like BETSY WHITE, a marble-look Glazed Vitrified tile, MICA SLATE , a slate look and finish that is ideal for balcony tiles, or the matt-finish Stone Grey for a sleek and sophisticated style.
Wood
Wooden flooring has long been associated with classy, posh visual appeal and old-world charm. It is also a great way to bring a key element of nature into your home, fostering a long-lasting connection with nature. However, wooden flooring can be extremely high maintenance and does not do well in contact with water. Predictably, your terrace and balcony are bound to have water exposure in the form of rain or irrigation for your plants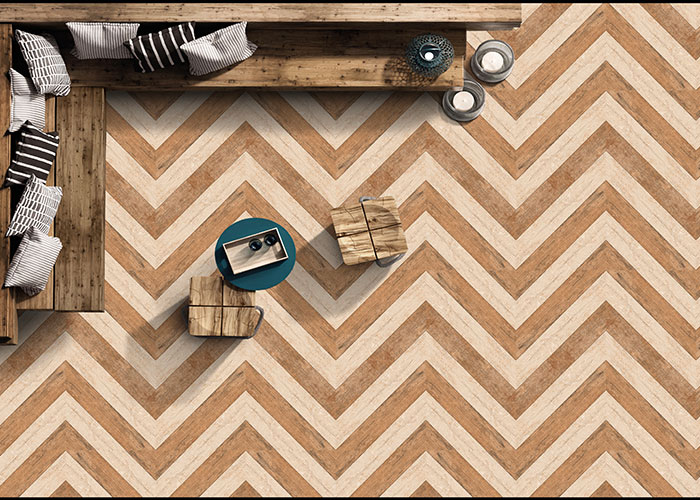 This is where wood-look garden tiles step in and take over! Not only do they look and feel like wood, but they also have additional resistance to the elements which real wood lacks. No swelling due to moisture, no changes in color or fading due to the sun! Additionally, they are affordable and come in a variety of shades, sizes, textures, etc.
Whatever your aesthetic preference, there is a wood-look tile for you. Choose from a number of options like Bruno Wood , Canewood Natura, Cosmo Wood , Maze Wood, Wood Strips Choco Wood Strips Choco, and more from the Endura Designer Collection.
Patterns
The best way to reflect your personality and add a touch of eccentric character to your balcony or terrace is to use patterned outdoor tiles! Think Moroccan or mosaic tiles. You can choose from a variety of patterns including geometric or intricate designs, or something bold and eye-catching to create visual interest. You can truly let your creativity shine when using patterned tiles simply due to the endless variations and designs you can create.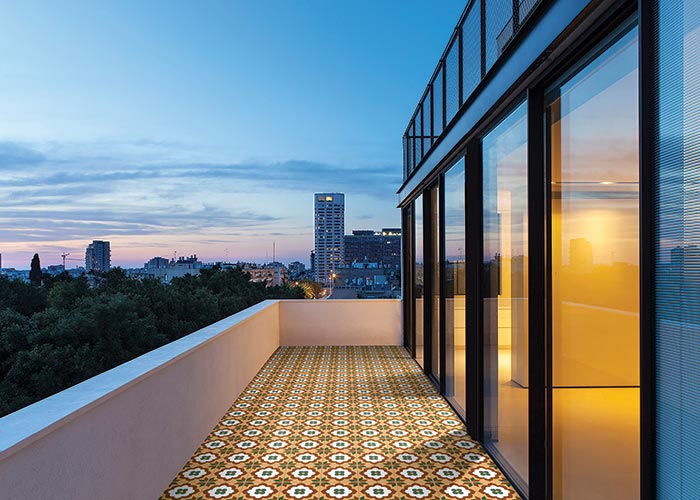 For a distinctive, unique balcony or terrace, check out styles like CUBED NOIR,ROYAL AZURE, PARX RUST ,and STRUCTO GRIS from the Endura Designer Collection. Other options - if you prefer a slightly more organic, artistic aesthetic - include VINTAGE FEATURE, Karpet Rust Cotto , and Karpet Smoky Blue amongst a host of other interesting patterns and designs.
Pay special attention to functionality and durability
In contrast to the endless colors, patterns, designs, types, etc., outdoor floor tiles and paving tiles often have limited but necessary functionalities. When choosing tiles for your balcony, terrace, patio, or outdoor garden, pick weather-resistant and water-proof tiles. Similarly, opt for tiles that don't need heavy maintenance though regular cleaning can do wonders to prolong the life of outdoor floor tiles.
Another key consideration is heat absorption, reflection, and dissipation. Terrace tiles , especially, are exposed to the sun for long periods of time. Regular tiles tend to absorb the heat and warm up the rooms below the terrace floor. This can create uncomfortably warm environments in peak hot summers
To combat this issue, we have designed a revolutionary product - Cool Roof Tiles . These unique tiles come with an impressive Solar Reflectance Index (SRI) of over 90 enabling them to reflect most of the solar heat owing to a special glazing process. The effective barrier against the sun's rays keeps your interiors pleasantly cool and reduces the need for excessive energy consumption. Thus, choosing the right tile can not only help achieve the perfect aesthetic for your terrace or balcony but also cut your air conditioning cost!
Conclusion
When it comes to balcony and terrace tiles, it is wise to focus on a combination of aesthetics, functionality, and durability. Natural stone, wood-look tiles, patterned tiles, etc. are classic styles that won't look dated in a few years, saving you from the hassle of having to re-tile your spaces to match seasonal trends.
By selecting the right tiles, you can transform your balcony or terrace into an inviting, stylish, and harmonious outdoor haven where you can relax, entertain, and enjoy the beauty of nature. Let your creativity run free but also keep in mind practical considerations like maintenance, weather resistance, durability, etc. to peacefully enjoy your outdoor space for years to come.
You can explore more floor and wall tiles in various colors, styles, patterns, etc. for your balcony or terrace on our website and visualize what the tile would look like in your beloved space!