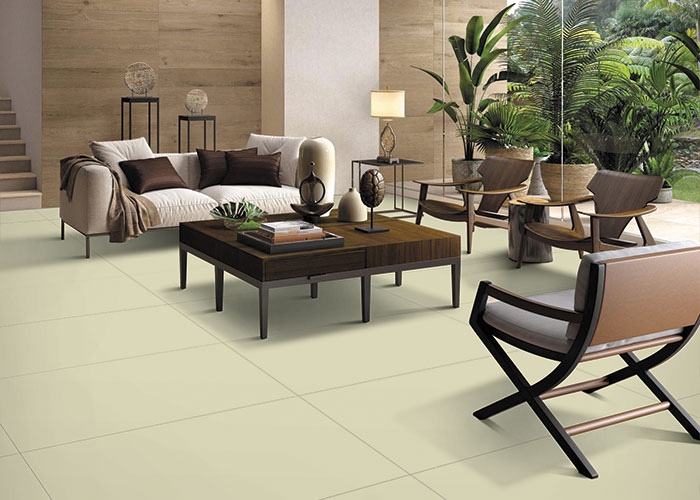 Your office space is a reflection of your brand, which is why every aspect of the interior design must be well-curated. Especially the flooring, which can be overlooked when designing your office or commercial space. Choosing the right floor tiles , both in terms of functionality and aesthetics, can transform the overall ambiance of your space.
In this blog, let's explore the world of floor tiles and the factors you should take into consideration when selecting flooring tiles for your office to help you make the right choice!
Foot traffic
Unlike homes, offices and commercial spaces have considerably high footfall. People also walk wearing shoes, which causes more friction, dirt, and grime. Clearly, tiles that would usually be great for homes could show signs of early wear and tear in such strenuous conditions. The flooring you choose for your office, therefore, must be exceptionally strong and durable if you want to keep them looking fresh for a longer period of time.
One way to ensure you make the right choice when it comes to footfall-based flooring is to go for durable double-charge vitrified tiles with features like stain and skid resistance. They are usually available in a range of colors and go well with all kinds of interiors. Also remember that the larger the individual tile, the more seamless the flooring will appear. So opt for large-format tiles.
Check out Johnson Marbonite polished vitrified in the shade Altis Crema if your office interiors demand a lighter-colored tile or opt for a darker shade like Salt & Pepper Black , a durable highly vitrified full-body, stain-free tile to make your commercial space look larger and more spacious.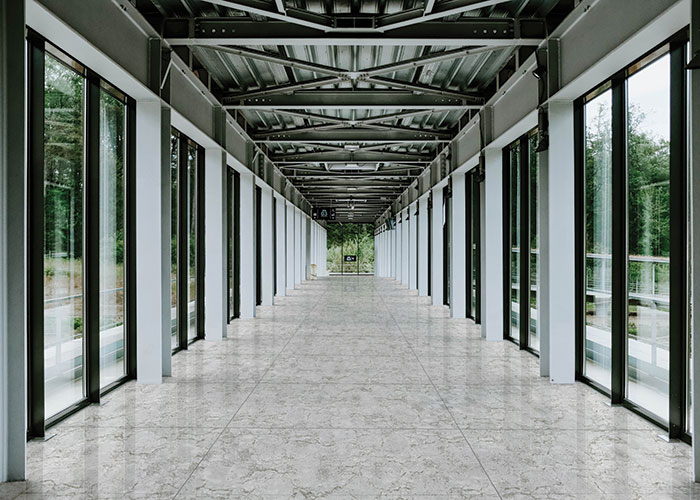 Maintenance
When you are looking for tiles for shops, the last thing you want to do is spend a lot of time on maintenance and upkeep. Stained, broken or chipped flooring can dent your visitors' and customers' perception of your business, giving your office a rather shabby look. As mentioned above, high-footfall areas like shops, offices, and other types of commercial spaces need tiles that can stand the test of time without requiring high maintenance.
Polished vitrified tiles in high gloss or matt finish are a great option as they are relatively easy to maintain and can sustain high footfall without problems. Choose a matt finish for restrooms and
pantries, as these tiles can handle water spills better. They are also great options for medium-to-high footfall areas, whereas high gloss tiles are best suited to low-footfall areas.
Tiles like the Salt & Pepper Silver in a matt finish can really elevate washroom and pantry areas, as well as busy retail shop floors without needing too much maintenance. Similarly, Johnson Marbonite polished vitrified tiles in Perlin White is a unique option that can be considered for flooring as well as walls for a low-maintenance experience.
Style
Say what you may, style and aesthetics play a major part in the decision to buy flooring tiles. Of course, durability is important, but the tile you choose has to be pleasing to the eye and in perfect harmony with your interior design and brand aesthetic. Any mismatch is quickly perceived by customers and visitors, undermining all your efforts to create a welcoming space to encourage business.
The best part is that whether you want a soothing, timeless shade that is soft and light or your store requires an edgy, bold hue, you can easily find vitrified tiles to suit your taste. For instance, check out lighter shades like Albiza Roso, Anglo White, and Salt & Pepper Snow from the Johnson Elite Series that not only brighten up your commercial space or office but also perfectly contrast your furniture or in-store merchandise.
You could also choose to make a statement with flooring tiles by opting for darker, vibrant shades like Verde , a matt-finish polished vitrified tile in a greenish shade, or Roman Lilac, a beautiful shade from the pink-purple family.
Points to remember
When choosing tiles for your office or commercial space, try to select from tiles specially made for the purpose. There are many varieties and options available today that are created to cater to the demanding needs of office and commercial spaces.
Vitrified tiles provide the best value for money when it comes to durability and style. They are exceptionally strong, durable, and resistant to stains and scratches. Besides, they are available in a range of looks - marble, stone, wood, etc. in polished, high-gloss, and matt finish to suit your needs.
Double-charge tiles are great for rough use because they are created by fusing two layers of pigment and are typically thicker than regular tiles. This ensures stain and scratch resistance even with heavy-duty use. They also fare exceptionally well against dust and dirt, keeping their freshness and beauty intact for a long time without little maintenance.
Whether it is your office, shop, or commercial space, special attention needs to be paid to the flooring. If you get it right the first time, you don't have to worry about spending big to replace tiles time and again. The downtime required when replacing tiles can hamper your
business and lower employee productivity in your office. Hence, making the right choice when it comes to office tiles is of utmost importance.
You can check out the wide variety of commercial flooring options from H & R Johnson to ensure your office space reflects your brand's personality to the fullest while also being long-lasting and low-maintenance.