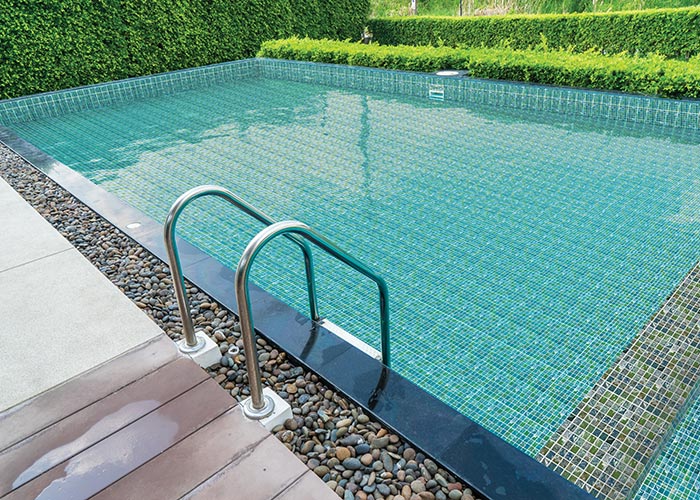 A swimming pool is often the centrepiece of outdoor and recreational spaces, offering relaxation, and a fun place for respite during hot summer days. Modern swimming pool structure covers more area than just the water tank. While the insides of the pools have to be made safe, the majority of the safety work outside the pool involves adding surfaces that enhance safe usage.
Appropriate tiles can enhance the aesthetics and safety of your pool with ease. Tiles offer several benefits not available with other solutions, such as a modular installation, long life, easy maintenance, etc.
Here are the nine best ways to upgrade your swimming pool's safety and looks with tiles.
Non-Slip Pool Deck Tiles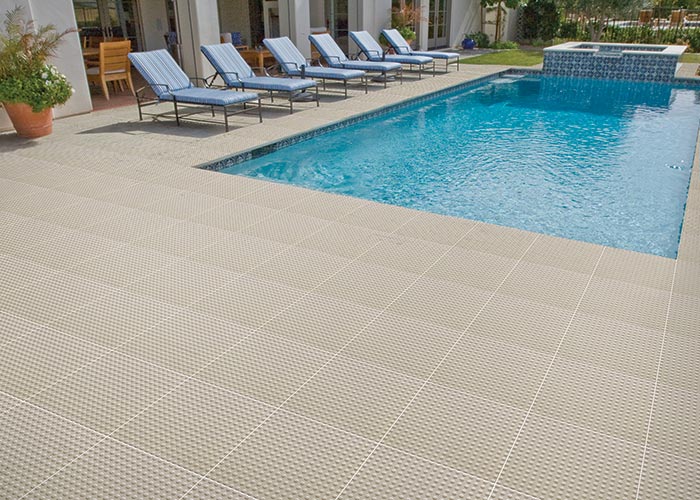 Safety around the pool is paramount. Installing non-slip pool deck tiles can significantly reduce the risk of slips and falls, especially when the poolside area is wet. These tiles come in a variety of materials and designs, allowing you to choose options that match your style preferences while prioritising safety.
At H&R Johnson, you can consider the following anti-skid tiles for the pool's deck area:
Johnson Endura Designer Collection (EDC) Tiles: EDC tiles are glazed vitrified tiles specially designed for outdoor spaces and seating areas. The tile features a strong and rough matte finish, providing anti-slip properties even when wet, and can survive scratches and impact from furniture.
Johnson Endura Max-Grip Tiles: Max-Grip tiles give you more options to meet stricter surface resistance requirements. With max-grip tiles, you can choose the level of skid resistance you need for the deck area around the pool.

R11 A, B, and C class Max-Grip tiles are more popular for deck areas around swimming pools. R11 tiles feature tiny 3D structures on their surface that add sufficient wet grip to the floor. These tiles are recommended for outdoor pools.

Johnson Endura Meteor Tiles: Meteor tiles are perfect for your swimming pool deck if you want to add a natural touch to the space. Meteor tiles are perfect for residential swimming pools, especially if they are attached to a garden.
Waterline Tiles
Waterline tiles are the perfect way to add a touch of elegance to your pool. These tiles run along the waterline of your pool's interior, creating a visually stunning effect. They are available in various colours and patterns, allowing you to customise your pool's appearance to match your outdoor decor.
Waterline tiles are polished vitrified tiles and contrast the primary swimming pool tiles to offer better visibility. The smooth surface of these tiles ensures easy cleaning and avoids limescale formation if the pool is unused for a while.
Mosaic Pool Tiles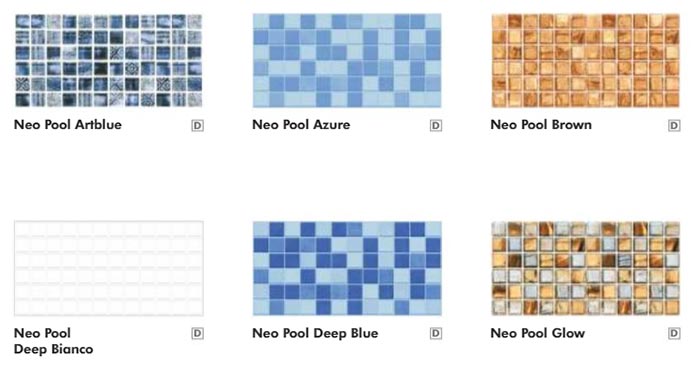 Mosaic tiles can transform your pool into a work of art. Mosaic tiles are available with an array of designs, from classic patterns to intricate custom creations. Mosaic tiles not only enhance the pool's visual appeal but also offer a smooth, easy-to-clean surface that's gentle on swimmers' feet.
H&R Johnson offers several varieties of mosaic tile designs for swimming pool finish.
Depth Markers
Safety and functionality can be improved with depth markers. These tiles are placed on the pool's floor and indicate the depth of the water, ensuring that swimmers are aware of changing water levels and potential hazards.
Edge and Coping Tiles

Edge and coping tiles frame your pool and create a seamless transition between the pool and the surrounding deck. These tiles also add grip to the swimming pool edges and help you avoid slipping while holding the edges or walking close to the pool.
These tiles are especially critical for public pools where safety is paramount.
Anti-Skid Tiles for Pool Steps
If your pool has steps, consider adding anti-skid tiles to the steps and enhance its appearance and safety. Tiled steps can match the rest of your pool's aesthetic while providing a slip-resistant surface on the edges of the steps.
These anti-skid swimming pool tiles for steps' edges ensure better visibility and grip for pool users.
Adequate Lighting
Proper lighting is critical for swimming pool safety, especially if the swimming pool is used during the night. Proper lighting should cover the entire swimming pool and surrounding area. This will ensure visibility and user safety in and around the pool.
Additionally, you can install LED lights in and around your pool for a dazzling night-time experience. Use the lights in tandem with swimming pool tiles like Pearl Glass Azul, and Cloud Mist Smoke from H&R Johnson to create a mesmerising ambience that adds safety and visual appeal to your pool area.
Tile Maintenance
Regular maintenance is essential to keep your pool tiles looking their best. The non-porous glazed vitrified swimming pool tiles are easy to clean and resist almost all pool chemicals and exposures. However, you should pay attention to the grout lines to avoid seepage.
You can also use epoxy or silica grouts to make the tile layout virtually maintenance-free. Clean the tiles regularly and address any grout issues promptly to prevent deterioration and discolouration.
Switch to Saltwater Pool
Switching to a saltwater pool offers several benefits for users and pool operators. The saltwater pools are easier on the skin and eyes of the pool users and do not cause inflammation. These pools also require less chemical processing and handling, making them safer to operate.
The water automatically prevents algae growth, thus avoiding issues with algae prevention measures and the need for regular cleaning.
Upgrade Your Swimming Pool with H&R Johnson
Upgrading your swimming pool with tiles can be a game-changer in terms of both safety and aesthetics. You can create a stunning swimming pool area and provide a safe and enjoyable environment for aquatic recreation with the range of tile options at H&R Johnson.
H&R Johnson Endura tiles offer a complete solution for professional swimming pool construction. The portfolio offers all types of swimming pool tiles required for the complete structure, including the deck, waterline, and interior. The right kind of swimming pool tiles can turn your pool into a beautiful, inviting, and safe oasis.
You can contact the tile experts to understand a complete solution to your requirements, swimming pool tiles' price, and quantity. Alternatively, you can also visit the nearest Johnson Experience Centre to clear your doubts and place your order.
FAQs
The mosaic or plain tiles used inside the pool have glossy surfaces and can be slippery. However, anti-slip tiles should be installed strategically to avoid accidents. Anti-skid tile placements should include the swimming pool edges, the edges of the steps in the swimming pool, and the deck area of the pool.
Swimming pool tiles are commonly referred to as "pool tiles" or "pool coping tiles." These tiles are specifically designed for use in and around swimming pools. These tiles are a collection of different types of tiles, including the most prolific mosaic designer tile of 24.7x12.2cm, and corner pieces to cover bends and joints in the pool.
Mosaic formats are the most popular swimming pool tile designs. Other than mosaic, glass and plain tiles are also popular for swimming pool construction.