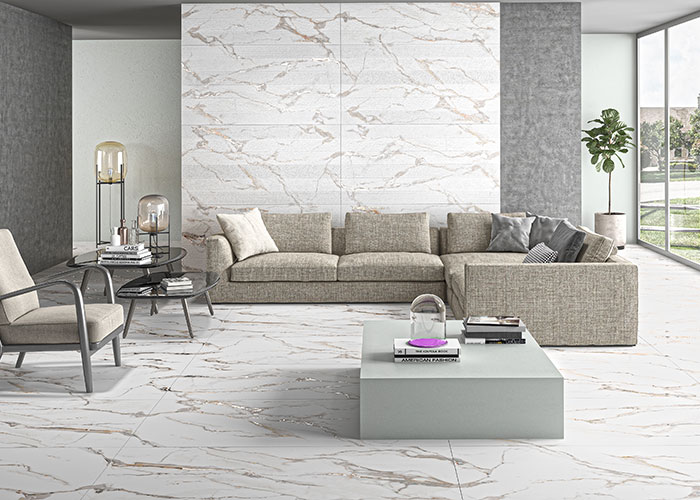 All furnishings, including furniture, help showcase your taste, style, and class in the house. But all these are the toppings on the cake. The base is always defined by the finish and quality of the base or the base structure in the case of homes. A superb base can take away the need for many superficial additions. The walls and floors of your home form the base structure for the interior design of your home.
Floor and wall tiles for homes provide that superior finish and quality to the base structure of your house. Your choice of floor and wall tile for your home will influence the overall ambience, functionality, and visual appeal of the place.
Tiles help you define the style and theme of a space and create visual impact and focal points. Bold accent walls, decorative tiles, or uniquely patterned floors can command attention and inject personality into a room.
Spaces in Home for Wall Tile Décor
While wall tiles have a huge aesthetic, functional and durability value for a building, you would want to optimise their placement with other elements. So, while tiling your home walls, you may want to stick to the most important places and go on to the most eye-catching spots.
So, here's a list of spaces you want to use the best wall tiles in your home:
Kitchen: Backsplash walls become the flashpoint with eye-catching or soothing tile designs, especially if it's an open kitchen attached to the living room. Plus, the hygiene and functional value of the stain-free backsplash tiles is no secret.
Bathroom: The bathroom is prone to excess moisture and splashes of bathing liquids. So, no wonder adding water-resistant tiles to walls keeps them safe and looking great for a long time.
Balcony: Balcony walls are also prone to weather elements. However, they need more protection during the rainy season, especially the bottom 2-3 feet due to the possible splashes. Providing a layer of weatherproof tiles to this area will keep the balcony safe, easy to clean and resistant to water absorption.
Living Room Accent Wall: The living room needs certain focal points and visually engaging areas to break the monotony and accent walls are a proven way to achieve that.
Front Elevation: The front of your house needs to spell out your taste with elevation wall décor. Elevation tiles make the process easy with their modular approach and range of options.
Bedroom Feature Wall: You can differentiate your bedroom feature wall with a unique colour paint or cover it with tiles.
Passageways: Passage walls can serve a dual purpose of decoration and cleanliness with tiles in place. Unlike paint or lime, stains can be easily cleaned from tiles.
Ceramic and vitrified wall tiles come in a wide variety of designs, colours, patterns, and textures that can transform the look and feel of your home. Here are some popular wall tile designs for different areas of your home:
1. Subway Tiles
Classic and timeless, subway tiles are small rectangular tiles used for kitchen backsplashes and bathroom walls. You can arrange the heritage tiles in various ways, such as classic brick, herringbone, and chevron patterns to create mesmerising designs.
At H&R Johnson, subway tiles are a part of the Heritage tile collection and are available in various colours, including white and black. Subway tiles offer great flexibility in terms of combinations and custom designs.
2. Geometric Patterns
Geometric wall tiles come in various shapes, like hexagons, triangles, and diamonds.
These tiles can create visually stunning focal points on accent walls or backsplashes. H&R Johnson offers a wide range of tiles featuring different geometric arts. The tiles are available in large sizes of 60x120cm to smaller 30x60cm tiles.
3. Moroccan Tiles

Inspired by traditional Moroccan designs, these tiles often feature intricate patterns and vibrant colours. These tiles add a colourful and rich perspective to your walls and definitely put up a show to attract attention.
Moroccan décor tiles add a touch of exotic and eclectic style to bathrooms, kitchens, or living rooms. These designs are available in matte and glossy finish at H&R Johnson,
4. Wood-Look Tiles
Wood-look ceramic or vitrified tiles mimic the appearance of natural wood and make for a perfect décor for kitchen and bathroom walls. You can use polished, rocker, and satin finish wood look tiles to add warmth and natural appearance to your kitchen and bathroom.
Wood plank tiles are great for achieving a warm, rustic, or cosy ambience in the living room and bedroom accent walls.
5. Marble-Effect Tiles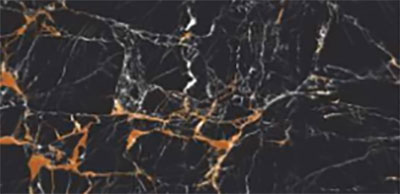 Marble-effect wall tiles offer the luxurious look of real marble without the high cost and maintenance. These tiles are ideal for adding elegance to bathrooms, entryways, or feature walls. Johnson Tiles Exotic collection offers onyx and marble look tiles to add a unique appearance.
6. 3D Elevation Tiles
3D wall tiles create a sense of depth and texture, making them suitable for creating eye-catching accent walls. You can also use 3D elevation tiles for the front walls of your home. H&R Johnson offers several 3D elevation tile options under the following portfolios:
Johnson Tiles Elite Wall Concepts: Glossy finish with 10 mm depth, the tiles are perfect for accent, and feature wall applications.
Johnson Porselano Elite Elevation Wall Tiles: These are 30x60cm glazed vitrified tiles with 3D texture. These are the best wall tiles in India for indoor and outdoor applications. However, avoid using them as kitchen backsplash, as cleaning these tiles will be touch.
Johnson Tiles Glossy Elevations: These are ceramic tiles with 3D texture and glossy finish. The glossy surface makes them easy to clean and perfect for backsplash applications.
7. Floral and Nature-Inspired Tiles
Tiles with floral or nature-inspired designs bring a touch of the outdoors inside your home.
They are perfect for bathrooms, kitchens, or even as decorative pieces in living rooms. These wall tiles for home are available in a digitally coordinated format where you can create a wall décor with a combination of tiles.
8. Solid Colour Tiles
If you love the simplicity of solid-coloured walls plain-coloured glossy finish tiles are the perfect choice for your home wall. Sometimes, a simple solid-coloured tile can make a bold statement, especially in minimalist or modern interiors. You can play with different shades to create a cohesive or contrasting look.
H&R Johnson offers plain colour tiles under the Johnson Tiles Elite Special Colour portfolio. The seven prime colours should complete your interior design effortlessly.
Buying Your Favourite Wall Tiles in India
Remember that the choice of wall tile design should align with the overall aesthetic and purpose of the space. It's essential to consider factors like colour schemes, lighting, and room size when selecting wall tiles for your home to create a harmonious and visually appealing environment.
The best way to search and source the best wall tiles in India should start with an online exploration. Learn a little about the tiles to understand the different options available and how you can judge a tile's quality.
You can also consult tiling experts online at H&R Johnson and visit the nearest Experience Centre to feel and experience the tile design before purchase.
FAQs
The best wall tiles vary depending on the specific place of application and aesthetic needs. However, based on their durability, aesthetic appeal, and cost-effectiveness, ceramic, porcelain, and fully vitrified tiles are the top choices for most residential and commercial buildings. Remember to consider factors like size, colour, and texture to find the perfect tile for your wall.
Glazed vitrified wall tiles are the best for any wall in your home, including the kitchen, bathroom, living room, etc. However, non-vitrified ceramic tiles are also good for areas like bathroom and kitchen walls.
H&R Johnson is one of the best tile manufacturing companies in India and has over six decades of tile manufacturing history. The company now produces the second-highest quantity of tiles using some of the most modern equipment and eco-friendly manufacturing processes. The experience and technical expertise make H&R Johnson one of the best tile manufacturing brands in India for floor and wall tiles.