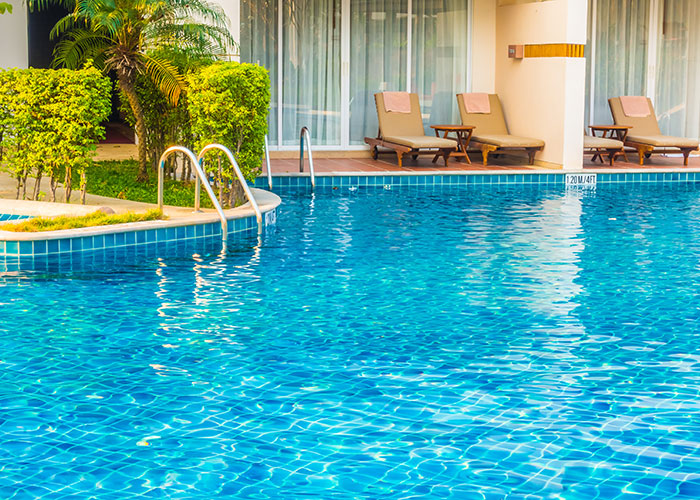 Resorts and often luxury homes need to add something fun to their itinerary and the backyard. Swimming pools are one of those critical additions. However, an Olympic swimming pool does not generate enough interest. So, you need to think a little differently regarding quirky design ideas that can attract guests and make their stay memorable.
Explore six unconventional and inventive swimming pool design ideas for luxury homes and resorts in this article. Apart from the curious designs, pay attention to the various elements that come together to create a safe and enjoyable swimming pool experience such as swimming pool tiles, deck area design, and decorative elements.
1. Long Pool with a Bridge
Imagine yourself swimming through an elongated pool that seamlessly integrates with the surroundings, only to find an enchanting bridge looming above. This design combines elegance and functionality, allowing you to float from one end to the other effortlessly while adding a touch of architectural marvel to your pool space.
2. Glass-Bottom Pool
For the venturesome at heart, a glass-bottom pool is the epitome of modernity and luxury. This unique design idea creates a captivating visual experience by allowing swimmers to view the world beneath them. Whether placed on a rooftop or suspended high above ground level, this concept offers a thrilling aquatic adventure like no other.
3. Floating Bar and Lounge
Revolutionise your poolside gatherings by incorporating a floating bar and lounge area. This creative concept allows guests to sip on drinks while lounging in the pool itself. The floating platforms equipped with seating arrangements and sun umbrellas create a tranquil yet glamorous space for socialising and relaxation.
4. Natural Pools with Rock Formations
Bring nature into your luxury pool with the addition of natural rock formations. These pools, integrated seamlessly into the surrounding landscape, offer a rustic charm and incredible visual appeal. By incorporating cascading waterfalls or gentle streams, these natural pools provide a serene and eco-friendly alternative to traditional designs.
5. Infinity Pools with Unique Edges
Enhance the elegance of your luxury home or resort by incorporating an infinity pool featuring a unique edge design. From infinity pools with see-through walls to ones with water cascading over unconventional materials, these designs offer spectacular views and create an unforgettable visual spectacle.
6. Lagoon-Style Pools
Escape to a tropical paradise with a lagoon-style pool that recreates the beauty of a serene beach. This design emulates the natural flow and crystal-clear waters synonymous with an idyllic tropical oasis. Complete with white sand beaches, palm trees, and hidden alcoves for relaxation, a lagoon-style pool is the perfect luxury addition for ultimate indulgence.
Elements of Swimming Pool Designs
Swimming pools are more than curiously shaped tanks filled with water. The deck, the lounge, and the attached structures also make the part of the swimming pool area and must be constructed for the safety and comfort of the users. Swimming pool tiles play a major role in protecting the structure as well as the users from the hazards of being around the pool.
Swimming Pool Tiles: Installed inside the swimming pool, these tiles remain in constant touch with water and provide the pool it's hues and colour. Mosaics and solid colour tiles are common choices for public and home swimming pools. The modern swimming pool tiles including glass-look tiles are also catching up rapidly with the trend.

Swimming pool tiles consist of a complete set of tiles for installation within the pool, including the anti-slip step tiles, tiles with finger grip, and grooved anti-slip tiles for the pool's edges.

Deck Area Tiles: The deck area for the pool must provide a safe non-slip surface with sufficient wet grip. Johnson Endura Max-Grip R11 tiles are the most suitable deck tiles for outdoor swimming pools. The highly textured surface of the tile provides excellent slip resistance even under intense rain.
Landscaping Areas: If your pool has an attached garden or landscaping area, you can use the Johnson's Endura Meteor full-body vitrified tiles to add seating or pathways into the landscape. These tiles are sturdy, water and wear-resistant and appear perfectly at home in a natural setting.
Buy the Right Kind of Tiles for Your Swimming Pool
Swimming pools are more than just a place to take a dip; they can be works of art, architectural marvels, and idyllic retreats. Using appropriate materials will not only elevate your aquatic experience to new heights but also leave a lasting impression on guests and residents alike.
You can connect with a tiling expert at H&R Johnson and select the most appropriate tiles for your next swimming pool project. Alternatively, you can also visit the nearest Experience Centre to experience the wide collection of swimming pool tiles at H&R Johnson. Consult with an expert on your choices and budget with swimming pool tiles costs at the centre.
FAQs
The best tile for a swimming pool is typically a porcelain or ceramic tile specifically designed for pool use, i.e., Johnson Endura Swimming Pool Tiles. These tiles are durable, water-resistant, and resistant to pool chemicals. They also come in various colours and styles to enhance the pool's aesthetics while providing a safe, low-maintenance surface.
The price of swimming pool tiles in India can vary widely based on factors like tile type, design, and quantity needed. Generally, basic ceramic pool tiles may start at around ?50 to ?100 per square foot. More premium options like glass or mosaic tiles can cost ?300 to ?1,000 or more per square foot. Installation and labour costs are additional. Prices may vary by location. So, do check with your nearest dealership for available options and prices.
Pool tiles are specifically designed for swimming pools and other water features. They are not the same as regular tiles. Pool tiles are engineered to withstand constant exposure to water, pool chemicals, and UV rays, ensuring durability and slip resistance. They also come in various designs and finishes to enhance the pool's aesthetics while providing a safe and functional surface.