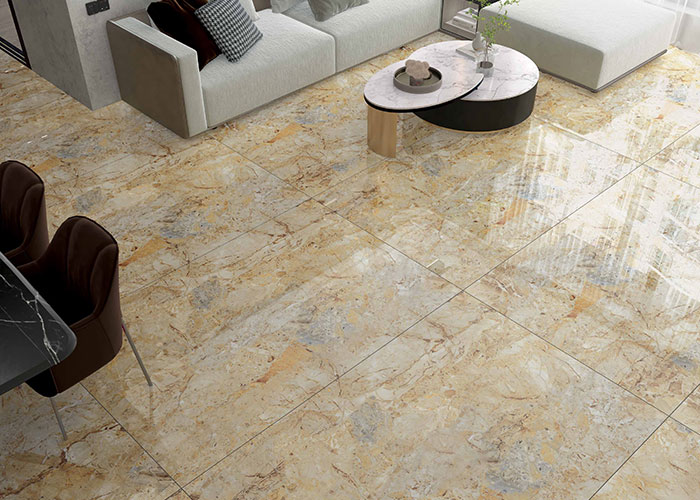 Whoever came up with the idea of digitally printed glazed vitrified tiles has done mankind an unforgettable favour. The combination of qualities of the vitrified tiles with the technological advances in the depth of design printing offers the best of both, looks and durability.
This is why glazed vitrified tiles are the most preferred material for creating an opulent interior theme. Here are five glazed vitrified tiles at H&R Johnson to make your dreams of a palatial interior come true.
High Gloss GVTs
These large format tiles are perfect for your sprawling palatial walls and floors. The mirror-like finish ensures that the tiles reflect the perfection of polished natural stone. The unique tile pattern ensures the exclusivity of your interior.
These are large format tiles. With these tile sizes, you will use fewer tiles per square meter of the floor and wall. Thus, you will minimise the grout lines while creating a uniform and sprawling floor or wall décor.
The best allocation of these tiles would be on your living and bedroom floors and interior walls in any area of the house.
Polished GVTs
Polished glazed vitrified tiles have a smooth finish like high-gloss tiles but without a superb mirror-like effect. Even then, these tiles feature a sturdier surface and can handle medium traffic without the signs of wear.
This is why, Polished GVTs are recommended for exclusive and high-end retail stores or showrooms. You can buy polished GVTs in various sizes at H&R Johnson, including 120x180cm large format slabs, 60x120cm large tiles, and 60x60 cm squared tiles.
60x120 cm Polished GVTs are some of the most popular for premium flooring and wall applications in homes and commercial areas. These tiles have the perfect size to cover large spaces and offer a stress-free installation.
A lot of the PGVT designs at H&R Johnson come with randomization features. That means tiles of the same box will not have duplicate patterns. This uniqueness can often drive visitors to your home or store to mistake the tiles for polished natural stone.
Polished Book-Match Tiles
The polished book-match GVTs can turn your floor and walls into a work of art. These tiles have a pair of mirroring patterns. You can combine these two tiles in different ways to create various large patterns.
Antique Vista is one of the several book-match polished GVTs in H&R Johnson's Elite Porselano collection. If you wish to recreate the marble and terracotta flooring of the royal palaces in India Antique Vista will be the perfect choice.
Similarly, you have other designs and colours like Athens Bianco with a white marble-like pattern, or Fosso Stone with a grey pattern.
Wood Blocks / Tiles
Matt finish tiles have always been underrated when it comes to home interiors. Glossy tiles are easy to choose and effortlessly create a premium appearance. However, if you love more natural, laidback and warm interior settings, matt finish tiles should be your first choice.
Wood-lookalike matt finish tiles can easily take you back in the lap of nature with their grainy texture and natural wood appearance. You can explore patterns of several types of wood at H&R Johnson's Porselano Elite collection.
Since these tiles have a matte finish, you can use them for kitchen and bathroom floors. Thus, you can create a uniform floor outlook for the entire house with matt finish wood block glazed vitrified tiles.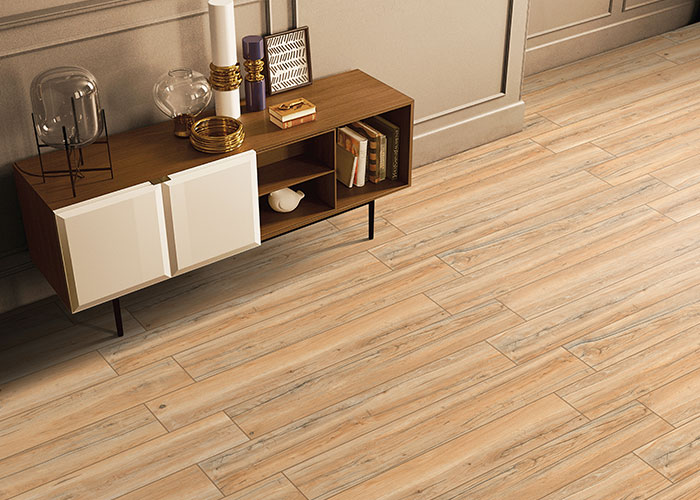 Wood plank tiles are one of the most popular GVT formats ever. These versatile planks perfect the appearance of a natural wood floor sans the drawbacks of natural wood. You can also play around with the placement of these GVT planks.
Instead of following the regular, parallel-to-wall placement, you can create a fishbone pattern by placing the tiles at an angle and interlocking. Several other floor and wall patterns are possible with wood plank tiles for floors and walls.
The planks also have a matte finish surface. Thus, you can use them for tiling any floor from the living room to the bathroom.
Maintaining Your GVTs for Eternal Appearance
Maintaining the looks and surface quality of the glazed vitrified floor tiles is easy. You can follow the regular dusting and mopping process to keep the floor clean of any dirt. Most of the time, the damage to the floor is due to heavy furniture movement.
Though GVTs can handle a lot of pressure and abuse, you may take extra care to avoid damage, especially on glossy tiles. GVTs also do not get stains from chemicals or spills. However, you can remove tough stains using a mix of vinegar and baking soda without affecting the tile.
Mild soap also works well to keep the stains away from your tiles.
Other GVT Choices at H&R Johnson
GVT or porcelain tiles are durable and available in a diverse variety of designs and surface finishes. So, you can find a GVT for your very specific tiling needs. GVT tiles make beautifying your home, office, or store with artistic wall prints a piece of cake. High-gloss and polished GVTs can quickly add a graceful elegance to the floor.
H&R Johnson is one of the oldest tile manufacturers in India and boasts a large collection of the best glazed vitrified tiles in India. The best glazed vitrified tile prices can stay lower than most natural stones. This is due to the simplicity and ease of installation of GVTs over natural stone.
Other reasons for the popularity of the glazed vitrified tiles over other floor-tiling options include:
- The available patterns and surface finish
- Long life of the tiles
- Ease of maintenance
- Capacity to bear heavy footfall
Regardless of the type of interior you want to build, i.e., natural, modern, neoclassical, black and white, retro or simply neutral, you can find a GVT at H&R Johnson.
Frequently Asked Questions