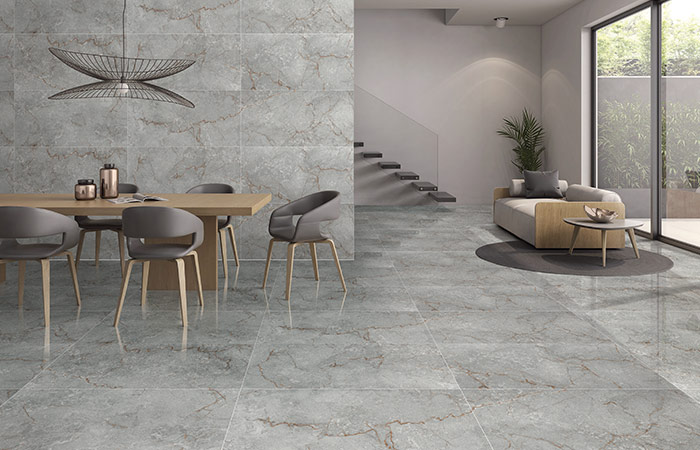 If you are in the market for a new flooring option, you should be considering vitrified flooring tiles. Vitrified tiles are some of the most versatile and durable flooring solutions you can consider for different spaces in your home.
Even when you consider various factors specific to certain spaces in your home vitrified floor tiles can provide a perfect solution. For example, the tiles you choose for your bathroom should be water-resistant and easy to clean.
The tiles you choose for your living room should be durable and able to withstand higher foot traffic and furniture movement. The tiles you choose for public space should be durable and able to withstand heavy traffic.
Superb Range of Patterns
Porcelain (glazed vitrified) tiles are the most popular type, with a variety of colours and patterns that can fit any design style.
Also, vitrified tiles come in various colours, patterns, and sizes so they can be chosen to suit any décor or home/business needs. The main benefits of vitrified flooring tiles lie in their durability. These flooring tiles have a natural resistance to stains and heat damage.
The polished vitrified tiles from the Johnson Marbonite Elite line are sturdy tiles that come in full body and double charge formats and are best used for both commercial and residential floors. The same might be applied to walls to give a home a trendy and distinctive appearance.
Polished and matte surface alternatives in the Elite line have added resistance and offer excellent durability in high-traffic areas. Wood flooring design is one of the most popular patterns of vitrified tiles. However, you can also find marble, granite, and other natural stone patterns as well.
Durability
Durability is an important factor to consider when choosing vitrified flooring tiles as it determines how long the tiles will last. The main advantage of vitrified flooring is its durability which affords a longer lifespan than ceramic tile or non-vitrified ceramic tile.
Due to their glass composition, they have superior heat resistance while also being highly resistant to scratches and stains. Vitrified flooring tiles are an excellent choice for high-traffic areas like kitchens, bathrooms (matt finish recommended), and hallways. They are durable and easy to maintain.
Stain Resistance
Stain resistance is an important factor when tiling the kitchen, dining room or kids' areas. Stain-resistant tiles can endure spillage easily and remain to look good for a longer period. It is important to consider the stain resistance factor while choosing flooring tiles for these places where the chance of spillage is high.
Vitrified floor tiles are more resistant to stains than non-vitrified ceramic tiles. For instance, porcelain tiles are highly resistant to staining, while ceramic and natural stone tiles may not be as resistant.
Surface Glaze
The glazed surface of the flooring tile also improves its stain resistance and makes the tiles more durable against scratches and surface damage. Glaze quality can reduce the water absorption rate which makes the tile less susceptible to damage from moisture.
Therefore, it is important to consider all these factors when selecting vitrified flooring tiles for different spaces to ensure that they will remain stain-resistant over time. One of the popular vitrified flooring tile collections is Johnson Porselano's ELITE Glazed Vitrified Tiles (GVT) available in sizes of 60x120cm, 20x102cm, and 60x60cm.
Surface Finish
Many designs with various appearances and finishes, including high gloss, polished, matt, and satin. The series has stain-free qualities that enable upkeep and maintaining the highest level of hygiene in your living spaces.
Matt finish tiles are best used on kitchen and bathroom floors as they provide additional grip, especially when the floor is wet
High gloss finish tiles can create a mirror effect and work best on the floors with low footfall
You can also consider a gloss or satin matt finish for the living room and bedroom
Wood flooring tiles are usually available in satin matt or matt finish. This tile pattern is quite popular for bedroom floors in modern homes.
Vitrified tiles are also popular for terraces due to their durability and weather resistance
Shape & Size
Another aspect to consider is the shape and size of the tiles. You can aim for something unique and different from the common rectangular tile shape. Smaller, square-shaped tiles are often used in bathrooms as they provide better inclination and safety.
Larger, rectangular tiles work best in larger spaces such as living rooms and public spaces, kitchen counters, etc. Large format floor tiles also create a luxurious appearance, especially with a high gloss finish. When choosing vitrified tiles for different spaces, you can consider these design factors as well.
These include the size of the space, the colour scheme, the texture of the tile, and its overall look. By considering all these design factors when selecting vitrified tiles for different spaces, you can ensure that you get a flooring solution that is both aesthetically pleasing and functional.
Maintenance
Maintenance should also be considered when selecting vitrified flooring tiles as some require more regular cleaning than others. However, when it comes to choosing the right type of vitrified flooring tile for different spaces, several maintenance factors must be taken into consideration.
From the type of finish to the amount of traffic that will be on the tiles, these factors can help determine which type of tile is best suited for each space. Understanding these maintenance factors can help ensure that you make the right choice when selecting vitrified flooring tiles for your home or business.
Cost
Finally, the cost is an important factor to consider when selecting vitrified flooring tiles as it can determine which type of tile best fits within your budget. Stoneware tiles come in a wide range of prices.
So, make sure the design and colour of the tiles you are investing in are within your budget. Likewise, when considering your budget, make sure you're not compromising on tile quality.
Select the Most Suitable Options
Vitrified flooring tiles are an ideal choice for different spaces as they offer a wide range of benefits. These tiles are a great choice for a variety of spaces, and there are many different styles to choose from. You can also receive assistance from the experts at H&R Johnson while selecting vitrified flooring tiles for your space.
With these factors in mind, you can make an informed decision on which type of vitrified flooring tiles would be best suited for your specific needs.