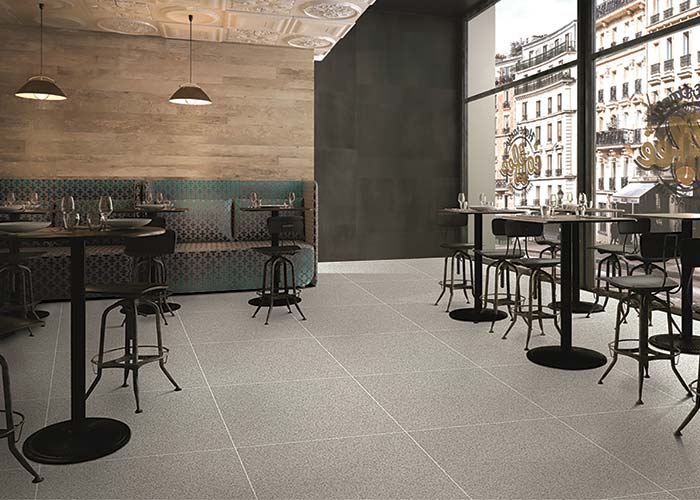 Certain hotel lobbies are so well designed that even without the decorative elements, you feel the appeal of the space. Certain offices can bring the creator out in you, and others can force you into silent contemplation.
The floor and wall tiles for commercial areas can create and amplify such effects whether indoors or outdoors. One of the best examples of such an effect is the famed Taj Mahal itself.
However, you don't need to source expensive marble stones from far-away quarries and carve them into shape. You can accomplish all these feats using the right kind of vitrified, and ceramic tiles, manufactured, and delivered to your neighbouring dealership.
Here's a list of 11 such commercial spaces where tiles can make an aesthetic and functional difference:
Large Tiles for a Five Star Lobby

The interior quality and looks of the lobby and reception area for a hotel, office, and even apartments create the first impression of the property. A premium property should also pose as premium right at the entrance.

Large porcelain tiles for commercial spaces with sizes of 120x240cm, 120x180cm and 80x160cm from H&R Johnsons Porselano collection are perfect for such applications. Available in six different surface finishes, Johnson Porselano tiles gives you all the options to complement the lobby's interior décor with perfect flooring and wall coverage. However, in high footfall areas, it's suggested to go for Satin Matt, Rocker Matt, Matt or Rustic finishes.

| Surface Finish Options | Sizes |
| --- | --- |
| High-Gloss | 120x240cm |
| Polished | 120x180cm |
| Satin Matt | 80x240cm |
| Rocker Matt Finish | 80x160cm |
| Matt Finish Rustic | |

Office Floor That Challenges the Mundane

The office floor is one of those hygiene areas of the interior themes that few will appreciate but everyone notices if it adds to the overall theme of the office. With the modern work environment getting increasingly hybrid, you need to ensure an office design that immediately feels comfortable and open.

Natural colours and materials definitely help such a design. So, we recommend wood textures and flooring. At H&R Johnson, you can match your floor tiles with the furnishings. For example, cedarwood tables and vitrified floor tiles with cedar wood texture and feel.

At H&R Johnson, the Porselano GVT tile collection offers multiple options of sizes and colours:
Sizes: Plank 19.5x120cm, Square 60x60cm, Large Tiles 120x240cm, 80x240cm, 120x180cm, 80x160cm, 80x120cm and 60x120cm
Designs: Marble, Granite, Wood, Metal, Rustic Metal, Concrete, etc.
Surface Finishes: High-gloss, Polished, Rocker, Rustic, Satin, Metallic, Matt, Wood Matt
Do keep in mind that your floor tile choices must consider the footfall in the office. GVTs can handle low to medium foot traffic without visible signs of wear. However, use double-charge tiles from Johnson Marbonite Collection for high-traffic areas.
Balanced Flooring for Malls & Retail Stores
Malls and retail stores are made for attracting people and helping them feel comfortable. Flooring options play a role here too. Since you need a floor that can handle high levels of foot traffic without showing signs of stress, you need tiles made for high-traffic areas. But don't forget to retain the points for the appearance.
Johnson's Marbonite series offers perfect solutions for commercial areas like malls, retail stores, and offices with high footfall. The Marbonite collection features double-charged and full-body vitrified commercial tiles for the floor and wall.
While double-charged tiles have a thick layer of colourful design full body tiles have a uniform structure. Thus, these tiles can take scratches without highlighting them for a long-time. Full-body vitrified tiles such as Venezia designs under the Johnson Marbonite series, are almost maintenance-free due to their hard surface and uniform body.
Surface Finishes: Matt & Polished
Sizes: 80x160cm, 120x60cm, 80x80cm, and 60x60cm
Designs: Marble, Granite, Sandstone, Quartz, and Solid Colours
Complete Thematic Restaurant with Matching Tiles
If you are building a restaurant based on a unique theme, you would want to follow the theme through the interior. Floor and wall tile designs play a crucial role in creating an inviting and aesthetically pleasing atmosphere for restaurants.
The choice of tile design can greatly influence the overall ambience and style of the space. For restaurant floors, durable and slip-resistant tiles are essential to ensure safety for both staff and patrons.
Digitally printed porcelain, double-charged and full-body vitrified tiles with natural and unique patterns provide a warm and inviting feel. Bold geometric patterns or intricate mosaic designs can also be used to add a touch of elegance and visual interest to the restaurant's flooring.
Recommended H&R Johnson commercial tiles for floor and wall applications in restaurants:
Johnson Porselano Grandeur Grano Tiles: Large format slab (80x240cm) tiles with solid colours and quartz texture. Available surface finishes are polished and matt.
Johnson Porselano Elite Tiles: Bookmatch tiles of 60x120cm, and 60x60cm sizes (bookmatch includes 4 mirror tiles). Designs include several colours of marble, black stone, granite, etc. Available surface finishes are high-gloss and polished.
Tiling Options for Workshop Floor
Tiling a workshop floor provides a durable, easy-to-maintain surface that promotes safety and efficiency in a tough working environment. The commercial tiles for the workshop floor are designed to withstand heavy foot traffic, dropped tools, and potential oil spills.
The commercial floor tiles for the workshop provide a solid and even surface that is easy to clean and maintain. Additionally, floor tiles enhance the safety of the workshop with better traction reducing the risk of slips and fall.
You should only consider the commercial tiles designed for the workshop floor to minimise the hazards of working with tools and heavy machinery. Here are the recommended commercial tiles at H&R Johnson for workshop floors in automobile and warehousing industries:
Plain Series and Color Series under Johnson Endura Industrial Tiles (Mohs scale >7)
Surface Finish & Colours: Matt (high traction), solid functional colours as per the workshop needs, i.e., grey, ivory, green, black, blue, etc.
Sizes: 30x30cm and 20x10cm
Thickness: 20mm, 15mm and 12mm
Commercial tiles' thickness is an important factor for the workshop floor. It defines the mechanical strength or load-bearing capacity of the tile. H&R Johnson's Industrial floor tiles for workshops feature a higher surface hardness, ensuring higher load bearing and scratch-resistant surface.
Anti-Static Floor Tiles for Industries
Almost all modern industries rely heavily on high-end electronic equipment to function properly and profitably. Thus, almost all such industries have a dedicated area housing a concentration of critical electronic equipment. Such areas are prone to the unique risk of electrostatic discharge, which can cause fire, equipment damage, and even injury to the people in the area.
H&R Johnson recommends anti-static tiling for such areas:
Johnson Anti-Static Dissipative Type floor tiles : offer a surface resistance between 1 mega ohm to 1 giga ohm. These tiles help avoid fire hazards in areas with highly inflammable or explosive ingredients such as petrochemical and ordnance industries.
Johnson Anti-Static Conductive Type floor tiles : offer a surface resistance below 1 mega ohm. These tiles help avoid damage to sensitive electronics due to sudden electric discharge.
Tile Options for Landscaping
Landscaping involves a lot of groundwork or works on the ground. Using stone slabs has always made gardens more appealing and added safety and functionality to them. However, with the world becoming more aware of the environmental hazard mining and quarrying poses, natural stone slabs have been replaced by tiles.
Full-body vitrified tiles can mimic natural stones in appearance and traits. H&R Johnson also offers these non-slip commercial tiles for landscaping needs under Johnson Endura Tile's Meteor collection:
Sizes & Thickness : 60x60cm, thickness variations 2cm and 1.5 cm
Designs & Colours : Solid colours, stone, and rustic designs
Surface Finish : Rough anti-slip stone-like surface
Johnson Meteor Tile's best quality is the possibility of dry installation. You don't have to install these tiles using adhesive. Sand, gravel, and raised support flooring also work for these tiles, which makes them perfect for landscaping, as you can just throw the tiles anywhere in the garden you like after levelling the ground.
Ensuring Safety with Parking Tiles
Parking is an area that always faces scarcity in populous urban centres. This is why parking lots and designated parking areas are important for commercial centres and offices with high public traffic. Non-slip commercial tiles ensure safety for users and provide a functional and aesthetically pleasing look to the parking area while enduring the natural and manmade elements.
H&R Johnson's Industrial Tile collection offers multiple floor tile solutions for commercial and industrial parking. Here are the Johnson Endura Paver Series Tiles for commercial parking:
Size & Thickness : 20x20cm, 1 cm thick
Colour & Surface Finish : Available in 5 distinct colours for creating and demarcating spaces in the parking. Anti-skid (R9) surface.
Skid resistance for the tiles is measured via a ramp test at H&R Johnson. The results of the Ramp Tests are declared with an R-value that ranges between 9 and 13, with 13 representing the highest skid resistance.
Endura Paver tiles are recommended for flat parking areas where you need normal surface resistance for easy movements. However, you should use Johnson Max-Grip tiles for ramps and sloped parking areas as is usually the case in hill regions and multi-level parking.
Max-Grip is a collection of non-slip commercial tiles with R values higher than 9.
Tile Options for Pathways
Pathways need a combination of features to remain safe for users, low on maintenance, and good-looking at the same time. Added functions such as designated parking spots, waiting areas, bus tops, etc., can make pathway designs more complex. However, all the complexity usually exists only at the planning level.
Nowadays, the rising demand for accessibility of public areas can make it necessary for designers to use multiple tiles to complete the paving features. Keeping in mind the need for modern urban pathways H&R Johnson offers a complete paving solution with the following tiles:
Johnson Endura Maxgrip Tiles : R10, R11, 30x30cm tiles
Johnson Endura Tac Tiles : Tiles with non-slip ground surface indicators make it easier for the visually challenged to use the public areas safely. 30x30cm, 2cm, 1.5cm, and 1.2cm thickness.
Safety Tiles for Commercial Kitchen
Commercial kitchens are high-activity and high-risk zones during the time they are operational. While spills of liquids and equipment falls are common, the floor of this commercial area is responsible for providing adequate safety to the users despite the hazards.
The secret of this floor's safety record will lie in the type of commercial tiles in use in the area. Tiles with adequate skid-resistant properties are imperative for designing a safe commercial kitchen.
Johnson Industrial Tile's R10A and R12C Max Grip tiles offer a perfect combination of anti-slip features and design:
Size & Thickness : 60x60cm, and 30x30cm with 1cm thickness
Design & Colour Options : Wood, rustic, quartz, cement, and terracotta themes
Swimming Pool Tiles
Designing a swimming pool involves considering several factors to create a functional, safe, and visually appealing space. Proper commercial tiles dedicated to swimming pool design make the task much simpler and allow you to focus on the finer aspects of the pool, such as unique appearance, lighting, surrounding areas, landscaping, etc.
H&R Johnson reserves a variety of tiles for swimming pool design under Johnson Endura Swimming Pool Tiles:
Tile Size & Thickness : 24.7x12.2cm, 0.8cm thick
Designs & Surface Finish : Mosaic and solid colour tiles in multiple colours including blue, brown, and rust. The surface finish offers an R9-level grip underwater.
Combinations & Fittings : Angle tiles, junction tiles, tiles for steps in the pool and grip tiles for the edges of the pool.
Always Use Correct Tiles for Your Commercial Needs
Commercial spaces are not only spaces of public interest, but they also bear the responsibility for the user's safety. Thus, commercial area tiles must strike a balance between hygiene needs and the appearance of the space. Public spaces whether, in offices, malls, retail shops, etc. are increasingly adopting accessibility and ease of use in their designs.
Commercial tiles for floors and walls can accomplish the modern design challenges of commercial and public spaces. While modern tile brands have been trying to address the many unique challenges of modern work and residential spaces, it has also inflated their tile portfolios.
So, if you feel stressed by the large tile portfolio while searching for a perfect solution for your needs, feel free to contact the tile experts at H&R Johnson. We will help you get to your unique solutions quickly and efficiently.
Frequently Asked Questions
Commercial tiles are ceramic and vitrified tiles that meet the specific demands of commercial spaces, such as hotel or office lobbies, retail stores, malls, workshops, hospitals, and industrial spaces. The commercial tiles for these spaces can be made for use on walls, floors, or rooftops.
The best tile for commercial use depends on the type of commercial area. For example, double charge (Johnson Marbonite) and glazed vitrified tiles (Johnson Porselano) are the best for hotel and office building lobbies and retail stores, and full-body vitrified tiles (Johnson Marbonite) are the best for outdoor and parking areas.
Vitrified tile variants are the strongest for their weight-bearing capacity (mechanical strength). You can go for high-density vitrified tiles for areas where you need higher weight capacity. Tile thickness also plays an important role in increasing the tile's mechanical strength.